Bumble blogs on India's fitness concerns and his efforts to train up as a Yorkshireman
Bumble blogs on the fitness issues in the Indian squad and the Sky Sports commentary box.
Last Updated: 06/12/12 11:47am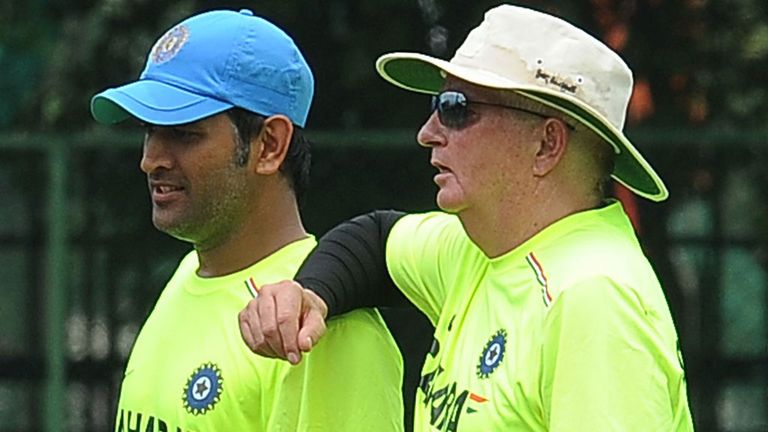 We're moving closer to the mother-in-law (but not too near) when retirement comes and so I've turned to some of my colleagues, Fred Boycott and Michael Vaughan, on Twitter to show me the ropes. You know, the local customs, curfews, ancient laws, local currency... that sort of thing.
The best advice I've had so far is 'see all and say nowt'. I've also been advised that they don't do too much laughing in Yorkshire (but having married one I know what they mean).
I'm also learning all the sayings:
'Ey up'
A'll see thee
How much?
Hello. I'm from Yorkshire
I think I'll be more than ready when the time comes.
Pitch battle
Alastair Cook has lost the toss five times in a row now, which highlights what a useful tosser he is, but that pales into insignificance next to Nasser Hussain who bills himself as the unluckiest cricketer ever to represent England. As captain he went 14 times without winning the toss!
I'm blogging mid-Test, but the key stat so far is that Alastair Cook has become the youngest ever England batsman to reach 7,000 Test match runs and has become the first to reach 23 centuries. He's simply a machine and there's a lot more to come from him.
It's been a hoot listening to the exchanges between the India captain MS Dhoni and the octogenarian groundsman Mr Mukherjee (who sits underneath his own specially-printed sign at the ground).
Dhoni wanted a spinning pitch and he's got anything but that in Kolkata. Mr Mukherjee said there would be pace and bounce, but without seeing it I promised to bare my backside on Blackburn Boulevard if that was the case.
I'll stress, I don't see anything wrong with a pitch that spins from ball one. In fact, the pitches in India are better when they do spin, so Dhoni was dead right to ask for that.
But he needs his batters to perform and what is emerging is that England's spinners are better than India's, which has surprised me. Monty Panesar's game has gone up a level and the selectors have been proved doubly wrong for leaving him out of the first Test after seeing how he's performed.
It seems India watched England in the UAE against Saeed Ajmal and Abdur Rehman, but what they omitted to notice is that those two are infinitely better than Ashwin and Ojha. There's a good argument that the India spinners are behind Pakistan's and Engand's.
The other thing that that has become painfully apparent for Duncan Fletcher and his fielding coach Trevor Penney is that the India team are just not fit. England have been keeping them in the field and that particular aspect has been exposed.
You look at someone like James Anderson and he's able to be as fresh in the last half-hour as he is in the first. Zaheer Khan is a wonderful bowler, but he's 34-years-of-age and has been out injured. What will his fitness levels be like?
It's becoming very apparent that fitness is becoming a massive key to England in this series. There's a lot of cricket to be played, but there's nothing for England to fear here.
All the talk from India before this series was about 4-0. England have re-written that script.
Give him a Fisherman's Friend!
I mention the fitness levels of the India players, but they're not too hot in the Sky Sports commentary box right now.
We have a lovely comfortable sofa and I must admit had a good hour of sleep on day one. My body clock is really struggling to adjust to Indian time.
David Gower's not well and needs a fitness test to see if he can continue for the rest of the match. At the moment he sounds like a cross between Lee Marvin and Fenella Fielding with a little bit of Frances de la Tour thrown in for good measure. Ian Ward's on standby.
It was good to meet up with Bob Willis and chums for a particularly long lunch in Richmond on Tuesday.
Tim Rice, who is a good pal of Bob's, popped in and we had a good cricket chat with a bit of music discussion about Herman's Hermits and Wayne Fontana and the Mind Benders.
But the best bit was when Beefy walked in with a beret on. He looked like a French onion seller.
See you next week.