Bumble blogs on how Alastair Cook has overseen seamless transition for England in India
Bumble names England's star performers in India and looks at the shape of the team for New Zealand.
Last Updated: 17/12/12 2:59pm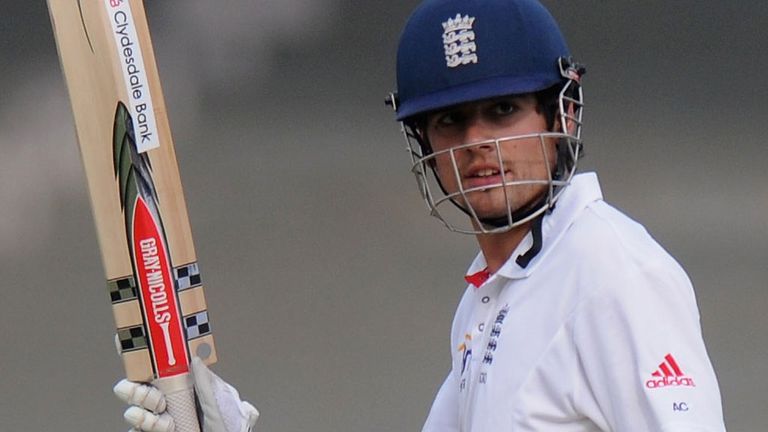 Remember, this was supposed to be 4-0 to India. It was supposed to be "revenge" for all the green tops that they had to play on in England (although I haven't seen a green top over here since 1974...).
After what I've seen in this series, I would spotlight the following players:
Jimmy Anderson - He has been fantastic with the way he has led the attack. He's kept going, his fitness levels have been up there and his figures don't reflect how well he's bowled. He's been an absolute artist with both the new and old ball.
Monty Panesar - England made a major error by not picking him in the first game, but when he got in he made a massive contribution to the team. You would expect England to revert to three seamers and Graeme Swann, but I'd like to see Monty in the side in New Zealand.
Kevin Pietersen - Put it this way, you could say he and his team-mates have been to Relate for some marriage guidance. He came back into the team in the outer west wing... and now he's back in the bedroom!
Alastair Cook - His batting has been relentless and he's making a good leader as well. He's making big decisions; I'm sure the decision to give Stuart Broad a rest and also the decision to bring James Anderson back with the new ball came from him.
It's looking good and there has been a seamless transition from Andrew Strauss to Alastair Cook. Joe Root has settled into the team instantly at number six and should be around for a long time, while Nick Compton has done well. He has done better than expected and just needs a big score now - and I'm sure he'll be kicking himself for missing a golden opportunity to get a century in the last innings.
All in all it was a wonderful performance. People say that if you want to be a top team in world cricket then you need to be able to win away from home. They came up short in the UAE against an absolutely brilliant Pakistan, but they've won in Australia (by an innings three times) and now in India.
That tells me that this is a flipping good side.
New look for New Zealand?
As I mentioned above, you'd expect England to go back to three seamers and Graeme Swann (who gets the nod ahead of Panesar because he bats at number eight, catches and fields and brings a lot more to the team).
But from my own experience of going to New Zealand with Mike Atherton as captain, it was absolutely vital that we had three seamers and two spinners. That's because it tends to swing and move off the seam in the first innings, very similar to England, but then it spins later on because it gets hot.
Back in 1997 we had Phil Tufnell and Robert Croft as our spinners with Andy Caddick and Darren Gough supplemented by Dominic Cork. We needed both spinners back then.
Throw forward to 2013 and you've got an option to play Panesar as one of your five bowlers. That means you'd have Matt Prior at six and don't write Tim Bresnan off as a number seven. He's not been suited to India, but he'll be absolutely perfect in New Zealand.
I wouldn't be surprised to see England use that approach in their next Test match.
No more graveyard shifts
From a personal viewpoint I'm very happy that the night shifts have finished. We've had a lot of fun, but I hope I can get back to some sort of reality with the Twenty20 matches and the one-day internationals.
We'll see big changes now. The grounds will be packed to the rafters, but the T20's will be a bit of a damp squib with no Kevin Pietersen, no Graeme Swann, no Jimmy Anderson, no Sachin Tendulkar... It will be a chance for the young'uns to show what they can do.
But whatever the outcome, England have got what they wanted. Good night Viennna!
I'm going back up north on the rattler to get ready for Christmas and I'm looking forward to seeing the grandchildren.
I hope all of our readers enjoy the festive period and I'll leave you all with my Christmas message...
Dig in and crack on!
The first T20 between India and England is at 1pm, Thursday, Sky Sports 1 HD