England looked like a team resting on their Test laurels in the first T20I, says Bumble
Poor England looked like a team resting on their Test laurels in the first T20I, says David Lloyd.
Last Updated: 27/12/12 9:42am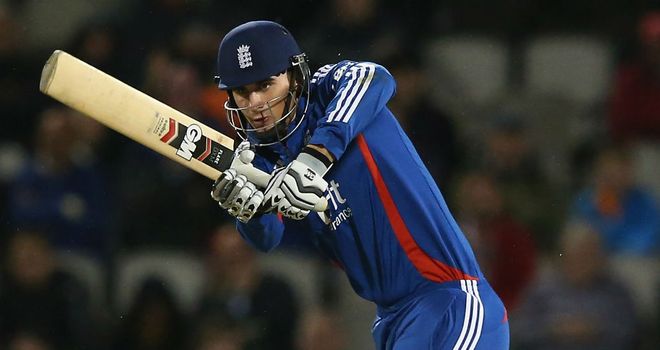 The tourists, fielding an inexperienced line-up, stuttered to a five-wicket defeat in Pune just days after securing an historic Test series victory in India.
In the absence of spin duo Monty Panesar and Graeme Swann - not to mention injured seamers Steven Finn and T20I captain Stuart Broad - James Tredwell and Stuart Meaker both made their international debuts, while Michael Lumb returned at the top of the order and Jos Buttler took the gloves in a side led by Eoin Morgan.
And although Alex Hales (56) and Luke Wright (34) guided England to a position of strength at 89-1 from 10 overs after losing the toss, the visitors were still defeated as India reached their victory target of 158 with 13 balls left.
Tone
"England got a bit of a hammering," Bumble told Sky Sports. "I think the statement from England with the team that they selected is 'we've done the work'. They came to India to win the Test match series and they've done that 2-1.
"There was only one player who played in the Nagpur Test who played in this game and that was Tim Bresnan.
"There was a bit of cajoling there at the end from the India players but England have got what they wanted - but they need to do a lot more in this series because they were poor today.
"You can have fun but you've got to do it right - England have got to do things a darn sight better on Saturday than they have this afternoon.
"England started well with the batting - after six overs they were 51-1 and going fine - and then there was a period from 11 overs to 18 when nothing really happened, so they'll have to look at that. Jade Dernbach then bowled three wides in the first over - not what's required.
"That set the tone. You want to start well with the ball and put some pressure on but it was a poor over which put England on the back foot."
England's victory chances started to unravel from a strong position at 89-1 when Yuvraj Singh, the seventh bowler used by skipper Mahendra Singh Dhoni, bagged three wickets for 19 runs - sending back Wright, Hales and Morgan in quick succession.
"England lost their way completely and it was a frustrating time; if you are an England supporter you're watching and thinking, where are the boundaries? You've got to hit boundaries in T20 cricket and nothing came. It was a static performance in that period.
Surprise
Speaking to Sky Sports after the defeat, stand-in skipper Morgan - who made five from nine balls - admitted: "That positivity wasn't there in our batting and we lacked about 15 or 20."
However, Bumble insisted that the skipper shouldn't take the blame for England's comprehensive defeat - instead stressing how surprised he was that Lumb was chosen to open the batting.
"I thought Eoin Morgan was absolutely terrific - his demeanour on the field, the way that he addressed his players," he said. "He's got that poker face - he never, ever changes his expression. He's exactly the same when he's batting.
"But you can't do anything if your opening bowler bowls three wides in the first over; that's not down to the captain - all he can do is change the bowling so he will want a better performance from his team. I hope he gives them a kick up the backside.
"Michael Lumb was a surprise selection; this is a young side but he's 32. He's the oldest in the team and Jonny Bairstow doesn't play; apparently he's not a good player of spin.
"But neither is Michael Lumb so the opportunity there would be for England to have Luke Wright there as the opening batsman. He's come from the Big Bash. Get Wright in and Bairstow. too.
"Lumb is not going to get any better. He did really well in the World Twenty20 in the West Indies - well, that was 'years ago'."
Impressed
In contrast, Sky Sports pundits Marcus Trescothick and Nick Knight singled out Lumb's fellow opener Hales - who hit seven fours and two sixes in his 35-ball 56 - for particular praise.
"I was really impressed with Hales," said Trescothick, who averaged 55 in his three T20Is for England. "He's done it a couple of times now at the top of the order. At the back end of the World Cup he was showing signs of really dominating; he really took it on.
"The boundaries here aren't the biggest and the pitch, with it being good, you can hit it and it flies out of the ground almost. I was really impressed. He's starting to develop into a key member of the opening partnership."
Knight added: "He seems to be a slightly unsung hero. There are a lot of other players in the development and performance squads that we often read about and talk about in the media.
"That was quite an important innings for him because he doesn't often get talked about when it comes to the one-day internationals but maybe, just maybe if he keeps putting in performances like that in Twenty20 cricket then maybe he's got a chance of playing in the longer forms as well."
Watch the second T20I between India and England live on Sky Sports 1 HD this Saturday from 1pm.