Bumble says top teams are now using ODIs to rest big names and nurture emerging talent
Bumble explains why one-day internationals are a bit like the Capital One Cup these days...
Last Updated: 11/01/13 3:57pm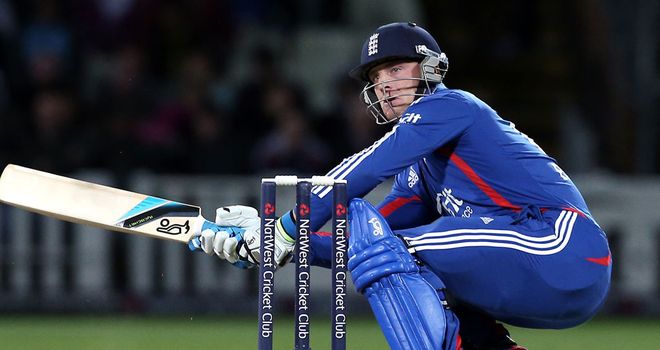 If you look at the likes of South Africa, Australia and England, a lot of the big names are being left out. James Anderson - as good a bowler as there is in world cricket - will miss the series in India (same goes for Jonathan Trott and Graeme Swann). Kevin Pietersen - one of the best players we've ever seen - will not be playing in the one-dayers in New Zealand.
I think there's two reasons for this. Firstly, it's an ideal time to rest players, but also one-day cricket is being seen as an ideal start for the younger players and a chance for them to find their feet before getting into the Test team.
An ideal example is Faf du Plessis. He has been hanging around the outskirts of the South African Test team, but eventually his one-day performances have got him in. It seems one-day cricket is being viewed as a chance for players to make their mark and get on the ladder of succession into Test match cricket.
Which players in this England squad would that apply to? Jos Buttler would be one, Joe Root would be another and Stuart Meaker, if he plays, will have a chance to show his pace.
They seem to want to get them into the swing of things in international cricket, get them into the dressing room and see how they get on. This is a step up from the Lions and takes them into the Big Boys League, playing against top-class players.
The series in India, for example, will be played in packed-out grounds. There is a massive shift, spectator-wise, towards one-day cricket in India and Rajkot will be full on Friday, so let's see how they cope with that.
In a way, one-day cricket is becoming like the Capital One Cup in English football. It's an opportunity for managers to bring young players in and see how they go.
It's nice if you win, but not the end of the world if you lose.
Question time
Even India are doing it. They've left the 34-year-old Virender Sehwag out and they've brought in Cheteshwar Pujara and Ajinkya Rahane, who are both jolly good players.
But while this series is about answering questions for England, it's ultra-important for India. They continue to struggle after losing 2-1 to Pakistan and it has become apparent that unless the batters get big runs then the bowlers can't cope.
Will they get those runs? Virat Kohli is a very good player, but has been having a rough time, and then you've got Rohit Sharma, Suresh Raina, MS Dhoni and Yuvraj Singh who are off form collectively. They're a very, very competent team, but they're just not firing at the minute.
But while the batsmen are not on form, the bowlers are clearly not good enough and that's why I fancy England's chances. I'm not saying they won't get turned over, but I think they've got an all-round better balanced team.
They'll be underdogs, but it's not that simple when you look at the way the results have been going. India are clearly a team in recession with good batters who are out of nick and bowlers who I don't see causing many problems.
Looking at England, this is an opportunity to see what depth we have in the squad. Let's not get away from the fact that England have already got what they want from India - and that's a 2-1 Test match win.
Of course they want to win the next five matches, but it seems to me that this series is more about answering questions. How will the new coaching set-up work? What more will we learn about the younger players?
Personally, I think the young England players will give a good account of themselves, although I will be interested to see who will step up and lead the team in the absence of James Anderson.
We need a bit of Kevin Pietersen and a bit of Tim Bresnan to help Alastair Cook. Also look out for the quiet achiever, James Tredwell, who never lets England down. He's not exactly a leader, but the Kent captain is a very accomplished cricketer who does a job for you and you never have to worry about him.
England will clearly want to win, but the result doesn't matter quite so much. However, I will stress that it's ultra-important for India.
Suits you sir...
So it's back to the early starts for us commentators and I'll be up and down on the rattler to London for each of these one-day matches.
I'm still spending lots of time in Yorkshire working on my new house. It's a lovely place, but they still don't have any mobile phone signal and t'internet's not working.
The first thing they said to me when I rang up to ask about it? "There'll be a bill." I'm learning all the rules...
Finally, I'll have a new suit on for the first one-dayer on Friday - and it's an absolute stonker. I've been dressed by a company called Barrington Ayre, who also provide clothes for a certain Mr Robbie Savage.
Hilariously, he has just been voted the seventh worst dressed man in the country. I felt sure he would have won that award! I told him we're all terribly disappointed.
But mine is a proper lovely suit. Make sure you have a look at it.
See Bumble's suit - and the first ODI between India and England - from 6am, Friday, Sky Sports 1 HD