Bumble blogs on trains, planes and awful ideals for England's bowlers in India
Bumble has some groundbreaking advice for England's bowlers... try aiming at the stumps.
Last Updated: 17/01/13 2:40pm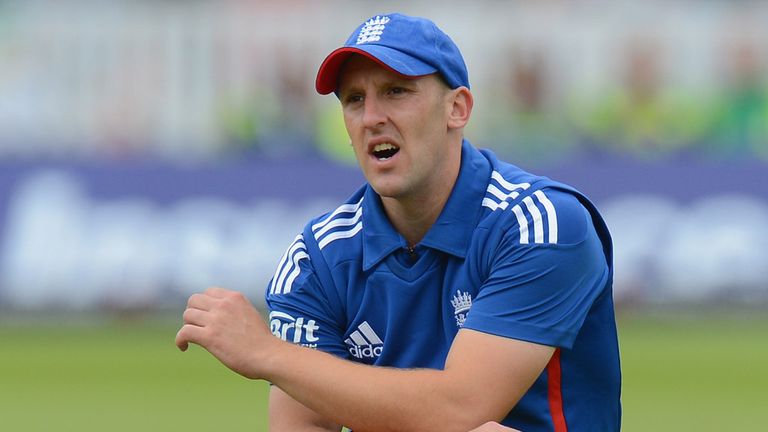 It was minus seven degrees in the middle of the day and the landscape was stark and still with the branches of the trees dressed in frost and snow. It was hardly great driving conditions on the A67, but I kept wanting to get out and take photographs of the scenery.
It was rather more impressive than the allotments I've gone past on the rattler to and from London in this past week. If you own one of those you might as well not bother because they're totally frozen over.
There's nothing that you can do on those allotments at this time of year, but I did see some smoke coming from a shed. Obviously some chap was in there contemplating life.
One other point about travelling on the train: do people not understand the idea of the Quiet Zone?
It's impossible not to eavesdrop on people's conversations... all I'll say is that if your name is Tristan and you've got a meeting with your boss today then bad news mate. You're going to get sacked!
My train home after the second ODI broke down at Watford. The announcement came that "this train is delayed due to..." then it just cut off. What a mystery. Credit to the driver though; we had a 20-minute delay, but he went like the clappers and we only finished up seven minutes late.
I love riding on the rattler and the senior rail card is brilliant. I know people slag it off, but I think it's a damn good service.
Shocker
I'll be back on the rattler to London to work on the third ODI and if you want me to sum up England's performance in the last one I'll give you a single word: shocking.
They picked up two early wickets and then they came up with a cunning plan Baldrick... "let's bowl as wide as we can".
There's a ritual of removing the stumps at the end of the game, but we might as well remove them during the game because we don't aim at them!
The cunning plan that India had for Bhuvneshwar Kumar (and this is groundbreaking stuff this...) was to bowl AT THE STUMPS. All the people I've spoken to out and about and in pubs this week are absolutely baffled why England keep bowling wide.
I blame the tactics rather than the bowlers themselves. There's no Anderson, Broad, Swann or Bresnan, but I see this as a good chance for the other lads to learn what international cricket is about.
We pride ourselves on our strength in depth and this is an opportunity to test it. Some of them might be in a comfort zone playing in front of 4,000 people but now we're seeing how they cope with 70,000 shouting for the oppo.
As for the batters, they were excellent in the first match and the second was a no-show. However, Samit Patel - as I've always thought - is proving to be an excellent cricketer.
And I think they will bounce back big time in the next game. They will surely improve after an awful performance.
Techno phobias
MS Dhoni has been awesome and seems to come alive in one-day cricket, as indeed the whole country does.
Where other teams are using one-day internationals as a chance to blood young cricketers, India will always put their strongest team out.
But I would like to see them leave the umpires alone. Making decisions in front of 70,000 people is a difficult job.
It is increasingly apparent that we need DRS to help them make the right decisions and it's a complete and utter nonsense that the Indian board keep resisting it.
A perfect example is Yuvraj Singh in the last match. The ball was in line and hitting low, but he got a bit of a glove on it before it hit the pad. It was a hellishy difficult decision and the umpire didn't see it.
But his mate on replay would have seen it and would have overturned it. It's too ridiculous for words that DRS isn't being used, it really is.
Anyway, three more one-dayers and then I fly to New Zealand on January 31.
That tour will come around thick and fast and I'm looking forward to meeting up with friends over there, in particular Ian Smith and Simon Doull. Also, I hope Martin Crowe is feeling better.
Before that I'm back on the rattler to London... make sure to join us on Saturday.
Watch India v England, Third ODI, from 6am, Saturday, Sky Sports 1 HD