Bumble blogs on merits of Jonathan Trott, Joe Root and New Zealand's hospitality
Bumble blogs on the value of Jonathan Trott and some fine New Zealand hospitality.
Last Updated: 20/02/13 10:42am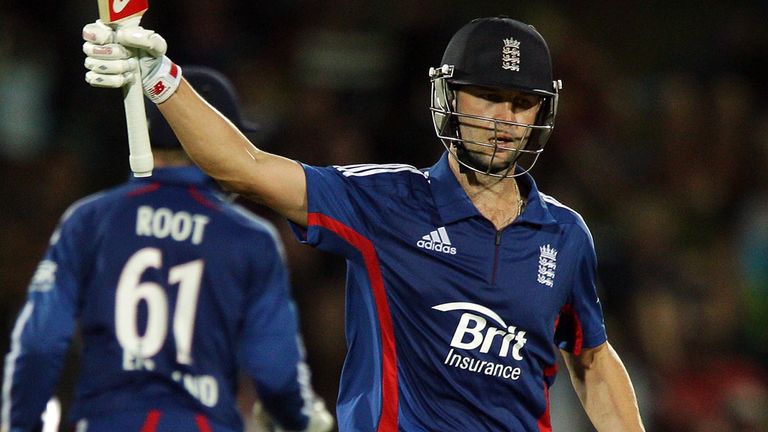 From the very start, the crowd are really happy and interested in the event; the grounds are absolutely fantastic with the grass bankings, plus the music that's played gets everybody involved.
The ground cameras will pick out punters and get them to play bongos along with 'La Bamba'. All great fun!
And, of course, the weather is fabulous which always helps! Generally there is a beautiful backdrop everywhere we go, so there's a real feelgood factor. The atmosphere is tremendous.
New Zealand Cricket obviously gives a lot of thought to the spectator. The grounds are comfortable, everything is organised and there's no stress involved in getting in and out of the grounds. It's terrific.
The customer experience is very important here in New Zealand and they do it very, very well.
Positives
From England's point of view, there's been plenty of positives from the tour so far, especially for the young players.
Joe Root has forced his way into the side and looks like he's going to be around for a long time, plus Jos Buttler has been terrific. He's not a regular wicketkeeper, but has done absolutely nothing wrong. Lots of people say he's just a stopper, but he's been excellent.
Alastair Cook came good in the second one-day international, playing very fluently, but I remain a big fan of Jonathan Trott, who is a real glue for England with the way that he plays.
I think he's got a very respectable strike rate and you need a player like that for the rest of the team to work around. He's got great method and he knows exactly what he does and what his limits are. He plays accordingly and he's very consistent.
He doesn't play in t20, but I think his one-day record is excellent and you need all sorts of players to make up a team. He's a very consistent scorer and when you've got somebody like that then the rest of them can play around him.
I can never understand the criticism he attracts, which is totally unfounded, but he actually keeps pulling me up on an article I wrote in the Daily Mail, saying he should take a break.
He's got it on his phone and he keeps showing it to me every time I see him!
It's interesting that Cook is reluctant to give Trott any overs with the ball here and there, and the same goes for Root. It all seems to come down to the five bowlers.
It seems that's a sign of England having a plan and not moving out of it, although I thought Steven Finn and James Anderson were outstanding in the second ODI.
The youngster, Chris Woakes, has done okay out here, and I think it will do him a world of good to get a run in the team - but he'll know that the batters are coming after him. What we've seen from him is a knack of taking wickets; he's going for a few runs, but he's getting people out.
So for Woakes, Buttler and Root this has been a tremendous experience. It's a disappointment that Jonny Bairstow hasn't had much of a go, but you can't play 12!
Visit
Away from the grounds, the tour has been just as marvellous. We've driven around much of the country and it's clean, organised and is a wonderful place to visit. Plus the people are brilliant.
I've played on some of the best golf courses in the world. Plus our colleague Ian Smith took us up to his house because we'd got fed up of eating lobster!!
We went up to Lake Taupo and had a very interesting time in a bar called JJ's. The bloke who owns it (JJ) is great company, but as I wrote on Twitter, he's as mad as a left-handed shirt!
He's a former Junior All Black and from what we could see, all he does all day is stand outside his bar drinking Heineken! He was a wonderful host and I'll make sure I put some pictures of him in my next book.
He prepared us what's known as a 'New Zealand Roast' and I swear it was half a sheep! I think they served it on a dustbin lid...
So the country, the cricket, the people...it's all been lovely. That's the report so far!