Graeme Swann and Kevin Pietersen must get match fit, says Bumble
Bumble's back to blog on Graeme Swann's fitness, vibrant Somerset and exploding golf balls...
Last Updated: 01/05/13 11:50am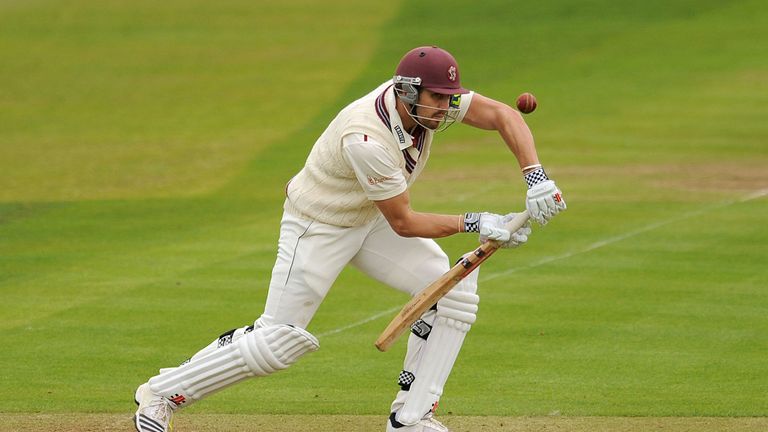 It's no fun playing cricket when there's a real biting wind and the temperature is eight degrees but the players put on a good show - something you can't always say of the County Championship, which tends to meander from time to time.
Somerset is a vibrant club with a very good membership, so we had a decent crowd in, and there were some really good players on view, with a decent mix of young and old.
Starting with the old, there was Marcus Trescothick, who I thought messed up massively by not enforcing the follow-on when Warwickshire were on their knees.
There were only 13 overs to bowl at the end of day two and Somerset had every chance of picking a couple of wickets up and then the bowlers would have been fresh to go again the following morning.
I thought Alfonso Thomas was really good when it came to helping the Overton twins, who clearly have lots of potential, while Varun Chopra was outstanding, as was Nick Compton. The more I see Compton, the more I like him. Both he and Chopra understand what opening the batting is all about.
Sometimes when circumstances and situations dictate you have to play a certain way - and that way is to get rid of the new ball, wear the bowlers down and then increase your scoring tempo. I thought they did that perfectly.
Somerset said the pitch was going to go up and down for the seamers and spin, but it did neither!
Take nothing away from a fantastic rear-guard action from Warwickshire, though; they did well to bat for as long as they did, particularly the last pair - Rikki Clarke and Oliver Hannon-Dalby.
Chris Woakes and Chris Wright did ok with the ball for Warwickshire given the cold conditions; I didn't give them bells and whistles but the circumstances weren't in their favour.
Fitness
The first Test against New Zealand is just over a fortnight away and I've been keeping an eye on the progress of Graeme Swann, who is THE player for England in the Ashes - make no mistake.
With all those left-handers in Australia's fragile batting line-up and DRS in operation, he is the man.
I follow him on Twitter and he says he's never felt better after that elbow surgery. He's clear of pain so what he needs now is cricket because you just don't walk back into Test cricket.
The same applies to Kevin Pietersen. Kevin will know from the long lay-off he had after his Achilles injury that it's very difficult to get your batting back into sync at Test level. It's impossible to walk straight back in and play your best.
It always used to be that you would start in the twos and once you'd found your land legs you'd be back boxing clever in the county first team, and then you'd work your way into the Test side.
Those days have gone and England will want Kevin Pietersen back for the start of that Test series against Australia because he is their best player. I'm sure Swann and Pietersen will be fine; my only concern is about match fitness, which is very precious.
In other news...
Talking of the Ashes, I've finished my book. It's not out yet but it has gone to the publishers. It's going to be called 'Start the Car - the Ashes', but more of that in a bit.
I've just taken the dog for a walk. I back onto the golf club and when we're out we find plenty of stray balls.
I pick some of them up and put them just outside my gate and it's amazing how many golfers think they are theirs! I've just seen one golfer pick up the ball and put it in his pocket after my dog has had it for about two hours! Now he's looking over my garden fence...
Anyway, for my party piece I'm trying to get hold of those exploding golf balls...
As usual, I got beaten in the first round of my club's knockout competition. Young Chris Daniels, who also plays off 10, beat me, which was very nice.
However after we'd shaken hands he told me that he's about to go off trekking over the Rocky Mountains and asked if I could sponsor him!
My reply? 'I'm not in the mood at the minute!'