England and NZ will deliver Headingley cracker, says Bumble
Bumble blogs on an explosive Lord's Test, Stuart Broad's form and the art of making a decent brew.
Last Updated: 20/05/13 2:42pm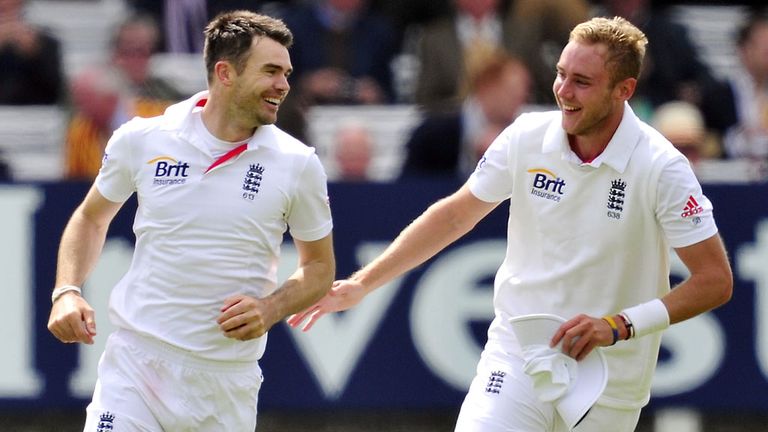 It started slowly and meandered along and there was a lot of negative talk about how England couldn't cope with New Zealand again when they were scoring at two-an-over.
But in a low-scoring game England gained a lead of 25 and then, as Kevin Pietersen would say, 'boom!' The game exploded.
England reached 159-2 in their second innings when it was sunny but then it clouded over again and Tim Southee got to work. The ball was still moving around in the atmosphere.
I was convinced the pitch was going to spin but in the end there wasn't any need for Graeme Swann because of the excellence of Stuart Broad and James Anderson.
Partnership
So this has been one of those Test matches where bowlers hold sway because of the conditions, which meant that batsmen found it difficult to score.
I'm not sure that batsmen committed and dug in and played carefully enough. Too many were dismissed playing attacking shots away from their body. The bowlers were on top and the bowlers knew it. You couldn't get the ball out of the quicker bowlers' hands!
It was another fascinating Test match and proof why, in my opinion, it's the best form of the game - and the ground was full.
It means that we should now have a cracking match at Headingley, starting on Friday. About 70 per cent of tickets have been sold at the moment and anyone going will see some wonderful bowling and the batters will have to work hard.
New Zealand can say that they were in this game for long periods. Southee has got 10 wickets in this game and finished on the losing side, which doesn't happen too often.
Before Friday each team will talk about finding a method to get two batters to form a partnership and score big runs - even if that's not fair for us watching the game because a low-scoring Test match is a great game!
Fuller
Broad turned in a terrific performance. I've been watching him every morning working on his lengths with Dave Saker, the bowling coach.
Finn and Broad, being so tall, have a length that is back of a length - they hit the pitch hard. What you need on these surfaces at this time of the year is to hit the top of off-stump. That means you've got to get fuller.
Tall bowlers like Finn and Broad have got to work hard to bowl that fuller length.
Broad will be relieved at his performance - there's no doubt about that. He will have fretted a little bit about his recent batting form and not getting enough wickets to get people off his back.
I'm not saying he can rest easy now but he knows that he's in the team.
Boil
Enough has already been said during the Test about £20 steak sandwiches that I don't need to add to it. They're having a laugh, they're having an absolute laugh. And what about £4.60 for a pint?
Anyway, I got myself a cappuccino yesterday morning. Making it was like a work of art and involved four people.
While I was waiting they gave me a little chit with a number on it and I had to hang around until they shouted my number. Anyway, when it turned up it was cold!
Here's my advice: boil a kettle! If you're making a coffee, put some granules in, press a plunger and bingo. Instead, it took four people to make mine! I suppose it's helping the unemployment figures...
And before anyone asks, I didn't ask for an ice coffee...
Anyway, I went for a pot of Yorkshire tea after that. If in doubt, cut your losses and get yourself a pot of builder's tea.
Plonker
I'm hanging around in London today twiddling my thumbs so I can go for a corporate dinner somewhere in the city - so I think I might have a particularly long lunch somewhere first!
I've brought me red trousers down with me but all they've done is have a trip because I've not worn them yet. Well, I put them on once in my room and took them off again. That's the only outing they've had.
I can't see me wearing them in Headingley, in all fairness!
Me and Vaughan and Robbie Savage - a triumvirate there if ever there was one - are debating now what shoes you should wear with red trousers? When I said 'red' I mean proper red - not maroon or pink.
I've got a nice pair of tan shoes with white threading around them.
I think I can look a right plonker with that combination...