Bumble blogs on state of Old Trafford and why he'll miss fourth Test
Bumble says Old Trafford needs a quick spring clean, but he wouldn't tinker with the England team.
Last Updated: 26/07/13 2:49pm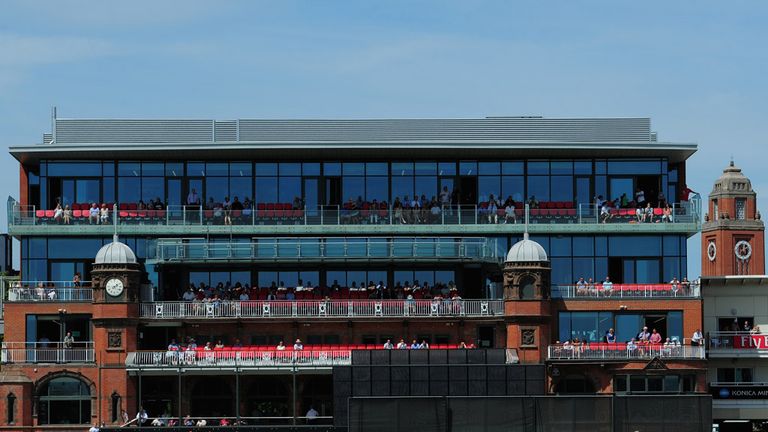 I was there on Wednesday and they've still got work to do. There's piles of rubbish all over the place plus building materials and scaffolding that needs to be sorted out.
The new temporary stand is all scaffolding at the moment and I assume that will all be covered in with sheeting or whatever. By the way, that stand is enormous - I can't tell you how big it is - and if you're sat at the back of that you'll be miles away. That's a bit of a concern.
On Wednesday night there were plastic sight screen drapes hanging behind the bowler's arm. I'd expect during the Test match for people to be sat there because those are the best seats. You'd expect to see the sightscreen behind the people, as at The Oval, Trent Bridge and Lord's.
There's a week to go and the place needs a damn good tidy up, but the ground itself looks fabulous with the old pavilion revamped and the wonderful new media centre and changing rooms. It's a proper Test match ground and it all fits in with the pitch being turned the other way around.
I had a chat with the groundsman the other night and he says the five centre wickets are the old spec, just facing the other way. He has re-laid the outer pitches, but those won't be used in Test matches.
So expect the pitch to be like a concrete slab. It might have a bit of pace - I'd certainly expect it to have more pace than the previous two Tests - but it will spin.
Selection talk
The pitch won't affect England's selection. They've got two spinners in their side already in Joe Root and Graeme Swann.
I keep reading people saying we need to bring in another spinner, but who are you going to leave out? They're obviously going to play three seamers and you can't play 12. Root is taking wickets, so I don't see the point in that.
On that subject, I was watching the 24-year-old left-arm spinner Simon Kerrigan at Lancashire and I think he looks like an absolute natural spin bowler with a lovely, rhythmical action.
People are saying he should move up ahead of Monty Panesar in the England reckoning and he's got a chance, but according to the stats he doesn't spin it as much as Monty.
You also have to remember that Kerrigan is playing in Division Two and Panesar in Division One and there is a massive gulf. However, England have just won two matches and there's no need to change the team.
Of course, there may be an enforced change if there's an injury to Kevin Pietersen - and it's pretty obvious who's coming in if he doesn't make it. James Taylor has been drafted in for Sussex in a three-day game against Australia and he's a damn good player. He scores runs in Division One and that is so important.
As for Australia, I would expect them to play just one spinner and I should think Nathan Lyon will play, with Steven Smith to supplement him.
Ashton Agar is going to be a really good cricketer, but I assume they want a penetrative bowler and he's not quite that yet. The other thing that needs to be reported is that throughout the second Test he had a pelvic injury, which hampered him.
They will replace the injured James Pattinson with either the tall Jackson Bird or the left-armer Mitchell Starc, but I wonder if he isn't playing because of the threat of Graeme Swann. Does the rough he creates give Swann some wickets, especially at Old Trafford where there'll hardly be a blade of grass?
I think David Warner might come back in too. They've insisted he's still a member of the squad after being sent off to Africa to get some runs and he's done what they wanted by scoring 193, so I assume he will come back.
Missing for Durham
I need to have an operation to have a new knee, which means I will miss the Durham Test as I'll be in hospital.
It's been troubling me for a while and has finally packed up. I'll be on crutches for six weeks, but I'll back for The Oval.
'Vipers' has been reading 'The Beginners Guide To Knee Surgery' and she reckons she's got it sorted. It all ties in with the welding course she's been doing and she'll be able to use all of those skills putting my new knee in.
I'll be there for the first day at Old Trafford on Thursday though, which is of course Yorkshire Day.
I think the best way to celebrate the spirit of Yorkshire Day is to not buy anything. I believe if anyone from Yorkshire is at the game, you have to buy all their dinner and beers for them.
That's the way I see it, anyway...