Bumble blog: England should be more stylish - like my football team!
Bumble says Darren Lehmann may be right... it's time England played with more style and panache.
Last Updated: 30/10/13 12:12pm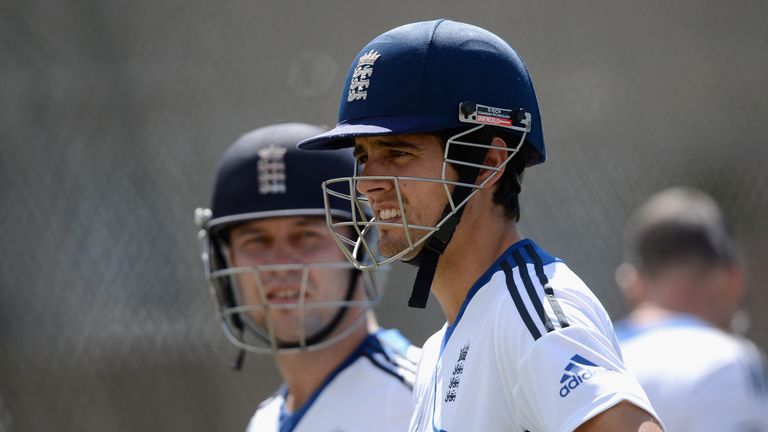 The talking may have started, but it won't matter a jot when they get down to that first day at Brisbane. As I said on Twitter this week, it won't affect the players in the slightest.
However, I know exactly what Darren Lehmann means when he says England have been playing "dour" cricket. What words do you want to use? Dour cricket? Attritional cricket? I actually don't disagree with him.
I think that England's tactics are to squeeze the game. In soccer terms I'd compare it to Arsenal under George Graham when they played a high back-line and won games 1-0.
My opinion is that the current England team are far better than that and can show a lot more style and panache in the way that they play.
I think they can be more positive, aggressive and attacking. I have been watching Alastair Cook's media conferences very closely and he seems to be saying the same thing.
I see this as an exceptional team who could play with a lot more style - and listening to the captain we could see that in this Ashes series. They are going to get better pitches than the ones we played on in the summer when they couldn't take many risks.
The top three were quiet this summer when they were facing the new ball on indifferent pitches.
I fully expect them to express themselves more in Australia. I think the young lad, Joe Root, will be absolutely fine, but Cook and Jonathan Trott have both been prolific in the past and I expect more from them.
Slant
You don't want to be in a situation where you're going along at 2.1 per over after 80 overs because that means you'll only be around 200 when the opposition get the new ball. You can easily lose a few wickets and end up 200-5.
It's far better to go along at 3.2 per over and be closer to 250 or 260 when the new ball is due because that puts a different slant on the opposition.
Obviously you have to try not to lose wickets and play the situation. If you're 20-3 you can't go gung-ho, but I want to see this England team play with more panache, especially the top three.
I also think that while this Australian attack is a good attack, they give you scoring opportunities and both teams should be able to play better cricket on better pitches.
Players assess the pitches very quickly and they always tell you how entertaining a game will be. Good, bouncy pitches allow you to play your shots and the likes of Cook and Trott will enjoy that.
In a way Lehmann is being complimentary towards England in saying they played dour cricket. He's saying they didn't give Australia a sniff and pounced when it was their time. They won 3-0 and by their own admission - and certainly mine - they didn't play that well.
But if you look back at the really, really good sides we've seen over the years - Greg Chappell's Australia, Clive Lloyd's West Indies and Mark Taylor's Australia - they all played with real style and steamrollered the opposition.
I think England are good enough to do that, but we didn't see it over the summer.
Just call me gaffer...
Personally, I've got far bigger things to worry about because I'm the manager of the media football team to play the Australians this year.
The big match will be at Perth Glory's ground at some point during the Ashes series. I played last time, but I've picked up an injury so I've moved into a managerial role this year.
I'm not going to be one of those tracksuit managers like Owen Coyle thinking I can play. I will be suited up. I'll be a bit like Pep Guardiola, but with a hint of Barry Fry and a modicum of Ian Holloway.
I haven't picked the team yet, but I'm keeping my eyes peeled. I can tell you that Michael Vaughan is a Dimitar Berbatov-style player; a real drifter who finds the back of the net.
Oliver Holt is likely to be my midfield dynamo with everything going through him and Sky's Tim Abraham has got a great engine on him. He's an absolute must.
I plan to draft Phil Neale in to the centre of defence alongside John Etheridge. Those two might be a bit long in the tooth, but they're very experienced and I'd compare them to Vidic and Ferdinand.
As for Atherton and Hussain, I'm sorry but I can't get them in the team. The same goes for Dean Wilson... I think he'll be my sponge man.
I have already decided on my system. We are going to play 4-4-3. A lot of people might think that means we need 12 players, but not if one of the midfielders drops back a bit...
I reckon 4-4-3 is a little bit like garlic bread... it's the future!
Stay up or catch up - watch England's defence of the Ashes in Australia this winter ONLY on Sky Sports.