Bumble's blog: Kevin Pietersen is "nearly great" and draw on cards in first Test
On the brink of his 100th Test, Bumble says Kevin Pietersen is not in the list of all-time greats... yet.
Last Updated: 19/11/13 5:13pm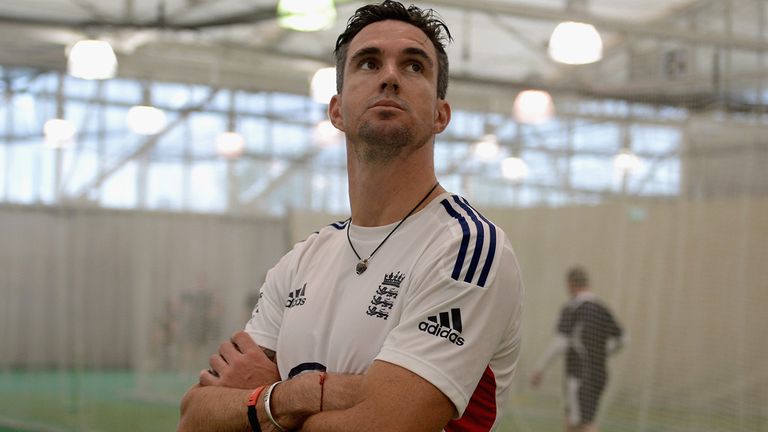 I've witnessed some staggering storms here over the years. The weather patterns are extremely volatile and if the weather patterns set in then rain can come any time from 3.30pm onwards.
There has been rain every afternoon since I arrived, but the locals are hoping that the storms will pass in time for the first Ashes Test. This is usually a steamy and sultry place, but right now it's bordering on chilly. I've just walked through town in a t-shirt and shorts - but I'm the only one dressed like that!
The weather is one of the factors making me think we could be in for a draw in the first match. I've just done a round table with Ricky Ponting for the Daily Mail and he says it's easy to get sucked into thinking the Brisbane pitch could do all sorts - but it does nothing. He says this is a good pitch.
I'll give you a stat to back that up. In last year's Test match here, South Africa scored 450 in the first innings and Australia responded with 565-5, including a double-century for Michael Clarke and a century for Ed Cowan. The match result? Draw.
It's worth pointing out that a couple of fellows called R. Ponting and M. Hussey played in that game who won't be playing this week and I don't think Australia have as much strength in the batting line-up nowadays.
Overall they should me more settled as a team than they were in the summer - they haven't just sacked their coach and there aren't as many questions over the captain - but when you look at both sides on paper you'd say that England have the stronger team.
In fact, Ponting mentioned three players during our chat - Alastair Cook, Jonathan Trott and Matt Prior - who did very little during the summer, but he can't see that happening again. If those three come good - and you put Kevin Pietersen and Ian Bell into the mix - then Australia have got to get even more runs and that could be difficult.
I think both teams pretty much pick themselves. I expect Michael Carberry to open the batting for England and Chris Tremlett to be the third seamer. All the word around here is that he would get the nod unless something spectacular happened for Steven Finn or Boyd Rankin in the warm-up game.
Prior has been doing a lot of work and all the talk is that he will be fine. He has been working out and the signs are that he will play.
Overall we should see truer pitches with a bit of pace in this series and while a draw is a good bet in the first match, I expect England to come out on top in the end.
Is KP great?
There has been a typical frenzy in the local newspapers on the eve of the Brisbane Test and they have all been having a dig at England.
According to the front page of one paper, Kevin Pietersen is a loner and nobody likes him. I think that's been said before...
What seems to have happened is that the England players got off the plane and walked into the airport in single file and some snappers took a photo of KP on his own. They've shoved it on the front page and claimed it means he's a loner!
I'm sure that won't bother him as he gets ready to play in his 100th Test match and there's no doubt he is a wonderful player.
But can he be described as a great player yet?
After the retirement of Sachin Tendulkar I put the question out on Twitter this week: are there any 'greats' playing right now, other than Jacques Kallis?
I can batch a number of players into the category of "greats" without any question: Don Bradman, Garry Sobers, Viv Richards, Brian Lara, Sachin Tendulkar, Ricky Ponting, Jacques Kallis. I think that is quite an elite group and it remains to be seen if anybody else can get into it.
There are a couple of "nearly-greats" knocking about and I would spotlight two: one is Hashim Amla and the other is Kevin Pietersen.
They are both fabulous players and if they can continue what they are doing for another couple of years then maybe they can get into that elite group. I'm sure they would say they want to be part of that list.
I've said before that Pietersen is the best and most exciting player that I've seen play for England and another big Ashes performance might just see him join the list of the greats.
Lagging behind
Like a number of the lads I've suffered with jet lag a fair bit this week.
It's a long journey to Australia - the last leg from Dubai and Abu Dhabi alone lasts 14 hours - so I've done quite a lot of sleeping in the last few days, but then I've been waking up at silly times as well.
There have been lots of cups of tea at 4 o'clock in the morning, plus a bit of early-morning Tweeting and a lot of reading. I've just finished Alex Ferguson's book (a terrific insight into management and I can identify with a lot of it) and I'm also reading the Tony Greig memoir called 'Love, War and Cricket', which was written by his 94-year-old mother Joyce and his son Mark. That's a brilliant book as well.
I've had a bit of fun with my new titanium knee in various airports on the way here. It's been setting off alarms all over the place and I damn near have to strip off every time I go through security. They keep pulling me to one side to wave those table tennis bats at me - and I've had dogs sniffing up my leg. They let me in eventually.
When we eventually got to Brisbane I went over the road to a pub-style restaurant with the Sky Sports production team and we must have looked like an undesirable crew because they asked us to pay for our food up front. They must have thought we were going to do a runner!
Anyway, we will all meet up for rehearsals at the ground on Wednesday and I'm looking forward to speaking to you all from the commentary box.
I've just looked out of my window again and the electric storm seems to have drifted away and a bit of sunshine is now appearing over the city. That's what you get in Brisbane!