Bumble: England can push on after Graeme Swann's shock retirement
England have lost a fine spinner in Graeme Swann, says Bumble, but can now build a vigorous new team.
Last Updated: 22/12/13 6:54pm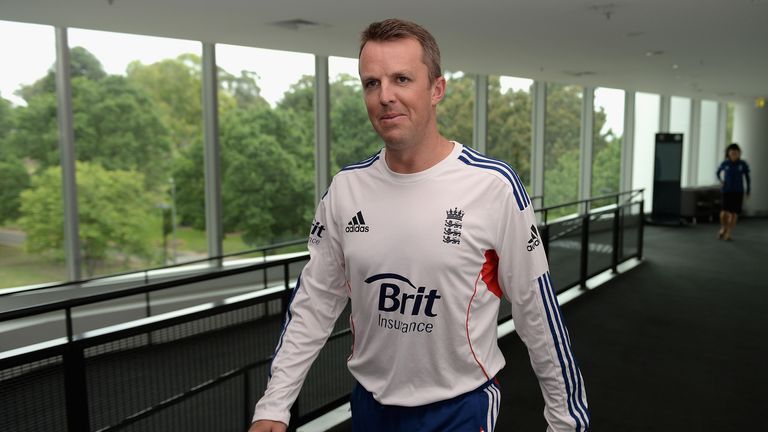 Off-spinner Swann called time on his career, which has yielded 255 wickets in 60 Test at an average just shy of 30, prior to the fourth Ashes match of the series, which you can see live from 10.30pm on Sky Sports 2 on Christmas Day.
Swann was a key component of England's triumphs over Australia in 2009, 2010/11 and 2013, but struggled on this winter's tour Down Under, collecting just seven scalps at an average of 80 during the games in Brisbane, Adelaide and Perth.
And Sky Cricket analyst Bumble, talking to Ashes Podcast - Extra, said that the twirler's exit is 'exciting' as it will give young spinners on the county circuit a chance to shine, as well as help captain Cook create a side in his mould.
"I should think that Cook, [Team Director Andy] Flower and management have had a meeting about where they want to go and who to take with them and Swann's decision has now cleared the decks," said Bumble.
Integral
"This allows Cook to put his stamp on the team and it is exciting to see who comes through.
"England have tried Simon Kerrigan so it will be interesting to see if he comes back from that horrendous debut at the Oval, while Danny Briggs is around, too, but they will be looking for someone who can bowl and bat."
On Swann's retirement, the former England coach added: "It was a shock but when you look at it he's 34 and after being devastated at losing the Ashes he has decided to move aside and let someone else have a go.
We've all been there and sometimes you just wake up and think: 'I can't do this anymore'. I thought that at 32 but was persuaded to carry on until 36 and didn't really enjoy these years.
"But Swann has been an integral part of England's side as a world-class attacking bowler and when he was in his pomp you knew he would take wickets with dip and drift.
Dangerous
Bumble's fellow analyst Michael Atherton, meanwhile, feels Swann's success in the Test arena was aided by the Decision Review System, but still classes the Northampton-born star as one of England's finest-ever slow bowlers.
However, the Times writer says Swann's departure could be the first of many in the near future with the squad built by Andrew Strauss and Flower having come to the end of its cycle.
"I think Swann is England's best off-spinner since [Jim] Laker, the best spinner since [Derek] Underwood, and someone who was very good at his best, said Atherton.
"When he came on the scene people thought off-spin might have had its day and that you needed to bowl a bit of mystery spin or have 'Doosra' in order to be successful.
"But he's shown that good old-fashioned off spin, spun hard and bowled attackingly, can be dangerous.
"It was probably to his benefit that he bowled in a DRS world as players had to play with their bat and not their pad, but those 250-odd wickets have been taken in the best part of four years which is remarkable.
"I think his elbow has been an issue, though, and he can't quite spin the ball or bowl at the pace he used to, while he has had a bit of punishment from Australia's batsmen on this tour.
"He probably wonders why he didn't go out in a blaze of glory after the Oval Test in the summer and what's clear is that this team as a cohesive unit is done, with Strauss gone, [Jonathan Trott] gone and [James] Anderson and [Kevin] Pietersen the wrong side of 30."
For more from Bumble and Athers, including their thoughts ahead of the fourth Test in Melbourne, download Ashes Podcast - Extra.