Bumble's Blog: It's Early Doors for Matt Prior and Masters duo Matt Kuchar and Sergio Garcia
But there seems to be a massive move for Peter Moores as England coach...
Last Updated: 14/04/14 11:03am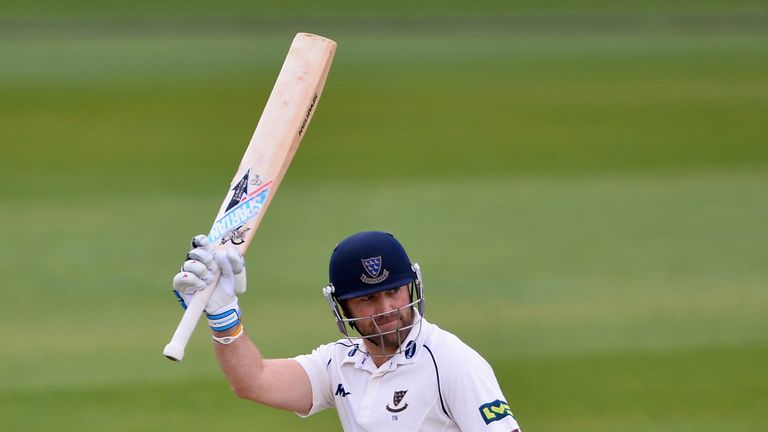 It should be a good night - it's the start of the season so I'm sure everyone will be very positive. Lots of good people will be there including the MCC President Mike Gatting, England selector Gus Fraser and Charlotte Edwards, one of Wisden's Cricketers of the Year.
This time of the year brings it all back although I'm pretty sure we never started a season this early. I'm sure they've had to get the gritter out on some of the pitches! It must be horrible getting hit on the inside of the leg early season.
Tough
It's been a really tough start for Jonny Bairstow who now won't be able to further his England claims after breaking a finger; Matt Prior has made an early case by scoring runs at four for Sussex but Lancashire's Jos Buttler is resting. That doesn't quite seem right to me.
There are bound to be some low scores around because the pitches are slow and seaming, making life tricky for top-order batsmen.
Lancashire opened up with a loss to Nottinghamshire despite a century for Ashwell Prince and the early season will be tough for them due to their injury list but I read that Glen Chapple and Kyle Hogg might be back for the Warwickshire game.
On the England front it's a case of 'watch this space' for who will be the next coach; that decision will be made in the next fortnight but there seems to be a massive move for Peter Moores. I've no idea who will get it but the good news is we won't have to wait long to find out.
Recommend
Although I'm at Lord's tonight you can be assured I'll be following the Masters very, very closely for the duration because I think it's one of the sporting events of the year.
I've had my little two bob on Matt Kuchar and Sergio Garcia, but keep an eye on Lee Westwood as well!
The other night I went down to Joshua Brooks - a pub in Manchester that can become a 90-seater venue. Every year they put on five 20-minute plays back-to-back and it's a really good night.
A friend of mine is a writer of, and appears in, said plays - he's called James Quinn; you may have seen him from time to time in Coronation Street as a policeman. He was also one of the policeman in Early Doors.
It's a great concept and something I'd definitely recommend going to.
Shocking
I'm off to the big football match this weekend - York City versus Accrington Stanley at Bootham Crescent. Since the 1-0 win over Exeter, we've been beaten at home by Northampton who are bottom - which was a shocking result.
York are an in-form team in the play-off positions so it's a big game for us, is this. I caught a few games at the start of the season and am hoping to squeeze in a few more before the end of the season, cricket duties permitting, but this is the big one.
'Vipers' is a City fan and she'll probably be stood behind the goals. I can tell you one thing. I won't be there with her!
One more thing - I've just found out I'm going to Dubai for the day at the end of the month for an ICC Umpires meeting, which will be headed up by Vince Van Der Bijl.
If there's time I might just take in an IPL match...