England produce 'inept' display in ODI defeat to Sri Lanka
Batting passion criticised after 99 all out
Last Updated: 26/05/14 11:45am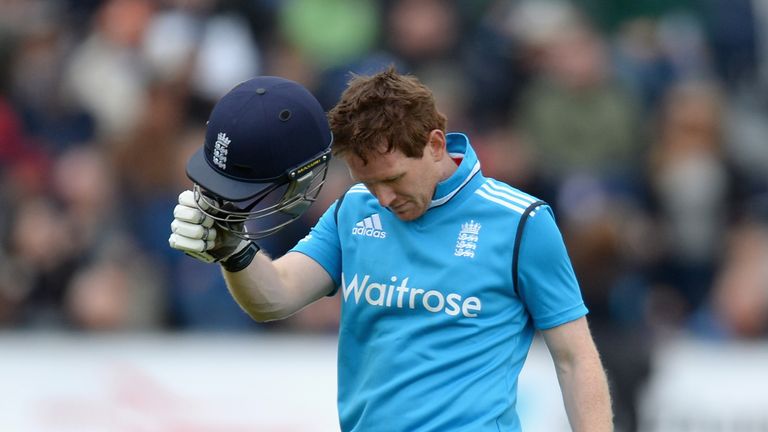 Peter Moores' men had begun their 50-over series against Sri Lanka with an encouraging win at the Oval last week but, after seeing the tourists make 256-8, crumbled to 99 all out in response at Durham.
Eoin Morgan's 40 was the only notable score in England's heaviest ever home defeat in terms of runs - and their sixth lowest ODI total.
"It was a dreadful performance and from what I've seen, particularly with the bat, lacking passion - and that will be a big problem," said the Sky Cricket pundit.
"Talk about pride and passion, I saw nothing whatsoever from England. They didn't offer the game anything from 29-4; the damage was done then. It's not as if the ball was zipping around all over the place and swinging. Inept."
While the cool conditions at Chester-le-Street were uncomfortable for the Sri Lankans, Lloyd says the visitors noted and adapted to the challenge far better than their hosts.
Tillakaratne Dilshan (88), in particular, he said, demonstrated how to profit on a day which required batsmen to 'get stuck in'.
"It's a crushing victory for Sri Lanka in conditions which are difficult for them," he said.
"It's comical that they've got fielders with bobble hats on and hand warmers but they've done the job.
"Man of the match Dilshan normally gets down on one knee and hits it over his head and plays outrageous shots - but not today. Batting first he was quite circumspect. In northern terms he's got stuck in - and he's an entertainer.
"I'd suggest England, chasing down 256, didn't read that situation. They didn't assess it right."
Dropped
However, despite their woeful work with the bat, Sir Ian Botham reckons England's problems began with a poor display in the field first-up.
From bowling too short to dropping a number of chances in the field, the hosts failed to pressurise Sri Lanka or capitalise when they did make inroads, he said.
"I thought it started when they were fielding; there were soft dropped catches, they persisted with bowling short at players and Sri Lanka got far too many runs - and then England came out and batted and it was embarrassing," said Botham.
"Nuwan Kulasekara (3-15), when he came on for his first over, went for eight. He was trying to get it up there and swing it. He realised it wasn't swinging so he changed his tact totally in the next over, bowling with a little more pace and banging it in just back of a length. He adjusted to the conditions.
"These are English conditions, we're brought up on this, yet we persist with this short bowling. If they do that against a really top side - and Sri Lanka are excellent - they're going to get hammered to all parts.
"It was a good partnership between Dilshan and Kumar Sangakkara, England broke that then get Mahela Jayawardene cheaply and they were back in the ascendency but then just sat back.
"We saw Sri Lanka, when they got a couple of wickets put another slip in, had a short-leg straight away for Ravi Bopara...
"I just think at times we sit there thinking it will just happen. It doesn't just happen. At times you've got to make it happen.
"They say the ground's not full but why would you pay and come and watch that?"
Watch the third ODI between England and Sri Lanka live on Sky Sports 2 HD from 1.30pm