Bumble's Blog: Peter Moores thinks Simon Kerrigan is the real deal...
...but I've yet to see Test match traits in the spinner's armoury
Last Updated: 16/07/14 2:13pm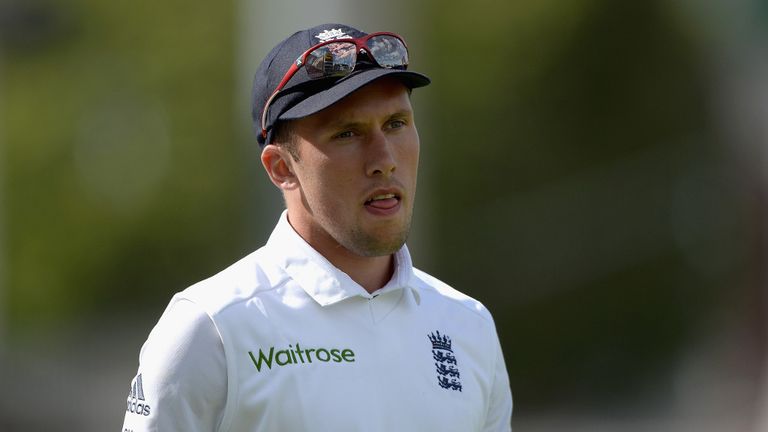 I'm absolutely staggered that so many people have got something to say about India's allegations against Jimmy Anderson.
I'm not passing comment because I wasn't there except to say that it seems very, very odd to me that the manager of the team would report something like that – and why was it not reported on the day it's supposed to have happened?
Why has it taken so long? It smacks to me of someone wanting a bit of limelight. England have now lodged a counter-claim and there will be a hearing into the charges so for now, move on…
Traits
I'm travelling down to London this afternoon on the rattler. I missed the last day of the first Test and I've not been great since – I've been smothered in a cold, courtesy of M Atherton.
There's plenty of talk about Simon Kerrigan doing the rounds and I'd say that Peter Moores is going to stake his reputation on him.
Kerrigan has just played against Nottinghamshire at Liverpool and bowled poorly – that's my first-hand information.
England are obviously desperate to play an out-and-out spinner but they've got to be absolutely certain that whoever it is, is good enough to play Test match cricket.
Moores thinks Kerrigan is the real deal and so do Lancashire at the highest level but I've seen nothing to tell me that he's a Test match bowler.
David Lloyd
Moores thinks Kerrigan is the real deal and so do Lancashire at the highest level but I've seen nothing to tell me that he's a Test match bowler.
Of course, I hope the lad takes five wickets in the game if he does play; you've got to be consistent, accurate and threatening. I've seen none of those traits from him.
It's the same with Moeen Ali – he's just a pleasant bowler. England would love to have someone else in that role but there isn't anybody, although I'm glad that Monty Panesar is playing again.
Australia tried everybody until they got to Nathan Lyon – they tried the world and his aunty first; now Lyon is a clever bowler who does a fine job for them, supplementing their attack, just as Ashley Giles did for England a few years back.
We talk all the time about how good Graeme Swann was but let's not forget that Giles was unbelievably effective for England; he caught brilliantly, you had to prise him out as a batsman and he rarely got clattered when he bowled, so he was always a threat.
Ordinary
This series has got 0-0 written all over it. Don't think that anyone is going to produce a pitch that is fast and bouncy in England!
The Trent Bridge pitch was a killer and the seamers on both sides will be absolutely knackered. The schedules are hurting them.
I'd like somebody to come out and say 'this schedule is not ideal because…' – let us know if it's because that was the best deal we could agree with India, or because the World Cup is cramming everything or because TV is calling the tune. Let us know why we've got five Test matches in six weeks.
Both teams lived up to my expectations in the first Test; they are two ordinary teams looking to improve. India were better than they were last time around in 2011 when they had their superstars playing.
There are a lot of willing young lads in the squad and they fielded very, very well at Trent Bridge; they were athletic, quick and strong so full marks to them.
Virat Kohli was quiet in the first Test but that won't be the norm. Cheteshwar Pujara looks a wonderful player, as does Murali Vijay, while we all know MS Dhoni is a fighter.
I reckon they'll play the same team at Lord's. Everyone talks about Ravichandran Ashwin but India obviously don't rate him or else he would be playing because he averages 40 with the bat and is an out-and-out off-spinner.
Fearful
In county news, I'm very concerned about Lancashire.
The club announced record profits earlier this year but the team is languishing second-from-bottom in the County Championship division one table.
Why is this? This is a massive club – one of the biggest in the world – with fantastic traditions going back to the turn of the 19th century! I'm sure that the people in this area will say 'this will not do' because relegation is staring at the team now after the defeat to Nottinghamshire.
Lancashire are down the bottom with Northants, who also got promoted last season, so that tells you there is a gap between the divisions.
I'm fearful for my old county and have to ask 'is cricket at the forefront of their mind'?
On the face of it the club has made some very poor signings and where is the young talent because this is the time to get them in? Lads who promised a couple of years ago have gone backwards.
Do the top brass feel that relegation is damaging? I'm telling you that it is because there is a total lack of interest.
I'd like to see Lancashire CCC to be first and foremost a county cricket club. I had a fantastic day at the T20 but the yardstick is Championship cricket, as they told us when they won it a few years' ago.
As a former player and a fan, this will not do!
Watch day one of the second Test between England and India live on Sky Sports 2 from 10am on Thursday.