Bumble's Blog: Ravi Jadeja spat with Jimmy Anderson is a 'farce'
Indian player can expect lots of stick at Old Trafford after pushing incident
Last Updated: 01/08/14 11:28am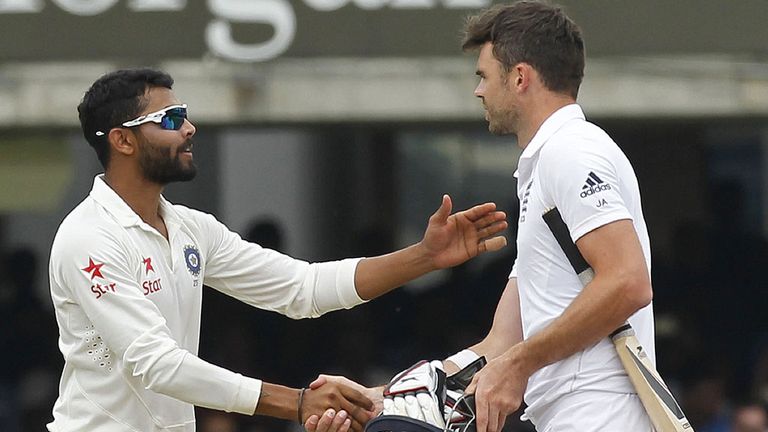 I've had a bit of time away from commentary duty this week.
I played a bit of golf and went up to Whitby, which was lovely. We went on a boat trip in the sea (£2.50 for 20 minutes – great value) and I had the best fish and chips in the country.
I've been before so I know what to do. I went to one shop for my fish and another for my chips – and I was allowed in even though I didn't have any tattoos or a football shirt. That's usually a requirement up there, but I got away with it.
I was watching – though mainly listening – to the Test match and I thought it was a terrific performance from England. It seems that when the captain gets runs he captains well. It must be to do with his frame of mind.
Jimmy Anderson was fantastic and Chris Woakes did ok, but Chris Jordan – who is a good cricketer – showed the pitfalls of having time off. There's no way you can walk straight back into a Test match.
It has always surprised me that players and selectors think they can go straight in after injury or time away. Doing nets and a bit of fitness work simply isn't enough, you have to play.
I listen to the people that have done it all – Botham, Willis, Boycott – and they'll tell you that it's pie in the sky if you think you can take three weeks off and expect to wander straight back into a Test side.
Just look at Steven Finn and Jonathan Trott. Both of those players are still on England's radar, but they are getting cricket miles on the clock by playing for their counties in the meantime.
The Test matches have been coming thick and fast and it's unfortunate for Jordan because if you're not selected you're kicking your heels – and the county calendar means there's not always cricket for him to go and play. He needs to bowl and bat somewhere though.
I do think they want to stay with the same team at Old Trafford, however. In horse racing terms, he will be better for the run.
Push off!
England will not be able to pick the same team if Anderson is banned, though, and all eyes will be on the judge deciding on the incident with Ravi Jadeja.
It's a good job these lads never played against Dennis Lillee and Fred Trueman. There was no 'mummy, mummy he's pushed me' in those days.
Bumble
To me, this situation is an absolute farce and it seems India won't let it go. It beggars belief that people from all over the world are getting involved because somebody got pushed.
I wasn't there and I don't know what happened so I can't sit in judgment, but I'd like to know if the lad was hurt. Was he able to continue playing? Yes he was. 
These are supposed to be adults. It's a good job these lads never played against Dennis Lillee and Fred Trueman. There was no 'mummy, mummy he's pushed me' in those days.
The Indian players may be mega superstars in their own country, but they ain't here. I wonder if they are getting a little bit above their station?
I'm very pleased the next match is in Manchester too. Remember Darren Lehmann urging the Australia fans to give Stuart Broad plenty of stick? Well I can guarantee that Jadeja will get heaps at Old Trafford. We don't do up-themselves superstars in that part of the world.
A fair price?
Speaking of Old Trafford, I got in touch with them this week and they say there are limited tickets available for the fourth Test.
People are moaning like mad about the price on Twitter, but I think it's fair. In D-Stand on day four it's £30 for a ticket and it's £45 on days 1-3. The top price tickets are £68 – and you get six hours of international sport for that.
I'm not one to say how much an individual can afford – that's up to every person to decide for themselves – but you can cut your cloth if you want a day at the Test match. If you get six hours for thirty quid then that's less than the minimum wage per hour.
I think they are taking the mickey at Lord's when they charge £115, mind you…
Clocking on
I'm back to work this weekend and I'm hoping to get my computer working again. My mate Oggy is mending it for me.
I played him at golf off his new handicap after he won Captain's Day and he must be in crisis because he only got 42 points and took yet another fiver off me.
He and his young lad, Cole, came over to our house the other day and our garden clock mysteriously stopped working at around the same time.
Cole was playing outside with a ball and then, all of a sudden, ran in and sat down. I'm not pointing any fingers, just stating some facts.
So if Oggy thinks I'm paying for that computer he's got another thing coming…