Bumble's Blog: Could Kevin Pietersen have Finals say at Edgbaston?
Let me know your T20 predictions - plus what England ODI side would you pick?
Last Updated: 22/08/14 10:28am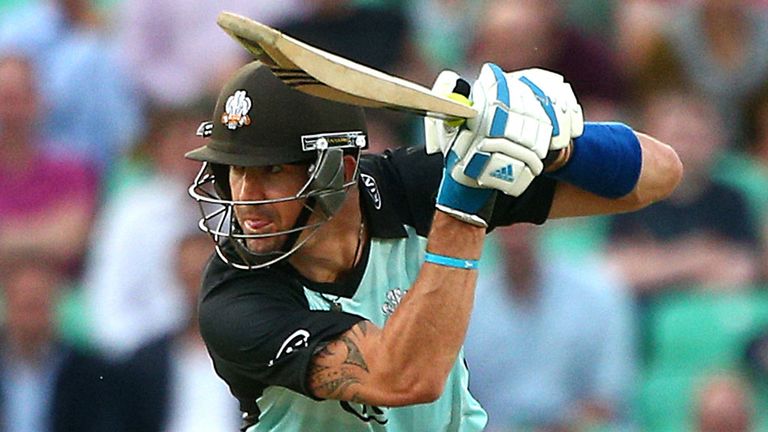 There'll be plenty going on at Edgbaston on Saturday but the story of Finals Day this year for me is Kevin Pietersen.
I've said all along that he's the best Test match batter I've seen play for England. I'm talking about him in his pomp when he got you on the edge of your seat, asking 'how the hell does he do that?'
I hope the lad does well and I wish him all the best. I don't get involved in all of the discussion on Twitter about him and England – they've gone their separate ways.
I'm not into the politics of it all but he's been a fantastic player for England. He hasn't fired yet for Surrey in this competition but the stage is set for him. I'm sure he'd like nothing better than to put on a show.
I think it's great that the current England players will be involved at Edgbaston. The real intrigue surrounds Jimmy Anderson. Will he slip a few out in four overs or get clattered like everybody else does? We'll just have to wait and see...
Surprise
I'm staggered that Ravi Bopara isn't in the England one-day squad announced the other day – I wasn't ready for that.
I've looked and tried to pick a team out of the 15 players who are in and I'm really struggling to get the balance right. If you play Moeen Ali and Joe Root, you don't need James Tredwell.
In the end this is what I came up with: Alastair Cook, Alex Hales, Ian Bell, Joe Root, Eoin Morgan, Moeen Ali, Jos Buttler, Ben Stokes, Chris Woakes, Harry Gurney, Steven Finn.
The ones I left out are Anderson, Chris Jordan, Tredwell and Ballance because I just can't see how I can get them in with the balance of the team that I want.
I'm just resting Anderson, by the way! I've left Jordan out because he bowled 21 wides on his own! That's gone unnoticed by a lot of people. I'm not sure this is his game. He's doing really well in Test matches.
If the selectors sprang a surprise with Bopara, they could easily spring another one and leave Ian Bell out. I can't wait to see what they come up with.
Overseer
The other thing about the first two venues, Bristol and Cardiff, is that they are absolutely tailor-made for India. If you'd have said to India where would you like to start the series, that's where they would have picked because they are both slow and low pitches.
The other bit of news that left me staggered was that Ravi Shastri is now India's team director for the ODI series.
I get on well with Ravi, who is a lovely fella, but this certainly side-lines Duncan Fletcher. Surely the BCCI don't think they are going to put their Test match problems right in a few ODIs?
These games are like chalk and cheese – they're nothing like each other. I expect India to beat England in one-day cricket because they are the World Champions.
To think that Ravi, as an overseer, is going to put the Test team right is a bit tough on Duncan Fletcher. I'd love a job as an overseer…
Proper
This year our theme for Finals Day is 'Festival of Cricket'. I can reveal that our opening song is 'Start Me Up' and that I will be arriving as Mick Jagger.
One of the young shavers has come up with that one and I'm going to give him a gold star. Usually they come up with bizarre music played on synthesisers and rappers, which should go around chocolate bars. But we've got some proper music this time.
The powers that be have sent me some choreography videos so I can learn some of Mick's moves. I've also been told to wear a tight t-shirt, some tight jeans and a pair of pumps!
Well, I haven't got a pair of pumps but I have got a pair of jeans that I've been wearing every day for three years... Watch out, because I might just surprise everybody with the t-shirt…
Watch Surrey and Birmingham, plus Lancashire and Hampshire, battle for the right to be crowned NatWest T20 Blast champions on Saturday. Our coverage begins at 10.30am on Sky Sports 2.