England v India, third ODI: Tourists taught hosts a lesson, says David Lloyd
'England fail to post decent total'
Last Updated: 30/08/14 6:58pm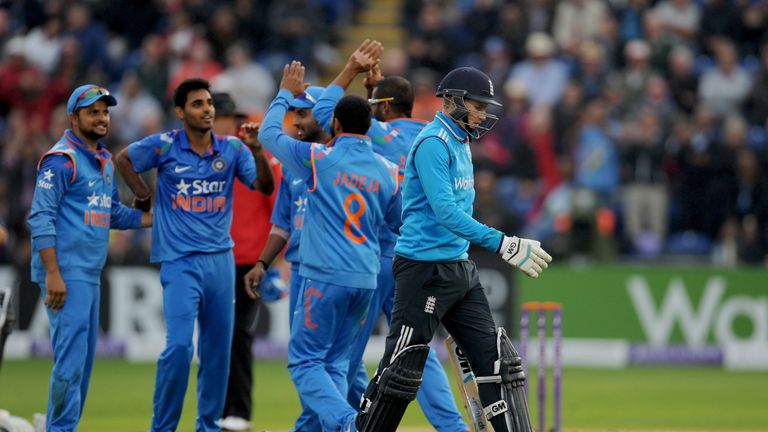 India taught England a lesson in one day cricket at Trent Bridge, says David Lloyd.
The tourists cruised to their target of 228 with seven overs to spare to win the third ODI and take a 2-0 lead in the series with two to play.
It's not rocket science, work the ball and work with the spin.
David Lloyd
While the hosts got off to a good start with the bat, reaching 82-0, Sky Cricket pundit Lloyd says a failure to work the ball in the middle overs – and hit big regularly – left England's bowlers with a total too small to defend.
"England batted first and didn't feature with 227. India, the world champions, routinely knocked it off – and all because the team batting first didn't get to that requisite 270-300 runs," he told Sky Sports.
"India haven't been playing good cricket away from India but they're dominating England and they're giving a lesson, and in particular in this game, how to play one day cricket.
"There's that squeeze in the middle overs, when the spinners get to work and England have no answer.
"How do they improve? It's in that period, from 15 overs onwards. England went 24 overs with one boundary. You're going to lose! You have to be more pro-active and find a way to knock it around but also play a big shot into the stand. We're just not doing that.
"It's not rocket science, work the ball and work with the spin.
"What I see from India, in the mind-set of each batsmen is, 'I'm going to hit this ball for four, three, two, one, no, I'm going to block it.' There's a thought to score off every ball. There are too many dot balls from England."
Understanding
Nick Knight agreed England had failed to work the India bowlers for ones and twos regularly throughout the innings.
However, he suggested, rather than the fault of the current crop, the problem has its roots in the county game.
"This is not something that's just beset this group of players, it's beset England players for many, many years," he said.
"Part of the problem is, you see teams score 300 in county cricket, but there's not the quality of spinner to put batsmen under pressure. Therefore, the batsmen get their runs in county cricket, they knock the spinners around and they're ticking over without really understanding how to rotate the strike against good spin.
"Then they step up to international cricket and they don't necessarily have the game plan to work out how they're going to knock the likes of Ashwin and Jadeja for five or six an over.
"The problem is germinating in county cricket, players are thinking they are doing ok but get up to international cricket and you haven't got a game plan and understanding at this level.
"It's something that needs to be looked at in county cricket – developing a players' games so when you get out there you have more of an understanding."