Akmal already firing
Pakistan's Kamran Akmal is one of the world's most dangerous Twenty20 batsman, says Rob Key.
Last Updated: 17/09/12 5:43pm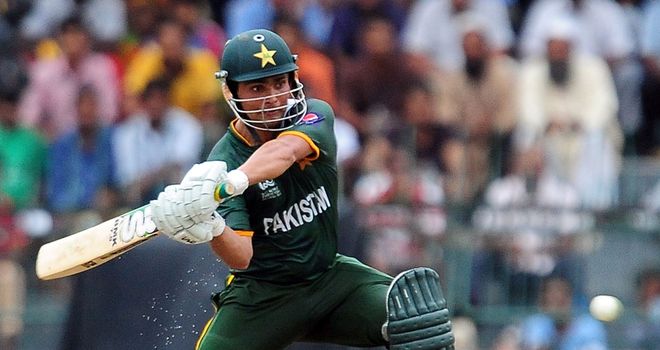 Kamran Akmal must be regarded as one of the world's most dangerous Twenty20 batsman after blasting India aside, says Rob Key.
Akmal cracked 92no off 50 balls to spur Pakistan to a five-wicket victory in their opening warm-up game ahead of the ICC World Twenty20, which begins on Tuesday.
Former captain Shoaib Malik weighed in with 37 off 18 balls in an unbeaten stand of 95 off 46 balls as Pakistan overhauled India's 185-3 with five balls remaining despite stuttering to 91-5 off 11.3 overs.
"It goes to show that you can never write Pakistan off," said Key. "They weren't great with the ball but the one thing they have got is a hell of a lot of skill.
"If Kamran Akmal and Shoaib Malik can build on that display in the middle order, they're a very dangerous side.
"Akmal's one of their match-winners. Shahid Afridi always gets talked about [for his ability] with the bat but Akmal wins a lot more games for Pakistan with the bat than Afridi does.
"When you watch him play like that you think 'how are we not talking about this guy as one of the better Twenty20 players around?'
"The fact that he's started well is huge. If you start well in Twenty20 and all the risks you take come off, that gives you so much confidence going into the next game.
"You feel 'I've done it once before, I'll do it again'; you feel justified in the risks you take. So it was a big day for Kamran Akmal and Pakistan."
Impressive
Key was particularly impressed with the way that 30-year-old Malik steadied the ship after Indian off-spinner Ravichandran Ashwin (4-23) had run through the top order.
"I like this bloke's temperament as much as anything else," said Key. "Every time you watch him play he just seems to play the right innings for the right situation.
"He really gets stuck in and he's a bit of a rock at times for Pakistan. It was a really good partnership and the way he took control was impressive.
"His whole demeanour - alright, it was a warm-up game - but he just looked completely in control. He was happy to play second fiddle to Akmal.
"The middle-order is the toughest place to bat in Twenty20 - especially out there in Sri Lanka - so it was a really good partnership."