'Cook needs KP'
Mark Ramprakash says England must give Kevin Pietersen every chance to play in the India Test series.
Last Updated: 13/09/12 12:05pm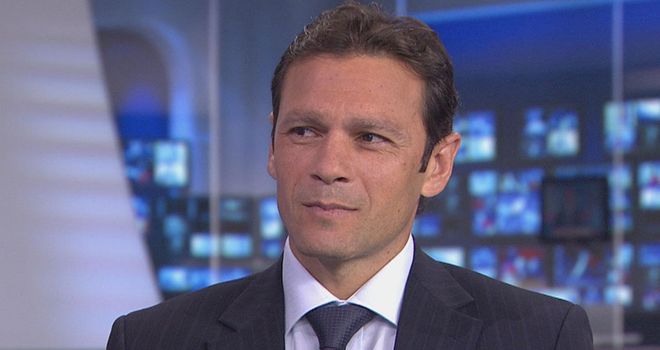 England must give Kevin Pietersen every chance to return to the Test team in order to have the best possible shot of success in India this winter, says Mark Ramprakash.
The selectors have delayed naming their squad for the four-Test tour until Tuesday, prolonging doubts over whether Pietersen will be included.
The 32-year-old has apologised for sending "provocative" messages to South Africa players during this summer's Test series between the two sides, after which Andrew Strauss stood down from the England captaincy, but discussions between Pietersen and the selectors appear to be on-going.
Former England batsman Ramprakash told Sky Sports News that it is in the interests of both parties to find a swift resolution.
"I think it can happen if there's the will on both sides. I think initially the will has to be with Kevin to try and show a bit of remorse at some of the decisions he's made off the field - and they have been poor decisions," said Ramprakash.
"But looking at it from Cook's point of view, he'll want to go to India with as strong a team as he can possibly muster. Kevin's been to India twice before and played Test series there. He's scored runs there for England and we know he's a very important player for the side - he scored 149 against South Africa in his last Test innings.
"So he could make a huge difference to England's fortunes in India in what we're being told is a series in which the Indians are looking for revenge. So Alastair Cook will give Kevin every chance for there to be a meeting of minds and for him to potentially come back into the side."
Ramps also shared his thoughts on some of the biggest stories of this summer, including:
Why Andrew Strauss' decision to stand down was right...
"I was initially surprised when the announcement came. I thought that Strauss had plenty of cricket left in him, I must say. But now that I've thought about it I think it was a shrewd move. Only he will know if he's got the energy and desire to carry on not only playing but captaining, which we know is such a draining job. With England losing six Tests out of the last 11 and with a difficult tour of India coming up, I think it was actually a shrewd decision."
The appointment of Alastair Cook as England Test skipper...
"England have been grooming him for the role. He's taken over the one-day captaincy for the 50-over format and he's seen very much as a safe pair of hands. He's a very easy-going guy. He's not particularly demonstrative; he's going to go out and do things in fairly calm way. Of course, we'll have to see how his captaincy evolves in India which is going to be a real test. But he'll form a close relationship with Andy Flower and look to carry on from the Strauss-Flower partnership."
South Africa's rise to the summit of Test cricket...
"It was a close series - I watched quite a lot of the cricket, particularly at the Oval and Lord's - but you have to give absolute credit to South Africa. They came to England and outperformed us in our conditions. They have a balanced team and that's the key thing: they have great experience in their batting line-up and then in the bowling department they've come up with this guy called Vernon Philander, who has had a magnificent start to Test cricket. South Africa showed themselves to be a good all-round team and that's why they came out on top."
The improvement in England's one-day international form...
"I think there has been a significant change with the balance of the England side. Rather than going for the bits-and-pieces all-rounders who can bat and bowl a bit, they've gone for their best players. Both Eoin Morgan and Ravi Bopara played very, very well against Australia but it was their bowling that was key - essentially it was their Test attack and England could sustain the pressure on their opposition batting for the whole 50 overs. There are no freebies knocking around."
Whether England can retain their World Twenty20 crown...
"It's going to be a big test for them in Sri Lanka. They had an exhilarating win over South Africa on Wednesday and several young names have come to the fore. Craig Kieswetter looks like he's hitting form and he's done a lot of work on his batting, so he's an important man at the top of order, and of course we've got a young tyro in Jos Buttler who played brilliantly at Edgbaston - all be it for only 10 balls - and Jonny Bairstow as well, so there's lots to look forward to.
The challenges that lie in store for English cricket...
"There are more questions than positives for England before the India tour. How will Cook's captaincy evolve in India, a place where England's game-plan is going to be affected significantly by conditions because they don't usually play two spinners. Who is going to replace Strauss at the top of the order? Then there's Bopara's form, Tim Bresnan's elbow injury and the form of Graeme Swann, who England will turn to. He's going to have to be at his very best if he is going to trouble the Indian players in India. He has not been at his prolific best this summer."