Key issues
Kent batsman Rob Key spoke to Sky Sports News about a potential KP recall and England's T20 toils.
Last Updated: 02/10/12 11:47am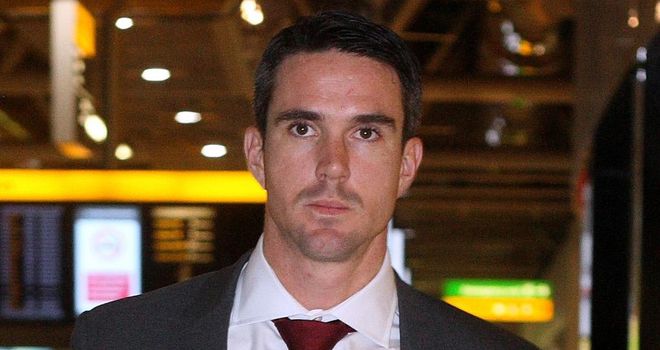 England have been knocked out of the World Twenty20 in Sri Lanka - but they could be set to bring an exiled character back into the fold.
Kevin Pietersen has been absent from the England side since he sent 'provocative' text messages about his teammates to South Africa during the nations' Test series this summer.
But England coach Andy Flower revealed a press conference regarding the 32-year-old's international future is imminent and the Zimbabwean is hopeful that a resolution will be reached.
Kent batsman and former England star Rob Key dropped into the Sky Sports News studio on Tuesday morning to give his take on a potential Pietersen recall as well as England's exit from the World T20 at the hands of Sri Lanka...
A potential Pietersen recall
"I am very happy that he might be coming back into the side as there has never been any doubt that the England team would be stronger with Pietersen in it. There are some issues but hopefully they can be sorted out and I hope he goes to India and plays all forms of the game. That will put England in a better place than a few months ago when he wanted to retire from one-day cricket, which would have put him out of the T20s as well.
"I think they (the other players) will get on with it. You're not going to go out there and not score runs just because Pietersen is back in the side. A lot of them will be quite happy to see him back because of the fact he is such a positive run scorer; he not only gets runs but when he spends three hours in the middle it gives England a good chance of winning. It will be a massive bonus if he comes back."
Why England struggled in the World T20
"Hindsight is a wonderful thing but we were asking far too much of an unproven side; Stuart Broad kept saying at the end of the presentation (after the Sri Lanka clash on Monday) that they were inexperienced and that they would learn.
"In a big tournament you have got Jonny Bairstow and Jos Buttler in the middle order who will be very good players, but you're asking too much of them to get you home time and time again against mystery spin, Lasith Malinga and some of the best bowlers in the world. We could have offset them with a few experienced players, people who have been in that pressure cooker of the subcontinent and the big crowds."
England's chop-and-change selection policy throughout the tournament
"Sometimes you think: 'I have to change this and bring him in and do all these fancy things' but it doesn't necessarily work. You are asking people to play without fear but then if they are getting dropped every other game it is hard for them to have confidence - but that's what happens when you don't have 'bankers', you're trying to find a formula that works.
"People become better players when they are out of the side and with the inclusion of Ravi Bopara against Sri Lanka England were probably thinking: 'None of our batsman can bowl, so we might need Ravi's bowling while he might go out there and play like he can do and smash the ball'. The problem is Ravi hasn't scored a run for two months and to ask him to come in at number six - the toughest place to bat in the subcontinent with the spinners on - was giving him a hiding to nothing."
England's toils against spin
"A lot of England's guys were coming in under pressure having lost early wickets, while they hadn't faced a lot of these bowlers before and when you can't pick them it is very tough.
"The difference between England and India's batsmen against spin is that the likes of Virat Kohli, one of the best players in the world, will pick every variation the spinner has. England have techniques to defend and play shots against it but they don't know which way the ball is going, The only way to improve is to watch videos and get someone to bowl mystery spin against you."