Time for change?
Panesar and Morgan in? Trott and Broad out? Our experts name their England XI for the second Test.
Last Updated: 19/11/12 1:53pm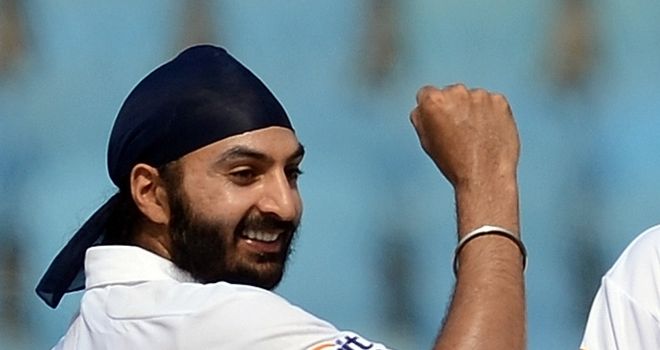 England's heavy nine wicket defeat to India in the first Test sparked debate in the Sky Sports studio.
With the tourists managing to take just nine wickets in the match and struggling to 191 all out in pursuit of India's 521-8 declared in the first innings, there were plenty of issues to be addressed.
Our cricket experts, Nasser Hussain, David Lloyd, Ian Botham, Michael Atherton and Nick Knight each had their own ideas about how England could level the series in Mumbai, from adding Monty Panesar to the line-up and going with five bowlers, to chopping Jonathan Trott for Eoin Morgan.
Check out their second Test selections below and use the message boards below to let us know if you agree.
Nasser Hussain
"I quite like the idea of going with an extra bowler but what concerns me about that in Mumbai is you've got a lad playing in his second match - opener Nick Compton - and Jonny Bairstow coming in for Ian Bell [who has returned home on paternity leave] at five for his first ever match in India. If Bell was still here I'd debate playing a top five, Prior at six and a lot more bowling, but he's not, so I'd have to keep Patel in because he got runs in the warm-up games and got a couple of shocking decisions. And Monty Panesar is a seriously good bowler. If he doesn't play in these conditions he never will."
David Lloyd
"I've left Jonathan Trott out. His first 20 Test matches he averaged 64, his last 15 he's averaged 32, with one century. Top three is too static with him in it. I've got some freshness with Bairstow, Morgan and Kevin Pietersen at three. I've got a bit of firepower with Steven Finn, I've left Broad out but I've got my second quality spinner in with Monty Panesar. It's dominated by spin. The trick is to win the toss, bat and bat well. The side I've picked has given a freshness and an impetus. We're going to have to score at a decent rate so we have enough time to bowl India out."
Ian Botham
"You do need to have some changes. I'm not going to change the top four, because they won't change the top four. But then I want to see Bairstow in, followed by Morgan, and I want Panesar and Finn. I want Finn because he's got pace, he can reverse it, he's tall; Anderson still is the leader of the pack; Panesar and Swann will do the bulk of the bowling. There are 90 overs a day, if they do 30 each that leaves 30 for the seamers and I'm sure two can manage 15 in a day. It's time to move things on and put the pressure on."
Michael Atherton
"Long experience of losing the first Test match of a series abroad has taught me it's a good idea not to panic and make too many changes. Before the tour I wouldn't have had Compton, I'd have opened with Trott and I wouldn't have Patel in. But going from where they are now, they stay. I don't believe in dropping players after one bad game, so I'd keep Patel. You've got to ignore his bowling though, the guy can bat. Second spinner Panesar comes in for Bresnan, Bairstow in for Bell."
Nick Knight
"When it comes to selection I'd try to keep it ultra-simple. By that, I mean, keep the best five batsmen - and you can do that with this England side because you know Matt Prior can fit in at six - and I'd pick my best five bowlers. I've gone with Panesar and I've got Swann. The issue I had to debate was whether to go with Patel or Morgan, or someone else at six, and drop Prior to seven and then get rid of one of my seamers. I decided against that. Why? Because I still feel three seamers will have an impact. That balance gives England the chance of winning the game."