Spinning around
We look at whether Panesar is answer to England's problems in India
By Graeme Mair - Twitter: @gmair 1
Last Updated: 28/11/12 6:04pm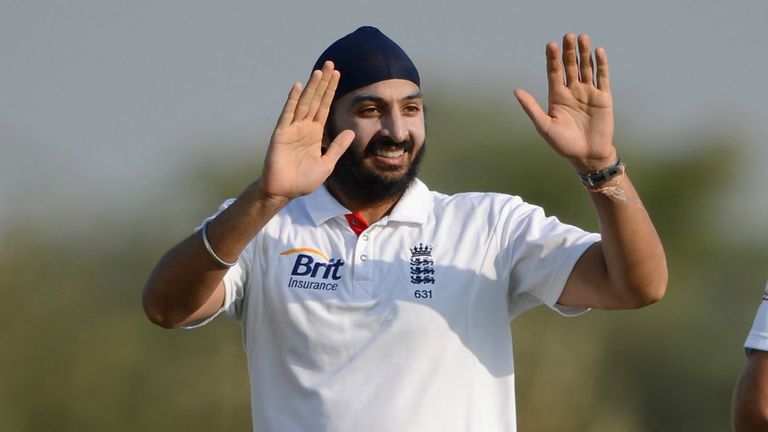 The decision to play three seam bowlers and Graeme Swann as a lone specialist spinner did not work in Ahmedabad where India piled up 521-8 declared on the way to nine-wicket win.
You can see what changes the Sky Sports' experts think should be made for the second Test in Mumbai by clicking here.
Nasser Hussain, David Lloyd, Ian Botham, Mike Atherton and Nick Knight would all like to see Monty Panesar included as a second spinner to complement Swann, rather than again relying on getting some overs from part-timers Samit Patel and Kevin Pietersen.
The unanimous verdict from our commentators begs the question why Panesar - an experienced player with 142 wickets from 42 Tests - found himself surplus to requirements in the first place.
One explanation put forward was that England have failed to win any of the seven Tests that Panesar and Swann have played together.
Closer inspection reveals that is something of a misleading statistic. Lack of runs from the batsmen was England's key failing when they combined forces three times last winter, twice against Pakistan and once in Sri Lanka.
They almost bowled England to victory in Trinidad in 2009 and, in the two Tests on the last tour of India four years ago, performed with credit in the first innings at Chennai and throughout the match in Mohali.
Bounce
On the six occasions Panesar has taken seven or more wickets in a Test, four of those have come on pitches offering lots of bounce, three times at Old Trafford and once at Perth.
The argument that bounce is more important than turn for Panesar is backed up by his poor overall record in the five Tests he has played in India, where each of his 11 wickets have cost 59.50.
But perhaps of more interest is the left-arm spinner's performances against Pakistan in Abu Dhabi and Dubai last winter when he took seven wickets in each match and completely outbowled Swann on lifeless pitches.
Was that the emergence of a 'new' Panesar? Evidence that he had developed an ability to outwit batsmen at the top level and was no longer as reliant on conditions?
Was it the the fruits, perhaps, from his switch of counties from Northamptonshire to Sussex after losing his England place to Swann on the West Indies tour in 2009? Or did it say more about the ability of Pakistan's batsmen against spin?
Alternatives
The alternative to Panesar is to again go with three seamers plus Swann, although it will almost certainly be a different combination to James Anderson, Stuart Broad and Tim Bresnan.
Steven Finn is still out injured but the uncapped Stuart Meaker offers an injection of pace. Graham Onions will also be considered given the coastal location of the Wankhede Stadium, which means swing is more likely there than at many venues in India.
There is also the option of playing both spinners alongside three seamers but, with Ian Bell away on paternity leave, that would put the top-order batting under even more pressure.
The question for Andy Flower and Alastair Cook is which combination offers the best chance to take 20 wickets and it is not an easy one to answer.
Picking Panesar in Ahmedabad would have left England's management less open to criticism if it went wrong, it was the easier choice but would have ignored recent history.
England have not been successful in India since 1984-85 regardless of how many spinners they have picked. The touring teams who have done well recently, Australia and South Africa, have relied on fast bowling.
With another slow, low pitch in prospect at the Wankhede Stadium, it will be interesting to see what difference a week makes to England's selection.