Nick Knight criticised England batsmen after ODI defeat to New Zealand
England's batsmen failed to capitalise on a good start in their ODI defeat to New Zealand, says Nick Knight.
Last Updated: 17/02/13 2:06pm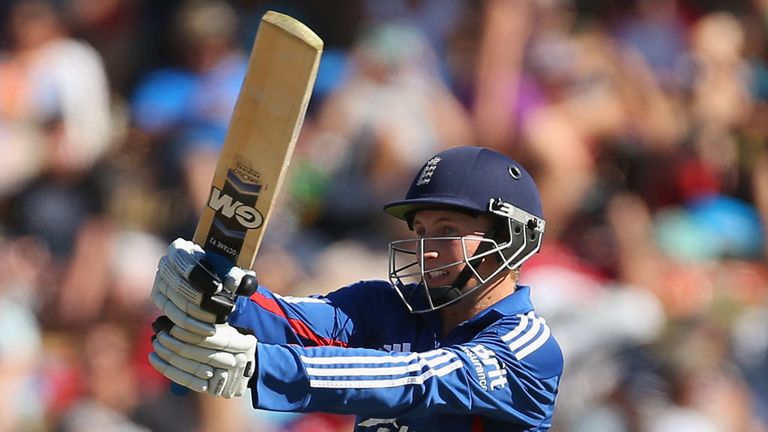 The tourists - who finished on 258 all out - added just 68 to their total in the final ten overs after reaching the 40 over mark with seven wickets in hand.
Knight felt that left England at least 30 runs short of the total they should have obtained after being put in to bat by New Zealand - who, in contrast were 12 runs behind where England were with ten to go, yet surpassed their target with seven balls to spare.
"Why didn't they get another 30 runs more?" said the former England opener.
"They set themselves up beautifully and paced the innings nicely in the first part. They go through the new ball and Joe Root (56) played really, really well. He got busy in the middle overs and got them to 150-2.
"We expect high standards from this England side and that's because they got to number one in the world. They were virtually at full strength for this match - except for Kevin Pietersen - and for them not to get to 300 they have to ask themselves some questions."
Knight feels England's policy of waiting until the final overs before stepping up their run rate is a dangerous policy which doesn't always pay off - as demonstrated by their defeat in Hamilton.
"They showed no interest in the batting power play again and it's almost like all their eggs go into one basket: right at the end, the last ten overs," said Knight.
"As we saw today it didn't quite work, they kept losing wickets and if they do that they end up short.
"Yes they were busy in the middle of the innings but they should have been 20 or 30 runs further on when they got to the last five overs.
"They have a strategy and it's quite formulaic. They think it works - but I think it needs altering."
Short
Meanwhile, ex-England bowler Angus Fraser was disappointed with England's bowling attack, who persisted with short deliveries to the New Zealand batsmen.
"That was a cracking game of one day cricket but I have to say England's bowlers didn't get their lengths right at the end. To keep bowling halfway down and not getting it full was a mistake."
Kane Williamson (74) was the Black Caps top scorer but it was the partnership of Brendon McCullum (69 not out) and Martin Guptil, who chipped in with a 27 not out, despite having to leave the field midway through his knock because of a hamstring injury, which took New Zealand to victory.
Former Kent captain Rob Key said Guptil was a thorn in England's side - and it's never easy to bowl to an injured batsman.
"You don't know how to set a field to someone who's injured," he said.
"When someone's hamstring goes you've no idea of what sort of shot they can play. So do you bounce them because they can't duck under it or do you bowl yorkers because they're struggling? It becomes quite hard because you don't come up against it that often."