Pakistan miss opportunity against South Africa, says Dominic Cork
Pakistan blew their chance to defeat a battling South Africa in the second Test, says Dominic Cork.
Last Updated: 17/02/13 4:20pm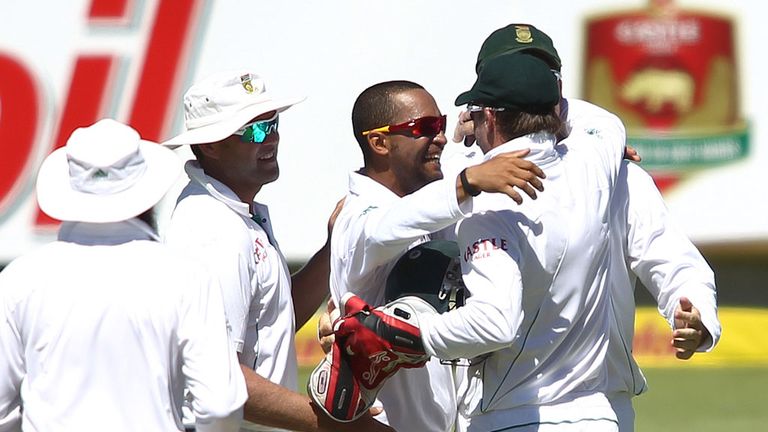 Pakistan began day four on 100-3. looking to extend their advantage over the hosts from 112, but a flurry of wickets early on swung the advantage back in South Africa's favour.
The tourists crumbled from 114-3 to 169 all out, losing their last six wickets for 22 runs and leaving the Proteas with a target of just 181 with more than a day and a half to play.
Despite South Africa losing six wickets along the way, they made it home comfortably and Cork reckons Pakistan will view this contest as an opportunity missed.
"They lost a couple of wickets at the end but that was still a very professional run chase by South Africa," he said.
"They were always going to be as positive as possible. If Pakistan could have got over 200 it may have been a little different but South Africa are quite confident, aggressive players anyway.
"I think South Africa deserved to win because apart from a little period where Pakistan dominated the first day and a bit it's been all South Africa. But that's why they're number one in the world. When they get themselves in a sticky situation, they stick together as a group of cricketers, work well, bowl and bat beautifully and win.
"However, the collapse this morning has cost Pakistan - as did Robin Peterson's first innings, in which Pakistan allowed him to take South Africa closer to their first score than they should have done.
"But credit to South Africa, when they bowl with the consistent lines and lengths as they do then they put pressure on the batsmen and they reap the rewards from it. Vernon Philander and Dale Steyn were immense again.
"Still, if that bunch of wickets hadn't gone down this would have gone to day five and with Saeed Ajmal bowling on a difficult surface Pakistan would have been favourites to win."
Critical
Former England international Vikram Solanki was equally critical of Pakistan for missing their chance to rock the world's best Test side and said the tourists failed to hammer home their advantages during the course of the four days.
"Pakistan have perhaps missed an opportunity," he said.
"They got themselves into a position time and again in this match to force the advantage and they didn't really do that and never really put South Africa under pressure.
"Yes, they've made progress form the first Test but they must view this as an opportunity missed. They've had two centurions, a guy who's got ten-for and they've still lost. That doesn't sit very well.
"You could see Ajmal was making things difficult towards the end of South Africa's second innings but he just didn't have a score to bowl at."