'Complacent' England batting to blame for disastrous Dunedin start, says Mike Atherton
Mike Atherton says England batted with 'an element of complacency' against New Zealand in Dunedin.
Last Updated: 07/03/13 10:41am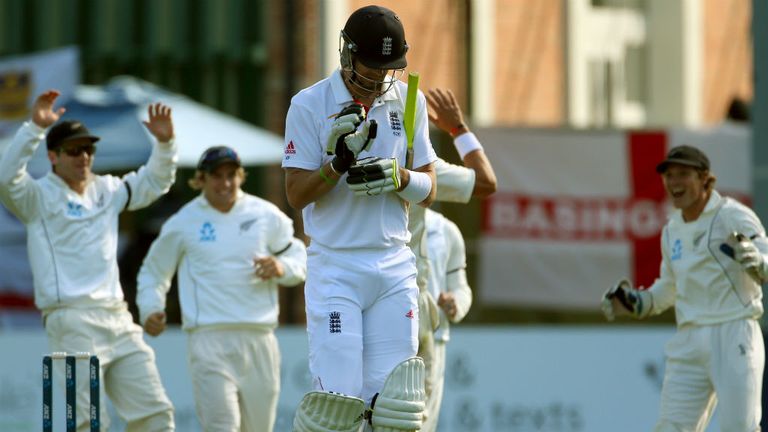 Alastair Cook's side struggled from the off with only Jonathan Trott (45) getting to grips with conditions in Dunedin following the opening day washout.
Worse was to follow for the tourists as Hamish Rutherford and Peter Fulton put on an unbroken opening-wicket stand of 131 before stumps at the University Oval.
Reflecting on the day's play, former England captain Atherton told Sky Sports HD that most of the visiting batsmen failed to apply themselves properly.
"It's the fourth consecutive time in the first innings of an overseas Test that England have been bowled out for less than 200 - here, Dubai, Galle and Ahmedabad," he said.
"You could kind of understand the three others to some extent because of the sub-continental style pitches and England's batting against spinners - they perhaps had a reputation before that Test series victory in India of struggling in the sub-continent.
"This really is totally inexplicable. I don't think there was any real moisture in the pitch. It is a flat, flat pitch and the sun was out for most of the day. Conditions were quite blustery this morning, quite difficult conditions to bowl in.
"Without disparaging New Zealand's attack, it is a workmanlike attack by Test match standards.
"They were eager. I thought Brendon McCullum's captaincy was excellent. But really there is no explanation why England should be bustled out for well less than 200 in just 50-odd overs.
"I think there was an element of complacency about England's batting. Trott showed a bit of application but there wasn't much application from the rest.
"I thought Kevin Pietersen got a very good ball and that can happen to any player, no matter how great you are when you first come in. But the wickets of Ian Bell, Matt Prior, Cook and Stuart Broad were gifted away."
Assured
In contrast Rutherford, son of former New Zealand Test batsman Ken Rutherford, and fellow opener Fulton made light of conditions.
Rutherford scored 77no off 112 balls on his first day of Test cricket - easily eclipsing his father, who bagged a pair on Test debut against the West Indies in Port of Spain in 1985.
Meanwhile Fulton, back in the Test side for the first time since 2009, eased to 46no off 140 deliveries as England's seam attack toiled in vain.
"Rutherford played well. He looked confident and compact right from the start. He didn't go into his shell, which can sometimes happen to batsmen on debut. He played his shots and I thought he looked much more assured than Fulton at the other end.
"Fulton is not a massively experienced Test match player but he's certainly more experienced, although he too grew in confidence as the day went on.
"It would be a lovely moment for Rutherford if he could get to three figures on his home ground - I'm sure the home fans will be cheering him on."
Hard
After close of play, Trott admitted that things "can't get any worse" for England, adding: "We've got a big three days ahead of us" - a sentiment Sky Sports pundit Bob Willis whole-heartedly agrees with.
"It is going to be very, very tough for England to get wickets. The second new ball is a long way away and the first one didn't do that much," the former England paceman reflected.
"The strange thing about this pitch is that there's quite a lot of grass on it, but it's brown, it's dead grass and the ball is not gripping and seaming at all.
"Jimmy Anderson got a couple of balls to swing past the outside edge of Fulton's bat but there was really nothing in it. There was very little pace at all and the likes of Steven Finn really had to bend their back to get the ball up above the batsman's waist.
"So it is going to be hard work and at this point you'd say England might be facing a deficit of up to 200.
"But they've been there before. We saw the second innings in Brisbane when Strauss, Trott and Cook amassed 500 runs.
"But the fact of the matter is that England should have scored 500 in this innings because there might have been an excuse to get bowled out so cheaply yesterday, having been put in to bat, but conditions were pretty unpleasant for bowling and just about perfect for batting.
"England weren't up to it - it's as simple as that."
Catch day three of the first Test in Dunedin, from 8.30pm on Sky Sports 1 HD.