Centre stage
All eyes will be on this summer's Ashes series, when Australia will visit England in the unusual position of underdogs. The pressure and expectation is on England but Sky Sports exclusively learns Steven Finn cannot think of anything better
By Peter Fraser - Follow me on Twitter @SkySportsPeteF
Last Updated: 25/04/13 3:14pm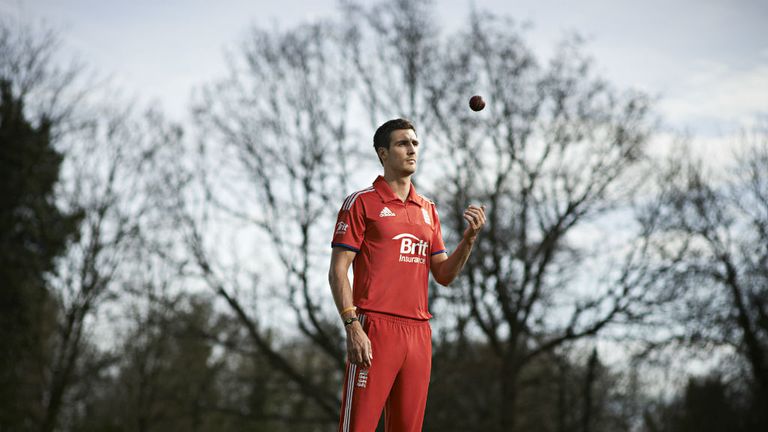 The 2005 Ashes was famously influential in the history of cricket. England regained the much-celebrated, tiny urn for the first time since 1987 and, after almost two decades of waiting, they once again remembered Australia were beatable.
Such has been the shift in mentalities, personnel and talent since that series, which is often described as the greatest of all time given the tension and quality, England are now favourites for their next meetings with the old enemy. Back-to-back series begin at home this summer, with the first Test at Trent Bridge on 10th July, before a winter return Down Under.
There have of course been setbacks in the years after that 2-1 win in 2005, including a whitewash in Australia in 2006/07. But the pendulum has swung towards England, particularly given successive series wins in 2009 and 2010/11.
Steven Finn epitomises the changing times. Eight years ago, the giant Middlesex fast bowler was just a schoolboy at Parmiter's School, Garston, Hertfordshire. He watched on television as the likes of Michael Vaughan, Andrew Flintoff and Kevin Pietersen came out on top of nerve-shredding battles with Australia. Finn would also study the opposition with admiration and dream of one day replicating the talents of the legendary Glenn McGrath.
But now it is Finn's time. Unlike last summer, when England's defeat by South Africa - which cost them their status as the world's No.1 Test team - was overshadowed by the London Olympics and football's Euro 2012, this year's Ashes will be in full focus. Ahead of what would be his first Test appearances at home against Australia, Finn cannot think of anything better.
In contrast to some of his bowling predecessors in the 1990s, who, it would be easy to understand, would enter Ashes series with rock-bottom confidence after years of being dispatched to boundaries at home and abroad, the now-24-year-old will welcome the spotlight.
"Whenever you have got the ball in your hand, you have got the chance to assert yourself on a match," he told Sky Sports in an exclusive interview in association with England's kit sponsors, adidas. "You almost know you can affect the match. Having all those people watching and being centre stage, I suppose, is something that is exciting. I know I relish it and I am sure the rest of the team do as well."
Before the Ashes, there are two Tests, three One Day Internationals and two T20s to be played against New Zealand in May and June. Cardiff, Edgbaston and The Oval will then also host the ICC Champions Trophy prior to the Tests versus Australia.
England will want to impress against New Zealand after a drawn winter tour in which Alastair Cook's side were accused of underestimating their hosts. The series will be especially important for Finn, who did well in the winter - taking 10 wickets in total and, in Aukland's final Test, equalling his career best bowling figures of 6-125 having already produced a memorable 203-ball stand with the bat in Wellington's first Test.
Finn has played three Ashes Tests in the past, featuring in Australia in 2010 before painfully losing his place to Tim Bresnan. He will therefore want to use the matches against New Zealand to guarantee his Ashes place amid the increased competition for places which will be brought by the return to fitness of Chris Tremlett. And Finn is no mood to miss out on another piece of history against Australia.
"It is the biggest team rivalry in sport," he explained. "It has been going on for a long time, since before the 1900s. It is one of those things that, when you are growing up, if someone mentions the Ashes, people always know what you mean. It is something that is part of our heritage. It is very important that we keep it going.
"I always loved watching the Ashes when I was growing up. The build-up always really excited me. It is something exciting to have as an English person. As a young, English lad who was starting cricket, whenever the Aussies came over, I would watch the TV avidly and try and see as much of the cricket as I possibly could. I have grown up on a diet of the Ashes and it has been great."
Much has been made of the state of the Australian team who will travel to England this summer. A 4-0 thrashing in India, which was further shrouded by the 'homework' controversy, leaves the visitors in a bad way.
On Wednesday, Australia named an inexperienced squad for the Ashes, which included Finn's Middlesex captain, Chris Rogers, and it has been suggested their only hope is for a relatively strong pace attack to stay fit. Some pundits have gone so far as to predict England could win their back-to-back five-match series 10-0 but Finn does not think it will be that easy.
"We try to distance ourselves from people who are talking like that, because it can be contagious," he said. "We have played some really good cricket over the last few years and that has culminated in us winning the last two Ashes series. It bodes well for us but we have to play excellent cricket to get ourselves into a position where we can win those games. We are under no illusions that, coming into this Ashes, it is going to be a very tough series.
"An Ashes series is never a foregone conclusion and this Australia team have got some really dangerous players. We are in a good place at the moment. But we know Australia are going to want to come to England and win. They have not won an Ashes series in a little while and they are going to want to prove a point."
England have had their own problems over the past 18 months. Last summer brought the defeat by South Africa, which was overshadowed by the infamous Pietersen text message dispute and ultimately led to the retirement of former captain Andrew Strauss. Prior to that, England had been humiliated by Pakistan in the United Arab Emirates. They could also go into the Ashes without star batsmen Pietersen amid doubts over his fitness due to the knee injury which has already ruled him out of the Tests against New Zealand and the ICC Champions Trophy.
But Finn insists last winter's Test and limited overs tours of India, where they won a Test series for the first time since 1985, and New Zealand have boosted the bonds in the England camp, as he explained: "We really enjoyed those tours. It helped that we were successful, obviously. But, coming into this summer, we are a close-knit bunch of blokes. We know a lot about each other and have spent a lot of time together. It is exciting for us as a group of guys who are all friends to experience all these things together."
From a personal perspective, Finn is still coming to terms with his much-talked about bowling run-up, which has been shortened by five metres in an attempt to stop his habit of knocking into the stumps. He took match figures of 6-85 in his first Middlesex outing of the season against Derbyshire. And, despite at times seeming to struggle to find his rhythm, Finn thinks he is progressing nicely.
"It is starting to feel natural," he said of his run-up. "It is starting to feel really good, actually. Momentum and rhythm to the crease are vitally important, especially as a bowler. What happens in your action, what happens in your run-up, makes a big difference to what happens at the crease. It is massively important. You have to just bowl and when you are in that happy place, you have to try and make the most of it."
Steven Finn was launching the new England One Day international and Test match cricket kits, supplied by adidas. Visit www.adidas.com to purchase yours or join the conversation @adidasUK