Ross Taylor a 'lot more comfortable' in New Zealand set-up
Ross Taylor talks about his batting, New Zealand team-bonding and that draw in Auckland...
By Oli Burley - @SkySportsOli
Last Updated: 13/05/13 9:20am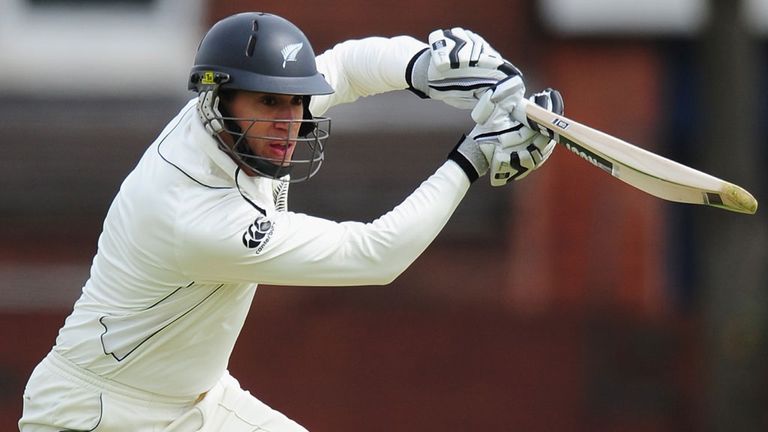 Taylor, 29, returned to the international scene this winter having made himself unavailable for his country's 2012 tour of South Africa after losing the captaincy to Brendon McCullum.
The former skipper struggled for runs in the T20 and Test series against England but averaged 50 across three ODIs, striking his seventh ton in Napier.
Now he is committed to helping eighth-placed New Zealand - who were one wicket away from securing a 1-0 Test win over England 1-0 - rise up the Test rankings and is looking forward to some bus-trip team bonding...
You were a teenager when New Zealand last won a Test series in England, back in 1999 when our very own Nasser was in charge. What are your memories of that series?
ROSS: I can remember Matt Horne getting a hundred at Lord's and Cairnsy [Chris Cairns] smacking Phil Tufnell onto the top tier at the Oval. Every time we play England they always show Roger Twose taking that final catch [to dismiss Alan Mullally] that won us the match and the series. We had a couple of rained out days during the recent series back home and they showed highlights.
How much would it mean to you to replicate that success?
ROSS: Winning any Test series is always the ultimate for any New Zealand cricketer but to win away from home makes it extra special. We aren't looking too far ahead of ourselves because we know we'll have to play better than we did back home to be competitive; this England team play very well at home because they know conditions so well.
Do you feel you were written off as a side before the last Test series and, as a result, do you feel that the team made a point?
ROSS: I don't think much of the media gave us a chance and I'm sure they were all very surprised by the end of it. If we'd had another over in Auckland we could have won the series 1-0. We played very well in that series but that was a couple of months ago now and we have to start again in different conditions because England will come hard at us.
Just how frustrating were those final moments of the Auckland Test?
ROSS: I'm sure the New Zealand public were disappointed that we didn't win but it shows you how exciting Test cricket can be - especially when it goes down to the last ball. It was disappointing but at the same time it was still a good result and one that I don't think a lot of people expected.
You managed a top score of 41no in the series and averaged around 23. Given the turbulent series build-up, how did you rate your own performance?
ROSS: I was disappointed not to score any runs. I got a hundred in the second one-dayer in Napier and it was just nice to have a bat after everything that happened but the Test matches were disappointing. I would have loved to have scored more runs but all credit to our opening bats who batted for a long time and got a lot of runs. It's a nice position to be in, having to wait 80-90 overs to bat.
You gave a very frank interview to Nick Knight before the start of the Test series in New Zealand. Do you feel comfortable within the team set-up now?
ROSS: I feel a lot more comfortable. Going into that series the whole thing was very raw but it was nice to go to the IPL and reflect on a few things. The players have been great through this whole thing and we've worked on a few issues which we had with management and now we just want to put it all behind us. England is a great tour and hopefully we can just focus on the cricket rather than the off-the-field stuff.
Talking of cricket... during the 2008 tour you scored your Test best of 154no at Old Trafford. What can you tell us about that knock?
ROSS: That's one of my two top hundreds in international cricket. The wicket was fairly similar to my home ground back home in New Zealand; there was quite a bit of bounce. I wasn't hitting the ball very well beforehand though - I got skittled three or four times in the nets. But I worked on a couple of things to get in a better place. I still didn't think that I'd go from horrendous form to scoring my first hundred abroad so quickly.
You've mentioned English conditions a couple of times already - how big a challenge is it to adapt? Or do we make too much of it?
ROSS: There is a difference and you've got to use home conditions to your advantage. The biggest difference about playing over here is probably the ball, which does swing and hold its shine longer than the Kookaburra. I'm sure England have different theories on how to maintain the condition of the ball and I'm sure our bowlers will look forward to bowling with it as well.
During that 2008 series you were dismissed by Broad (twice), Panesar (twice) and Anderson. How far do you think England's attack has progressed since then?
ROSS: Swann looks like he'll be available so Monty might not get a go this time! But they are all world-class bowlers in their own right, even more so in their own conditions. Steven Finn is now part of that outstanding line-up and I'm sure they are disappointed with what happened in New Zealand and hit us even harder as a result.
Bob Willis has been full of praise for your attack and the efforts of Tim Southee and Trent Boult in particular. Can you fight fire with fire?
ROSS: It's an exciting line-up and one that's still quite raw. The biggest thing is the competition for places; to have a player of Doug Bracewell's calibre waiting in the wings given what he's achieved in international cricket over the last couple of years means we are in a very healthy position.
Now you are one of the more experienced players in the team, are you excited about what this team can achieve?
ROSS: We've seen with our wins over Australia and Sri Lanka in the last year or so that this is a team that can perform. We know where we can get to - now it's about being consistent and putting in performances day in, day out. We are not where we want to be yet, but we are not far away and we want to rise up those rankings.
Peter Fulton and Hamish Rutherford averaged around 50 at the top of the order in the winter Test series. How much did they impress you?
ROSS: They complement each other well; it's always nice to have a right/left-hander combination. Hopefully they can continue the same form that they showed in New Zealand in England because when the openers do well, that confidence filters through the whole team.
What's the best thing about touring England?
ROSS: A lot of family and friends come over to support us, which is great, and the food is very similar to home. We always enjoy the bus trips around the country. We spend a lot of time flying everywhere in other parts of the world, so it's good to get on the road and relax. A bit of team-bonding on the bus is always enjoyable!
Watch the first Test between England and New Zealand from 10am on Sky Sports 1 HD on Thursday.