India profited from Dilshan injury, says Nick Knight
Injury to Tillakaratne Dilshan cost Sri Lanka dearly, but India are worthy finalists, says Nick Knight.
Last Updated: 20/06/13 7:08pm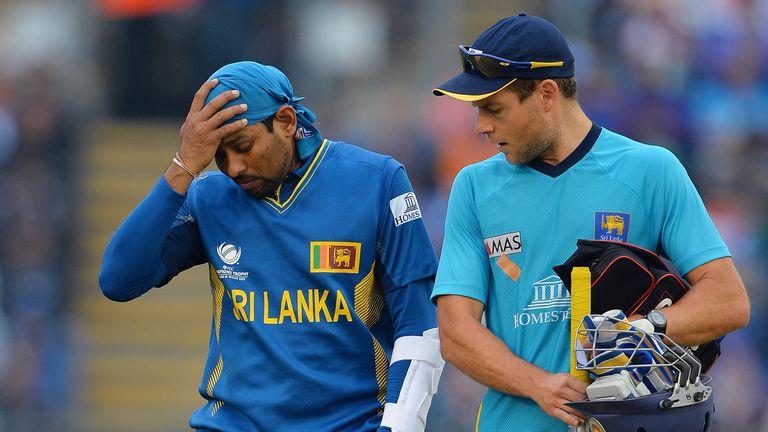 After losing the toss in unfavourable batting conditions in Cardiff, Sri Lanka were put in by India and lost opener Kusal Perera for just four before Dilshan retired hurt.
The talisman was forced to return to the pavilion with a calf problem and his side failed to find any rhythm under pressure from some fine bowling from India's pace attack, eventually crumbling to an eight-wicket defeat.
"Dilshan's problem had a huge impact," said Knight. "It gave India a real lift.
"Dilshan had just started ok, he'd got 14 off 15, got into his stride and then he got his injury. Sri Lanka look to him to get them off to a start but he had to limp off and their innings never quite got going after that."
Former England spinner Robert Croft agreed with his former international team-mate and suggested the batsman's quick-scoring skills were sorely missed by Sri Lanka.
"Dilshan was the one player who could have totally changed the dynamic and vibe of the day," he told Sky Sports.
"We knew it was going to be tricky and Sri Lanka were going to have their work cut out on that surface, but, with 15-20 overs going Dilshan's way, he could have changed the game."
Venom
However, Sri Lanka could only muster 181-8 from their 50 overs and India were hardly troubled as they cruised to victory with 15 overs to spare.
Shikhar Dhawan (68) was dropped by Angelo Mathews early on in his innings, which could have had an impact, but even Lasith Malinga struggled to trouble the Indian batsmen, as Virat Kohli's authoritative 58 not out saw them home.
"We all know what a terrific bowler Malinga is but, given the conditions here, his action didn't suit the surface," said Croft.
"He's got a low, skiddy action so if you get variable bounce and move off the seam it wasn't happening.
"The other bowlers hit good areas but Sri Lanka dropped catches - Mathews dropped Dhawan early on which would have really got them going.
"All in all Sri Lanka didn't have the spite and venom that the India attack had, which was quicker, taller, higher and bouncier. And that's what made the difference."
Best
Following England's success over South Africa on Wednesday, the hosts stand in India's way of adding the Champions Trophy to their 2011 World Cup triumph - and Knight is anticipating a mouth-watering clash.
"They are the best two sides in the world according to the rankings and the best two sides in this competition," he said.
"Pay your money take your choice as to who's going to win the final. I personally don't want to make a prediction until I get there on Sunday and look at the pitch because I think pitch conditions will be crucial.
"The ground conditions we've seen have been incredibly dry at Edgbaston - and England played well there against Australia.
"But if it is very dry India start as favourites. If it's got a little bit of moisture and a little covering of grass you'd favour England."