Sachin Tendulkar: watch The Little Master's farewell on Sky Sports
Watch Sachin Tendulkar's final fling on Sky Sports as India battle West Indies in a two-Test series.
Last Updated: 04/11/13 1:06pm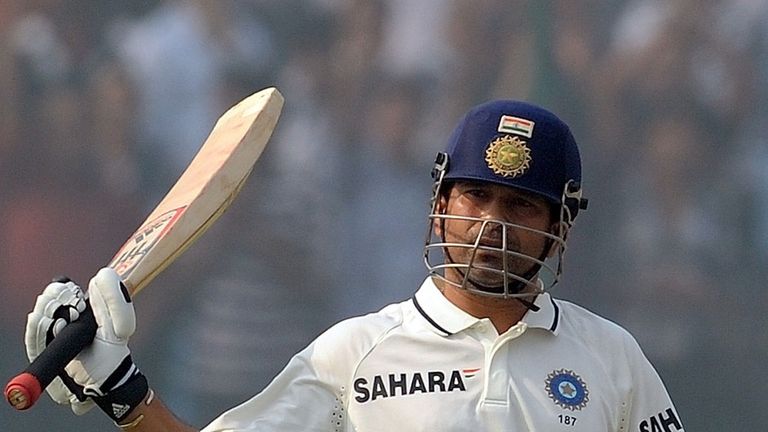 Those are the numbers for legendary India batsmen Sachin Tendulkar, who will bow out from all forms of cricket after his 200th Test match, which will take place against the West Indies in his home city of Mumbai.
The Little Master - who has scored 100 international centuries, 51 in the five-day arena and 49 in ODIs - is revered in India and throughout the cricketing world, so his departure from the game will be emotional and unforgettable.
And you will be able to witness it on Sky Sports, as we bring you live coverage of both of India's Test encounters with West Indies in the coming weeks, starting with the first game in Kolkata from Wednesday.
The visitors have a host of star men in their ranks, including swashbuckling opener Chris Gayle, the granite Shivnarine Chanderpaul and talented quick Kemar Roach and will be confident of giving their opponents some problems in the subcontinent.
But Tendulkar - especially during match two - will be the star attraction as he looks to end his glittering international career, which began in 1989 with a Test against Pakistan, with as much panache as it has been famed for.
However, hot on the heels of multiple run fests in their one-day series with Australia, India can call upon several eye-catching batsmen, including Virat Kohli and Rohit Sharma, who, on Saturday, became just the third man, after Tendulkar and Virender Sehwag, to score an ODI double hundred.
So for the Little Master's farewell and an indication as to who may take over his mantle - a daunting task, we grant you - watch India versus West Indies on Sky Sports.
India v West Indies schedule
First Test (Kolkata) - Begins 3.30am, Wed, Sky Sports 1
Second Test (Mumbai) - Begins 3.15am, Thurs, Nov 14, Sky Sports 2