Sportswoman of the year 2013: Heather Knight looks back on winning summer with England
After her brilliant summer, Heather Knight talks to us about her Sportswoman of the Year nomination.
Last Updated: 21/11/13 2:01pm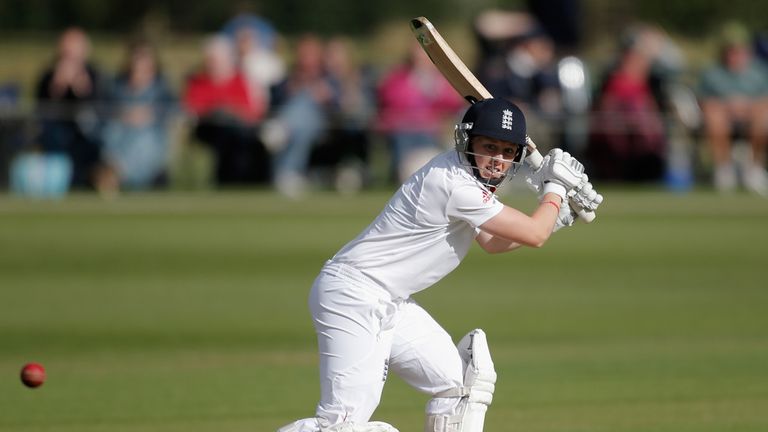 Her excellent displays throughout the series have also seen Knight nominated for the Sunday Times and Sky Sports Sportswoman of the Year award, something that the 22-year-old from Rochdale could barely have dreamt of when she first got involved in cricket.
"I started out when I was maybe six or seven in the back yard with my brother and my dad," she told Sky Sports. "I think I played my first proper match when I was about nine.
"I began by playing boys and men's cricket really so I didn't actually start playing women's cricket until I was about thirteen. I guess that toughened me up, made me improve a lot quicker and made me the player I am today."
A match saving 157, her first century in Test cricket, in the solitary Test at Wormsley shows that she has developed into some player. For Knight though, the most important thing was helping the team recover from a tricky situation rather her landmark personal achievement.
"I was really pleased with how the Test match went," she explained. "What made it even more pleasing was that we were under the cosh at 113-6, I opened and saw the wickets falling at the other end.
Pressure
"To then get a partnership together with Laura Marsh at the other end and do well when we were under pressure - that was really pleasing from my point of view."
Enjoyable as the century undoubtedly was for Knight, it was not her highlight of the summer. So what was?
"Definitely the moment we regained the Ashes at the Rose Bowl," she said, without hesitation.
"The moment when Olivia Greenway hit the winning runs and we all ran onto the pitch - we'd won the Ashes back. That was the high from what has been a pretty good summer."
It was said in a typically understated manner but when looking to 2014 and beyond, it is clear Knight sees the Ashes victory simply as the first step for this England side after what was a frustrating winter.
"With the two World Cups that we lost - we lost to Australia in the final of the T20 and we came third in the 50-over World Cup - we actually lost our world no 1 ranking so I guess the next year and a half, two years or so is about getting that ranking back really," she revealed.
"We've got the Ashes coming up this winter obviously. We fly out in the New Year and hopefully retain those again in Australia and then the World Twenty20 comes along and another chance to show what we can do, prove what we can do because that's the ultimate goal to get back to that world no 1 spot."
The England team have been nominated for Team of the Year in the Sportswomen awards much to Knight's delight but when it comes to her own nomination for the individual award, the opener seems somewhat shocked by it despite her Ashes heroics.
"I was quite surprised to be nominated for the individual award, there's so many great names in the mix," Knight said. "I was looking back at some of the previous winners and there's some very well-known names up there.
"Just to be nominated and be associated with those sort of names, and the other five nominees who have had brilliant years in their own respective fields. To get nominated is an honour, hopefully it will be a good evening and then who knows?"
Beyond the awards, Knight main aim is to get back to full fitness before the team fly out to defend the Ashes down under after Christmas. An injury picked up in the final match of the summer series has meant a frustrating few months but Knight is determined to come back even stronger than before.
"For me the aim is just to get fit, get back out on the park again and then hopefully I can start off where I left off and start scoring runs more consistently for England," she added. "I've obviously had a good summer this year but the ultimate goal is to do that on a bit more of a consistent basis."