Women's Ashes: Katherine Brunt says team fired up to avenge men's loss
England's Ashes thrashing will act as added motivation for the women's side, says Katherine Brunt.
By Peter Smith
Last Updated: 08/01/14 9:24am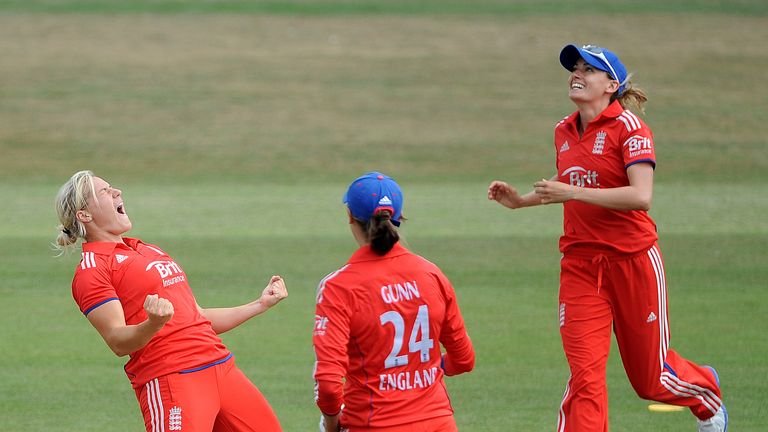 Both outfits enjoyed Ashes glory in the summer of 2013 but while Alastair Cook's men will be returning from Australia without the coveted urn after a 5-0 mauling, England's women kick-off their defence on Friday morning confident of retaining their title - and avenging the men's defeat.
England prevailed in the first women's Ashes series to use a points system last year, comfortably regaining the title from their Australian opponents with a 12-4 success, following the one-Test, three-ODI and three-T20 schedule.
And fast bowler Brunt says the tourists will be fired up to get off to a good start when the solitary long-format contest begins at the WACA.
"We're excited to be in Australia; hopefully we can keep hold of the Ashes and give the nation something to be happy about after the men's tour," said the 28-year-old.
"The 2013 summer was excellent with the men winning and us following up. It's always horrible to lose the Ashes so for us to get them back in the fashion we did was great and fantastic to be a part of.
"However, playing in Australia is a completely different challenge, as the men found out. The men have worked really hard, prepared well and you could see how hard they were trying - but it didn't go their way.
"We want to turn that around for everyone and that 5-0 result is definitely going to add some spice to our series."
Adapt
Barnsley-born Brunt believes her team-mates have learnt vital lessons from watching the men's series which will help them adapt to the different conditions Down Under.
However, the Yorkshire player suspects the Australian heat will be a serious challenge for the travelling squad to overcome.
"We've watched the men's game and will adapt to the conditions," she said.
"It's a completely different challenge in Australia because the wickets play completely differently. As a bowler, your lines and lengths have to change but the pace of the wickets means our batsmen will have to adjust their timing and our spinners will have to work harder on the flat wickets.
"You'll get a battering if you don't adapt quickly.
"We've also got to get used to the heat. We've got 10 days out there to acclimatise which is not a great deal of time but a good amount and I'm sure we'll be fine. But the heat plays a massive part and it's caught us out before.
"Watching the men and how they've played has benefited us technically and tactically."
Growing
As well as the WACA, the 2014 Women's Ashes also includes two ODIs at the MCG, plus T20s ahead of the men's matches in Hobart, Melbourne and Sydney.
The growing interest in the women's game was epitomised by the sold-out T20 Ashes game at Chelmsford last summer and Brunt says things are heading in the right direction.
She also reckons the points system used in the Ashes series is adding to the appeal of the women's game - but insisted she is not fazed by the added scrutiny which comes with increased audiences.
"I've played at the MCG before and it's huge. You feel trapped inside a bowl and hitting boundaries is very difficult - but playing in places like that really takes you aback and makes you realise what you've achieved," she said.
"It's such a privilege and playing at those venues shows our game is growing and going in the right direction. People are interested, do take us seriously and it's great to be a part of that.
"The points system has played a part in that and is something I'm all for. It keeps the series alive over the month and showcases players' skills in all three formats, which is great to watch.
"In terms of the added pressure, personally, I like it. There is more pressure on us now but after seeing the men's series we only want to play better and harder.
"It's going to be a really hard-fought series, a close one and a good one to watch. It's one we're really up for and a challenge we're prepared for."