Ian Bell: 'A series win for England would be a great way celebrate 100 Tests'
Last Updated: 20/06/14 2:57pm
Ian Bell says winning the second Test against Sri Lanka, and with it the series, would be the perfect way to celebrate his 100th cap for England.
Bell, 32, is the 12th man to play 100 Tests for England after Alec Stewart (133 caps), Graham Gooch (118), David Gower (117), Mike Atherton (115), Colin Cowdrey (114), Geoffrey Boycott (108), Kevin Pietersen (104), Alastair Cook (104), Ian Botham (102), Graham Thorpe (100) and Andrew Strauss (100).
Bell's Test Career
Tests: 100
Innings: 172
Not outs: 22
Runs: 6,787
Highest: 235
Average: 45.24
100s: 20
50s: 40
In an exclusive interview with Sky Sports' Ian Ward, which you can watch above, Bell selected his five favourite innings from his career so far and said he is now relishing his senior role in the side.
"I'm not a guy who goes around shouting about myself or who looks for anything more than just loving playing cricket for England," he said.
"Maybe I don't go out of my way to do anymore of things. I just love being in this dressing room and playing for England, putting on the shirt.
"Now's an opportunity in this team to be a senior player with some of the other guys who have played a lot of cricket; now's a great opportunity to step up.
"A series win and a hundred would be the best thing ever – I don't know how I would respond to that – but the important thing is getting a win.
"I thought the way the last game finished was great; it has teed this Test match up brilliantly and hopefully we can go one better in this Test. A great way celebrate 100 Tests would be a Test match win and a series win."
BELL'S FIVE FAVOURITE TEST INNINGS
140 v South Africa, Kingsmead, 2009
I guess that was probably a bit of a turning point for me. There was Durban and then we went to Cape Town where myself and Paul Collingwood batted for a bit of time to get a draw. I think those innings were a bit of a turnaround in my career – playing an innings when the team needed it, I suppose it was probably the first period in my career where I started to make that shift, from some nice-looking hundreds that didn't really affect the game to actually affecting the game and winning a Test match, which was the goal and what I wanted to achieve.
115 v Australia, Sydney, 2011
It will still go down as the best Ashes that I've won – to win in Australia, as we've seen, is a difficult thing to do. I've been there three times and managed to win one tour, so it will certainly go down as the best win for me. Hopefully there are a few more to come. But the ways that the guys played, from Alastair Cook at the top of the order, to the way the guys bowled – it was the best all-round team performance that I've been involved in for a series.
235 v India, The Oval, 2011
I would probably say that's the most fluent I've ever played from start to finish. I came into that Test match with a hundred at Trent Bridge and it was probably the nicest innings on the eye. We won the match and became the No 1 Test team in the world, which for that team at that time was our goal. Having won that game we managed to do that, so that will always be a special one as well.
109 v Australia, Lord's 2013
I've been lucky enough to score hundreds at Lord's, which for me is the best place to play cricket in the world and the one you always want is a hundred against Australia. After the good win at Trent Bridge it was important that we started again well. We lost a few early wickets so it was important to get as many as we could in the first innings and we managed to turn that around a bit.
113 v Australia, Chester-le-Street, 2013
The Ashes were on the line. We had the opportunity to win the Ashes in Durham – that's why I like that one, purely because anyone knows that batting at Durham isn't always the easiest; there is some good sideways movement for the bowlers. The game was in the balance so to get a hundred in the game that we won the Ashes was right up there for me.
Sky Pundits on the making of Bell…
Mike Atherton: "It was interesting to me that the five hundreds that he picked all came after he was dropped after England's 51 all out in Jamaica in 2009. I think that was probably the making of him. Sometimes it is good to be dropped and get a wake-up call. He was probably coasting a little bit, all be it very well, but Andrew Strauss and Andy Flower probably thought there was a bit more to get from him.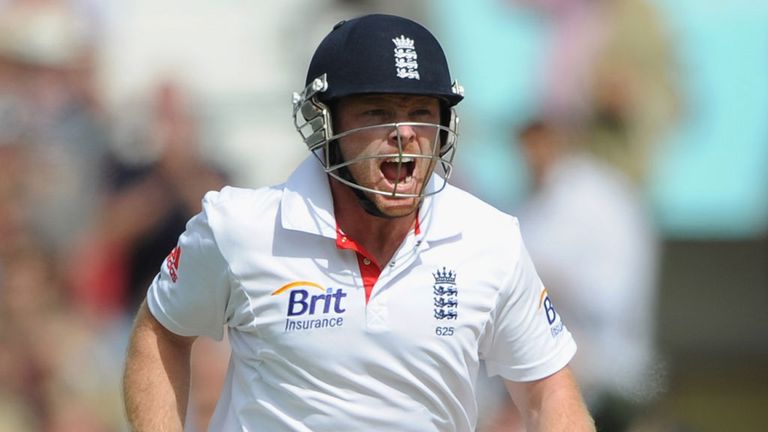 Andrew Strauss: "It was really interesting to see his attitude when he came back – he went away and spent a lot of time getting himself really fit; he showed that he was hungry and determined and really keen to make the most of his talent. Up until then he was cruising through – it was a walk in the park for him. He was happy averaging 40. Since he's come back he wants to score hundred and win games for England. It's a total different mind-set and motivation that has turned him from a good player to an outstanding Test cricketer."
Nasser Hussain: "I actually think that Ian Bell was probably a little bit too nice; he was a nice lad who went about playing in his sort of way. I think being left out toughened him up. He went away and worked on his body and toughened up physically and mentally. He then went to South Africa and got those tough runs and he hasn't looked back since. He's not going to score ugly runs – he's a right-hand equivalent of David Gower; he's very talented, very stylish, a great timer of the ball and a product of our system. He's not finished yet – he's playing beautifully just now."