MCC v ROW: Bob Willis and David Fulton compare greats ahead of Saturday's showdown at Lord's
'Sachin Tendulkar carried a nation but Brian Lara kept one afloat'
Last Updated: 03/07/14 6:53pm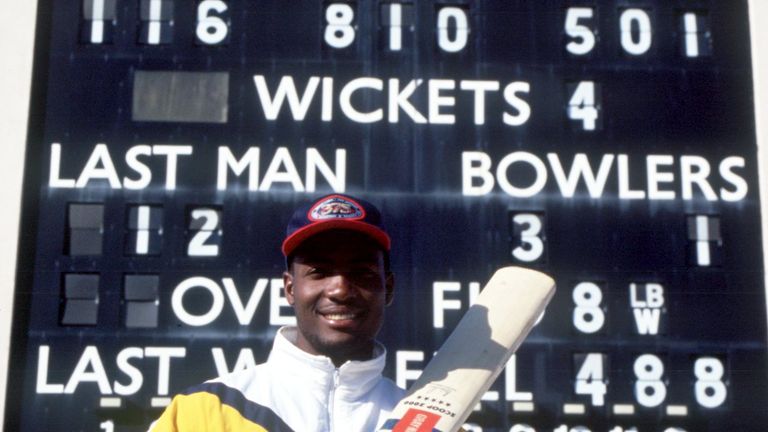 Legends will collide at Lord's on Saturday when an MCC side tackles a Rest of the World XI to celebrate 200 years of the Home of Cricket.
Rahul Dravid, Brett Lee, Virender Sehwag and Adam Gilchrist are among the cricketing glitterati who will be strutting their stuff in north-west London in the Sky Live match.
But, ahead of the showdown, Bob Willis and David Fulton took to Sky Sports News to compare some of the other superstars who'll be in action and decide: 'Who's the greatest?'
So read on to see whether our boys could separate master batsmen Sachin Tendulkar and Brian Lara, sensational spinners Shane Warne and Muttiah Muralitharan, and showmen Kevin Pietersen and Yuvraj Singh…
SACHIN TENDULKAR v BRIAN LARA
DAVID FULTON: One hundred international hundreds, 200 Tests and nearly 16,000 Test runs speak for themselves and I'm not sure anyone will pass that number of runs scored. Tendulkar was iconic and carried a nation. The pressure on The Little Master every time he went out to bat would have been too much for mere mortals to bear but he always went out with humility, fantastic technique and won many matches for India, whereas Lara became about individual records and his big scores often came in matches that ended in draws. I think Tendulkar was also better at adapting to situations, which he did in Australia in 2004 when he had five innings, didn't get to fifty and then cut out the off-side as an option and got 241 not out. He had the mental fortitude to tweak his game, which is something I don't think Brian had in him.
BOB WILLIS: Sachin was cossetted by other great players around him, like Sehwag, Dravid and Sourav Ganguly, but Brian was a one-man band for the West Indies once their team had disintegrated with the retirements of Curtly Ambrose and Courtney Walsh. Lara had to carry the whole side on his shoulders and hold a declining team together, and, bar Sir Vivian Richards, who is the greatest batsman of all time, I think Lara is the best batsman to have ever walked this planet. Sachin – who was a failure in county cricket when he became an honorary Yorkshireman – was very orthodox but Brian was a great improviser and always capable of finding a gap in the field. If a captain moved a fielder two yards to the right, Lara could hit the next ball exactly where the fielder had just come from. It was impossible to set a field to him.
RESULT: DRAW
MUTTIAH MURALITHARAN v SHANE WARNE
DAVID FULTON: Murali maybe had the opportunity to take more wickets as Warne played in a great side with Glenn McGrath, Jason Gillespie and co knocking people over, but he is the leading Test wicket taker of all time (800). He also took 22 10-fors and 67 five-fors and carried not only a fairly average Sri Lanka attack but a nation. He transcended cricket in Sri Lanka, as he was a Tamil and perhaps the only one in the side for a long time, and united a country with his charity work after the tsunami in 2004. Bowling-wise he had a bit more mystery than Warne and having faced both of them, I think Murali was a different kettle of fish. If you had a technique you could play Warne but with Murali you didn't know which way it was spinning. He did not have the same cricket brain as Warne but he could land the ball on a sixpence.
BOB WILLIS: Warne is not only the best spinner of all time – in the art of spin bowling with a straight arm, he is miles and miles ahead - but probably the best bowler of all time, too. Muralitharan played the majority of his Tests in the subcontinent, but Warne, the more complete bowler, had to take wickets all around the world in much more adverse conditions. He was a master of field settings, such an attacking cricketer and perhaps the best captain Australia never had, with his cricket brain far superior to those of Ricky Ponting and Steve Waugh. Murali also took so many wickets with the doosra which, for my money, you have to throw to deliver and should be outlawed in world cricket, so I think that will always be a taint on Murali's record as well. Plus, cricket is an entertainment business and Warne is a great entertainer, both on and off the field.
RESULT: DRAW
KEVIN PIETERSEN v YUVRAJ SINGH
DAVID FULTON: From the moment Pietersen came into international cricket and scored three hundreds in the country of his birth, South Africa, he was completely box office and the fallings out he had do not take away from his genius. He is one of a kind and the guy people want to see. In the most important part of the game and where we judge courage and things like that, Test cricket, Yuvraj is not good against the short or moving ball, whereas Pietersen transformed the brand of cricket England played. England were quite conservative but then he came along and smashed it everywhere - who else would have played that counter-attacking innings at The Oval in 2005? – and since he has been surplus to requirements you could argue that they have gone back into their shell. There will be a Kevin Pietersen movie but I'm not sure there will be a Yuvraj movie.
BOB WILLIS: In Test cricket there is no debate as Pietersen is far superior to Yuvraj, who has had major problems against fast, short-pitched bowling. Kevin's switch hit has also been a great innovation, and he has achieved just about everything, except perhaps being a nice guy in the dressing room. But who hit Stuart Broad for six sixes in an over in the first ICC World T20? Yuvraj. Who was the Man of the World Cup in 2011 when India won the tournament? Yuvraj. Who has fought back from a tumour and back into the India line-up? Yuvraj. Who gets KP out for a pastime? Yuvraj. As an all-round international cricketer, Yuvraj is far superior to KP. Yuvraj is the son of a Bollywood actor and natural-born entertainer, and in terms of economy rate in bowling and strike rate in batting in one-day cricket, Yuvraj is the better player.
RESULT: Pietersen in Tests, Yuvraj in one-dayers
Have you say on these battles by voting in our polls, which you can access through the links below: