100 Greatest Cricketers: And number one is... WG Grace!
Last Updated: 25/12/16 7:18am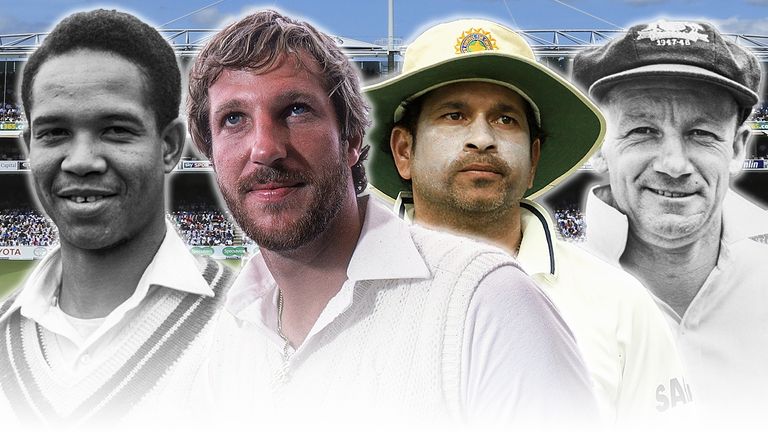 Who are the 100 greatest cricketers of all time? And for that matter, who is the greatest? Sky Sports cricket statistician Benedict Bermange tries to answer those questions by picking his top 100... Do you agree? Tweet us @SkyCricket.
Each week I have released a new list of names on my list of the 100 greatest cricketers, and now, with Christmas just a day away, it is time to reveal my No 1.
And so, without any further ado, top spot goes to...
1) WG Grace
Let's travel back in time - if we may - to the end of the 1895 English summer. The so-called 'Golden Age' of cricket was just in its infancy, and here are how the leading run-scorers, wicket-takers and catchers in first-class cricket stood at that time:
Top run-scorers in first class cricket, 1895
| Name | Runs |
| --- | --- |
| WG Grace | 43,265 |
| Walter Read | 21,212 |
| George Ulyett | 20,823 |
| Arthur Shrewsbury | 18,959 |
| Billy Gunn | 16,589 |
| Monkey Hornby | 15,504 |
Top wicket-takers in first class cricket, 1895
| Name | Wickets |
| --- | --- |
| WG Grace | 2,465 |
| Alfred Shaw | 2,024 |
| James Southerton | 1,682 |
| George Lohmann | 1,667 |
| Johnny Briggs | 1,619 |
| William Attewell | 1,612 |
Most catches in first class cricket, 1895
| Name | Catches |
| --- | --- |
| WG Grace | 784 |
| Bobby Abel | 473 |
| George Ulyett | 369 |
| Alfred Shaw | 368 |
| EM Grace | 367 |
| WW Read | 346 |
WG looms large over cricket history, with his huge girth and unparalleled beard, and it sometimes becomes difficult to look past this figure and examine his feats on the cricket field. Taking each of those tables in isolation it would point to Grace being the dominant player of that era, but taking them all together gives some idea of the colossus he was in the formative years of the game.
To his friends he was simply 'Gilbert' but to the cricketing world he was the 'Doctor', the 'Champion', or the 'Master'. The story is apocryphal but it is said that outside a cricket ground it was possible to read: "Admission threepence; if Dr Grace plays, admission sixpence". In Victorian life he was the most recognised person outside the Royal Family and Prime Minister Gladstone and even now, more than a hundred years after his death, he is the possessor of the most famous beard in sport.
He was the first global sporting superstar, and possibly the only one until Babe Ruth started hitting baseballs out of ballparks at an alarming rate in the 1920s, but that was a full half-century after Grace started his stupendous feats of scoring. He dominated cricket from the village green to Lord's Cricket Ground and cricket entered the national epoch in no small part thanks to him.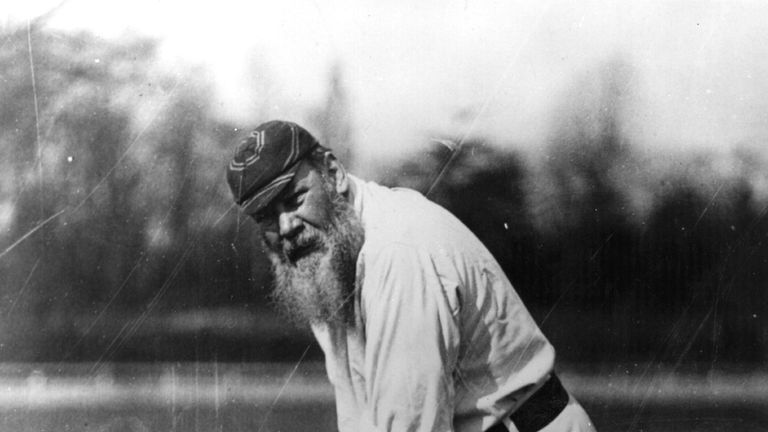 He established himself as a master batsman at the age of just 16 and his dominance can be seen from examining the national averages in 1871. Grace hit 2,739 runs at the unheard of average of 78.90. Next on the list came Richard Daft, whose average was 37 for his 565 runs. In fact, that year only one other batsman scored even 1,000 runs. In subsequent years other batsmen learned from his technique of how to hit fast bowlers in front of the wicket.
In 1876 he scored 344 for MCC against Kent, 177 for Gloucestershire against Nottinghamshire and then 318 not out against Yorkshire - all in the space of a week, a feat of scoring unequalled to the present day. Sceptics could point to the fact that he never had to play against the fastest of bowling, or against reverse swing or combat the googly. However, he had to contend with longer boundaries, far worse wickets and exhausting travel schedules, not to mention a demanding job away from cricket.
However, great though his feats were on the field, he made plenty of headlines off it. His career spanned some 40 years and when he started in the mid-1860s he played as an amateur, later qualifying as a General Practitioner. Despite this, he ended up making far more from cricket than the so-called 'professionals' who were paid for their efforts on the field. The word 'shamateurism' was coined with him in mind.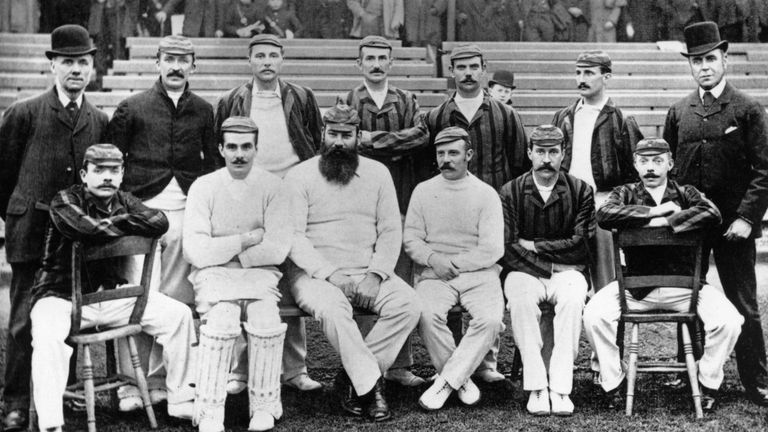 He surpassed 1,000 runs in 28 seasons, and 2,000 on five occasions, topped the bowling average in 1867, and captured the highest number of wickets in 1874, 1875 and 1877. As his girth grew in the 1890s the runs continued to flow, culminating in 2,346 runs in 1895 and 2,135 more in 1896.
He started bowling round-arm at medium pace and slowed as he became older but what he lacked in pace he made up for with subtle guile and flight. He must have appeared somewhat bizarre - a huge man rushing in and delivering a slowish lobbed ball aimed to confuse the batsman and cause his downfall. Added to all this, he was an excellent fielder - mainly at point - where he could chat to the batsman and employ an early style of gamesmanship to try to gain any advantage possible.
All the while, he maintained his role as a doctor, frequently visiting friends after a hard day in the field to try to lift their spirits and alleviate pain. In 1887, Gloucestershire's Arthur Croome gashed his throat against one of the spiked railings in front of the pavilion at Old Trafford and the cut was deep and potentially fatal. WG held the edges of the wound together for nearly half an hour as messengers found surgical needles. WG had been bowling all day but he held his position without moving.
We can never be certain whether he actually replaced the bails and kept on batting claiming that the hordes of people had not turned up to see the bowler but to see him bat. Or that he called "The lady" when tossing the coin so that he could claim victory whether it landed on Queen Victoria or Britannia. He played within the rules but was keen to stretch them to the limits.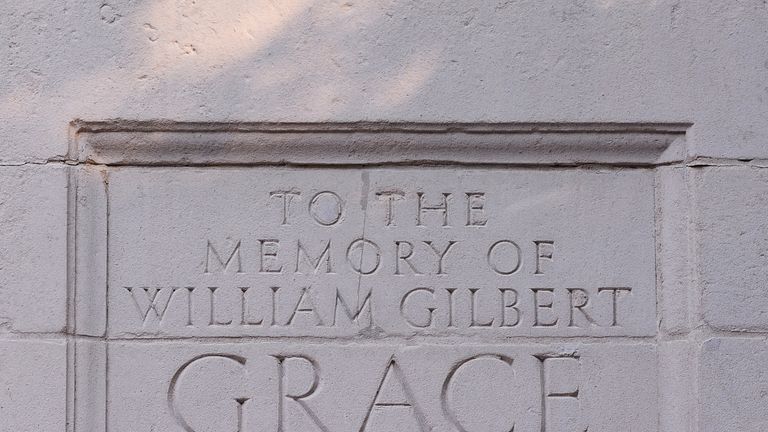 His final innings in any cricket was for Eltham against Grove Park in July 1914 when the winds of war were already blowing. Needless to say, he top-scored with 69 not out. Later that summer he wrote a letter to 'The Sportsman' willing cricketers to 'put bat and ball away and come to the help of their country without delay in its hour of need'.
Somewhat fittingly, this icon of British life in the second half of the 19th century died during the war which marked the end of Britain's empire. And when - in 1923 - the decision was made about how to commemorate him on the gates at Lord's which bear his name, he was described as: "William Gilbert Grace - the Great Cricketer". That summed him up.
5-4: Shane Warne (5), Sachin Tendulkar (4)
10-6: Imran Khan (10), Viv Richards (9), Sydney Barnes (8), Jack Hobbs (7), Jacques Kallis (6)
20-11: Kumar Sangakkara (20), Dennis Compton (19), Sunil Gavaskar (18), Adam Gilchrist (17), Wally Hammond (16), Keith Miller (15), Ian Botham (14), Wasim Akram (13), Brian Lara (12), Muttiah Muralitharan (11).
30-21: Geoff Boycott (30), KS Ranjitsinhji (29), Frank Worrell (28), Herbert Sutcliffe (27), Kapil Dev (26), George Headley (25), Wilfred Rhodes (24), Len Hutton (23), Glenn McGrath (22), Richard Hadlee (21).
40-31: Frank Woolley (40), Javed Miandad (39), Alec Bedser (38), Fred Trueman (37), Victor Trumper (36), Dennis Lillee (35), Malcolm Marshall (34), Ricky Ponting (33), Waqar Younis (32), Allan Border (31).
50-41: Everton Weekes (50), George Lohmann (49), Dale Steyn (48), Graham Gooch (47), Fred Spofforth (46), Peter May (45), Virender Sehwag (44), Clarrie Grimmett (43), Hedley Verity (42), Graeme Pollock (41).
60-51: Alfred Mynn (60), Greg Chappell (59), Clyde Walcott (58), Brian Statham (57), 'Tich' Freeman (56), CB Fry (55), Alfred Shaw (54), Zaheer Abbas (53), Richie Benaud (52), George Hirst (51).
70-61: Steve Waugh (70), Ken Barrington (69), Gilbert Jessop (68), Neil Harvey (67), Barry Richards (66), Clive Lloyd (65), Colin Blythe (64), Mike Procter (63), Aubrey Faulkner (62), Les Ames (61).
80-71: Curtly Ambrose (80), Alan Davidson (79), Michael Holding (78), Bill O'Reilly (77), Shaun Pollock (76), Johnny Briggs (75), Vinoo Mankad (74), Jim Laker (73), Ray Lindwall (72), Tom Richardson (71).
90-81: Chris Gayle (90), Bill Ponsford (89), Alan Knott (88), Rahul Dravid (87), Derek Underwood (86), Monty Noble (85), Hanif Mohammad (84), Learie Constantine (83), Allan Donald (82), Anil Kumble (81).
100-91: Tom Goddard (100), Jack Hearne (99), Phil Mead (98), AB de Villiers (97), Charlie Parker (96), Vijay Merchant (95), Patsy Hendren (94), Charlie "The Terror" Turner (93), Maurice Tate (92), Warwick Armstrong (91).
50 who missed the cut: From Alastair Cook to Courtney Walsh; the 50 cricketers who just missed out on the top 100.
Upgrade to Sky Sports now and get six months half price.