Sree Sreesanth banned from India cricket after spot-fixing probe
Test fast bowler Sree Sreesanth banned for life by BCCI for spot fixing during IPL.
Last Updated: 13/09/13 1:41pm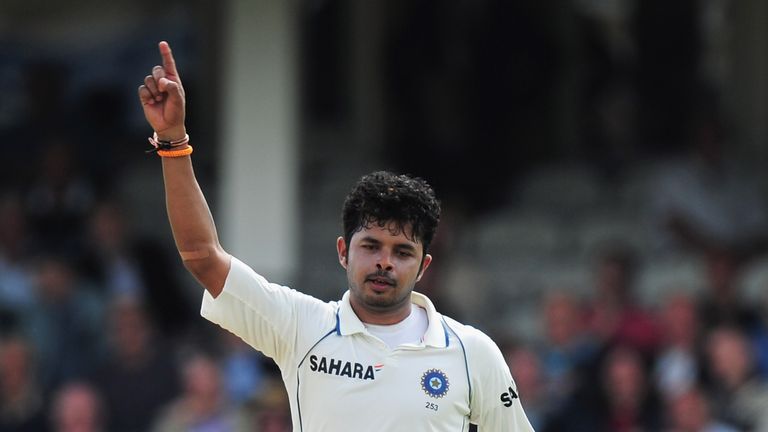 Sreesanth was found to have engaged in spot-fixing while playing for Rajasthan Royals in the IPL.
He has played in 27 Tests, 53 ODIs and 10 T20s for India.
His Royals team-mate Ankeet Chavan was also given a life ban and, whilst Amit Singh, a former cricket star but now a bookmaker, was given a five-year ban.
Siddharth Trivedi was given a one-year suspension for failing to report an illegal approach, but Harmeet Singh was cleared of a similar charge.
In a statement The Board of Control for Cricket in India (BCCI) said: "Mr. S. Sreesanth is banned for life from playing any representative cricket, or in any way being associated with the activities of the BCCI or its affiliates."
After the verdict Sreesanth tweeted: "Been tracking the news channels...Me getting a life ban??!! Very surprising."
Ajit Chandila, the third Royals player who was arrested in May, is yet to be interviewed by the probe's lead investigator Ravi Sawani.
Sawani's report was leaked to the India Express newspaper on Friday and he clearly felt severe penalties were necessary.
The paper quoted him as writing: "There is no specific mitigating factor that would require any mercy while sanctioning the aforesaid guilty players.
"Sreesanth has played a number of international games and was part of the Indian national team which won the inaugural T20 World Cup, 2007 and ICC Cricket World Cup in 2011. He has received the ICC ACSU education programme on many occasions.
"In any case all the three players of Rajasthan Royals who are now being accused and found guilty by the under-signed received the ICC Education Programme just prior to the beginning of the IPL-6 season i.e. on April 5, 2013.
"Obviously, the anti-corruption education given to the three players had no impact on the conduct. Therefore, the three players deserve no leniency whatsoever."