IPL Preview: Twenty20 tournament returns with sixth edition of event in India
The Indian Premier League returns on Wednesday for a sixth edition of the competition.
Last Updated: 05/04/13 3:25pm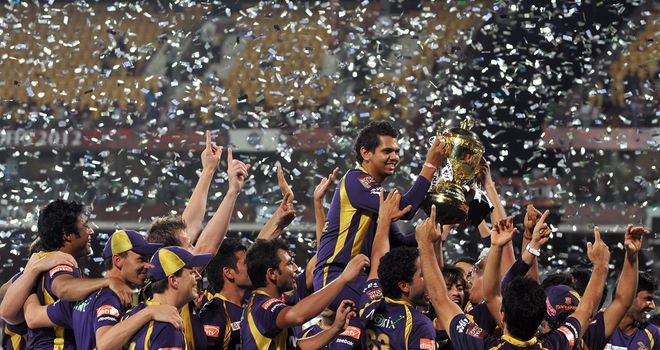 Nine teams will fight it out over 76 matches, starting and ending in Kolkata as Eden Gardens plays host to the season opener with the reigning champion Kolkata Knight Riders hosting the Delhi Daredevils.
Nine teams will take part in this season's IPL, with the Deccan Chargers franchise being terminated for breach of contract terms, they will be replaced by Sunrisers Hyderabad who will field most of the Chargers' squad.
The fifth season was also struck with controversy about match-fixing and drugs marring the competition, so a return to talking about tense finishes and the entertainment value of Twenty20 cricket is what organisers are craving.
12 venues right across India will stage 72 league stage matches with each team playing against one other on a home and away basis before the knockout stages of the event, which runs from April 3-May 26.
Australian all-rounder Glenn Maxwell was the only million-dollar purchase at the auction, with England players proving unpopular due to their Test responsibilities ruling them out of half of the tournament.
There was one trade in between seasons, with the Pune Warriors swapping Indian seamer Ashish Nehra with the Delhi Daredevils for New Zealand batsman and Twenty20 specialist Ross Taylor.
The tournament is missing some big names of course - Kevin Pietersen is missing for Delhi due to his knee injury, while Australian Captain Michael Clarke misses out for Pune as he is out with a long-term back problem.
South African JP Duminy is unavailable for the new Sunrisers Hyderabad outfit because of injury, and big-hitting batsman Jesse Ryder will also sadly be missing out as he is still in hospital following an attack in his native New Zealand.
The usual suspects will be back in action though looking to again be the stars of the show for the packed-out crowds, who will be cheering on Indian stars Sachin Tendulkar, MS Dhoni, Rahul Dravid and Gautam Gambhir amongst a plethora of others set to star.
Star players
Dhoni's Chennai Super Kings, who are the only two-time winners and have also twice been runners-up, are joint favourites alongside reigning champions Kolkata, but it really is a wide-open contest given the nature of Twenty20 and the array of talent on show.
Now without any Ashes responsibilities to worry about, Aussies Ricky Ponting and Adam Gilchrist will captain Mumbai and Kings XI Punjab respectively to add to the international flavour, although sadly another political row has meant that Sri Lankan stars such as Lasith Malinga, Kumar Sangakkara and Mahela Jayawardene cannot play in Chennai this season.
Big-hitting West Indian Chris Gayle will again be the batsman everyone wants to see after he broke the record for runs in a IPL season with 733 last year and also the most sixes with 59 all in - he also had last season's top score of 128 not out just for good measure.
Bowlers are starting to come to terms with Twenty20 cricket though, and last year 26 Man of the Match awards went to bowlers, with Sunil Narine receiving the Player of the Series award after helping Kolkata to the title.
South African Morne Morkel took the most wickets last year with his 26 scalps for Delhi Daredevils, while he also bowled a superb 160 dot balls out of his 378 tournament deliveries.