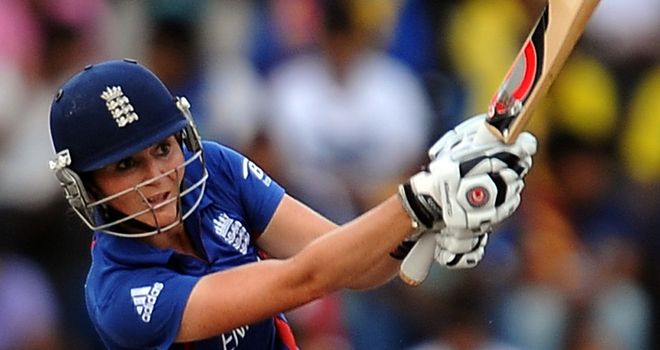 We are through to the Super Sixes and I can't wait for our game against Australia, which is coming up on Friday.
It's now four weeks since we flew out to India for a pre-World Cup training camp. The camp went well and all the girls put in a lot of hard work but I know the girls will remember one night more than most.
So now we're heading into the next stage of the tournament and things really become interesting if you're a neutral spectator.
Sarah Taylor
We were treated to a team meal at a nearby hotel where we were offered an immense amount of food, including chocolate cake, and ended up singing Celine Dion!
Improve
Arriving in Mumbai was a sight to behold as it was Republic Day in India, and there were thousands of people everywhere celebrating with painted faces and playing music. It was made even better when we pulled up outside the Taj Hotel, one of the best hotels in the world.
We soon saw the signs pointing towards the shops in the hotel, so after we had checked in we went to explore. It was purely window shopping only though given that all the names we discovered - Dior, Mont Blanc and Louis Vuitton - were a little out of our price range.
We had two back-to-back warm up games, the first was against South Africa, which we won. Our second against New Zealand was a lot closer and despite Dani Hazell picking up five wickets they came out on top.
We weren't too concerned about the result, it gave us an opportunity to look at things to improve and also served as an opportunity for everyone to have a run out given we could rotate 15 players in the field.
Shock
Our first World Cup Group A game was against Sri Lanka at the CCI ground.
Due to a tight hamstring I had to miss out, which was really disappointing, especially because the first game of a World Cup is extremely exciting, but I knew it wouldn't be for long.
After being put into bat we reached a decent total in the end with Amy Jones scoring 41 on her debut, which is a great start to her career. Unfortunately for us Sri Lanka claimed the game after taking it to the last ball, which they hit for six.
It was a definite shock in the cricket world but credit has to go to Sri Lanka for the cricket they produced and how far they have come in the last few years.
So it wasn't the start we were hoping for and we needed to bounce back against India in the next game.
We did exactly that, Charlotte Edwards claimed her seventh one-day century and became the highest ODI run scorer ever in the women's game, a great accomplishment by a world-class player.
We reached 272 and we knew on a good batting wicket we would have to work hard to defend it. Our openers bowled brilliantly and India were soon three wickets down. Harmanpreet Kaur batted well getting a ton but India finished short with Katherine Brunt bowling superbly.
AUSTRALIA v ENGLAND
3.25am, Fri, Sky Sports 1 HD
We continued our momentum as we wrapped up our final group game against the West Indies and with the India v Sri Lanka game being a day-nighter we watched the second innings on TV back at the hotel.
Again Sri Lanka played a superb game and managed to pull out another shock win meaning India hadn't made it through to the Super Sixes.
Celebrate
To celebrate getting through to the Super Sixes, Jen, Holly and I went to the Zodiac restaurant in the hotel. It was one of the best meals I have ever had and if I could I would eat there every night, but it's a tad expensive!
So now we're heading into the next stage of the tournament and things really become interesting if you're a neutral spectator.
Australia are on four points and four teams (including us) are on two points and it's the top two teams who head straight to a final after the super sixes, so it's all to play for.
We're all ready to kick on into the Super Six stage and first up we'll take on Australia on Friday, you can all watch as it will be broadcast live on Sky Sports.
We all can't wait, it's a big game for us and one that we want to go out and win.