Women's Ashes 2013: England success 'will be a true inspiration'
Last Updated: 16/02/15 12:10pm
Quite a lot has happened since I wrote my last blog and after a whirlwind few weeks I'm happy to say I'm sat here writing this as an Ashes winner! I'm also hobbling around on crutches but you have to take the rough with the smooth!
The support we've received from the public and the media has been amazing.
Heather Knight
I've had a few days to reflect on the series as a whole and I'm really proud to have contributed to what truly was brilliant team performance.
To beat the double world champions so convincingly was quite something and after the hurt that this team went through during the winter, it makes this win all the more special.
This team has got some great cricketers but it also has some great characters and to have the Ashes back where they belong is an awesome feeling.
Success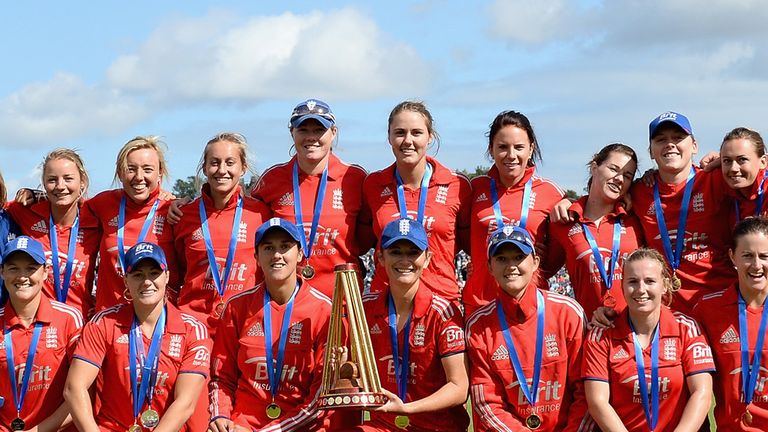 I think the new multi-format series has been a huge success. From a player's perspective it has put even more emphasis on each game and hopefully it has been a success for the supporters and the women's game in general.
The support we've received from the public and the media has been amazing. It's an exciting time for women's cricket and it makes me realise how far the women's game has come when we can fill grounds like Chelmsford for a standalone match.
I'll look back fondly on the last three weeks and the celebrations that followed, but time moves on quickly in sport.
We have a tour to the West Indies in just five weeks before the return Ashes in January. Many of the girls are also involved in County finals over the next few weeks.
For me it's into rehabilitation for my hamstring and fighting to get fit again. It's also back to the day job with a few training days for my role as a Sky Sports Living for Sport athlete mentor.
If I get grumpy during my rehab, I've told my friends to tell me 'cheer up, you've just won the Ashes' - that's sure to put a smile back on my face!