Women's Ashes 2014: England women ready for Test, says Heather Knight
In her latest blog, Heather Knight discusses England's Ashes Test preparations - and relaxing in Perth
Last Updated: 16/02/15 12:08pm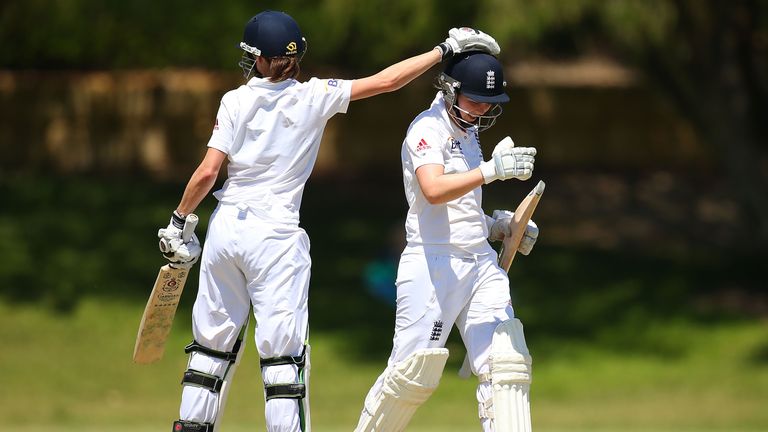 As part of our preparations in Perth we have played a two-day warm-up match against the Shooting Stars (Australia Women's A side) - and it was great to get the whites back on and get out there with the girls.
I was pretty pleased to shake off the cobwebs and score some runs (123 retired) straight away. You can spend all the time in the world in the nets but there's nothing like time out in the middle.
We don't play many Test matches, so when they come around they really are special and excitement levels are really building in the camp.
Heather Knight
Opening the batting with Lottie (Charlotte Edwards), we looked to set a solid platform at the top of the innings and we did just that. Lot looked in great knick, and I was happy just to watch from the other end at the start of my innings. Lydia (Greenway) also batted really well making a well-built 76.
Going into the Test match, something we've talked a lot about as a top-order, is that we've got to take responsibility and score the majority of the team's runs. If at least two of the top-order can make significant scores, this will put us in a brilliant position to post a big total.
In the field, the bowlers also looked in good form on a flat pitch, and against a decent Shooting Stars batting line-up.
We've had a day off today and Perth, being quite a relaxed city, is not a hard place to chill out in. I've spent the time catching up with some family at the beach and recharging the batteries.
Special
We've now got one more training session before the main event kicks off on Friday.
We don't play many Test matches, so when they come around they really are special and excitement levels are really building in the camp. We'll be looking to start strongly and stamp our mark on this series.
Part of the preparation process for any series is to look carefully at the opposition, and to put plans into place against each of their players. Australia are a very strong unit, but I think we are pretty evenly matched player for player.
With bat in hand Sarah Elliott is a threat, as demonstrated by her performances in the previous two Ashes Tests, and Meg Lanning - their newly appointed vice-captain - is a talented player who takes the attack to the bowlers and can score quickly.
I, meanwhile, will be looking out for Ellyse Perry and Rene Farrell, two of the Aussie quick bowlers who will no doubt be hunting for my wicket! Perry played really well for them in England last summer, while Farrell is returning to the international game after a break. She took a hat-trick in the last Ashes Test in Australia, so we will be hoping to stop a repeat performance of that this time around!
All that's left now is to get out on the pitch and do the business!
Read our report of England Women's tour match against Australian Women A by clicking here.
Watch England's Women in action in the first of three live Twenty20 internationals from 3am on Wednesday January 29 on Sky Sports 2.