Heather Knight blog: Charlotte Edwards' Wisden honour is deserved and long overdue
'Lottie's sheer enthusiasm and passion for the game is contagious...'
Last Updated: 16/02/15 12:03pm
We've now had a few days to let the dust settle after our loss to Australia in the ICC World Twenty20 final in Bangladesh.
Obviously we were massively disappointed to have lost, particularly as we performed nowhere near our best on the day.
We were totally outplayed by Australia, and congratulations to them on their third successive T20 world title.
None of our batters really got going, and 105 was never going to be enough runs for our bowlers to defend.
But one poor performance doesn't make us a bad side and we've got a lot to be proud of from the last 12 months.
Skills
There has been a lot of talk about us not hitting enough sixes during the tournament, and looking at the figures that is probably a fair point (we didn't hit any compared to other teams hitting up to 18).
This is something we will look at as a group of players, but I personally feel it is strike-rate that is key - it doesn't matter how you hit them, as long as you have a decent strike rate.
I'm not a massive power-hitter, so for me it's all about using my skills to find gaps and hit boundaries to make sure my strike rate is high.
If I suddenly started to try and hit massive sixes, I wouldn't be sticking to my strengths and I probably wouldn't be massively successful!
Looking back on the tournament as a whole it's really our bowlers that stood out for us.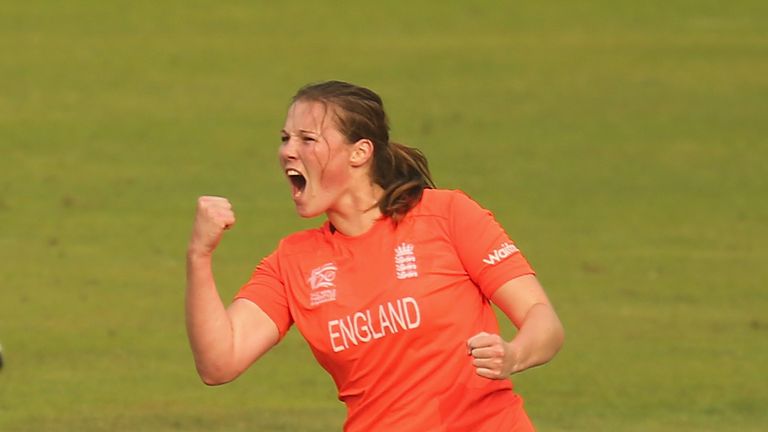 'The Hoof' (Anya Shrubsole) led from the front and it was great to see her pick up Player of the Tournament, particularly after the injury issues she has had in the past.
It was also good to see a few young players come in and perform so well; Becky Grundy, in particular, bowled brilliantly throughout the tournament.
Despite the result in the final I really enjoyed the event and the support, as always, has been amazing, so thanks to everyone who got behind us.
Honoured
Since returning home we've found out the brilliant news that Lottie [Charlotte Edwards] has been honoured as one of Wisden's five cricketers of the year.
Lottie joins Claire Taylor as the only other women to receive this amazing honour. She did very well to keep it under wraps from everyone - apparently she's known for months!
I'm unbelievably chuffed for Lot because there's no-one more deserving and it's probably fair to say if she had been a man she would have received the accolade about a decade ago!
She's been at the top of the women's game for nearly 18 years and she is easily the best captain I've ever played under.
I often get asked what makes Lottie such a great captain and leader. There are a number of reasons, but the main one for me is her sheer enthusiasm and passion for the game.
She's a self-confessed cricket badger and if she's not playing, she's watching the game. It's rare to see Lot without a smile on her face when she's got a cricket bat in her hands and trust me, it's contagious!
It's always reassuring knowing Lot is in charge on a cricket field. I remember playing in one of my first games in an England shirt and we were under the pump in the field.
I was getting nervous and thinking "wow this is going to be close". I looked up to see Lottie directing things with a sense of calm and half a smile on her face.
There was no panic, no flapping and it just felt like she knew exactly what to do. "Lottie's got a plan - we've got this..." and ultimately we did!