Pick of the day
A review of a thrilling climax to the first Ashes Test at Trent Bridge
By Rob Lancaster
Last Updated: 14/07/13 4:21pm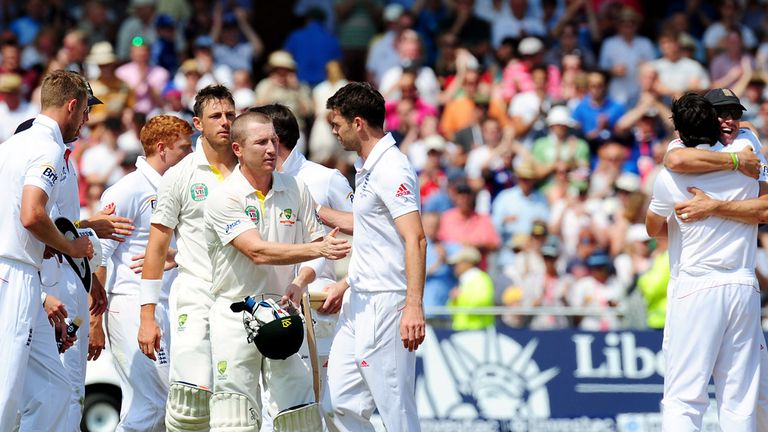 Few could predict with any great confidence who was going to win the game at any stage, even right down to the start of the afternoon session on the fifth and final day.
With Australia resuming needing another 137 with four wickets in hand, it all felt like Edgbaston revisited when Brad Haddin marshalled the tail superbly to get the tourists within touching distance of glory.
In the end, though, just as they had done in that 2005 series, England found a way to get that crucial last wicket and win the match. Now drink plenty of fluids and take an ice bath so you will be ready to sit through it all again on Thursday...
Anderson v Haddin
The final day of the Ashes opener was all about two men - James Anderson and Brad Haddin.
Seamer Anderson continued his love affair with Trent Bridge, taking 10 wickets in the match (including the most crucial one of all just as England seemed to be letting the game slip from their grasp) to bowl the hosts to a 1-0 lead.
He picked up all four to fall on a super Sunday, the first three of them during a marathon 13-over spell that saw him use both the old and new ball superbly. Undoubtedly the leader of the attack, the crowd and the nation held their breath when he walked off before lunch with a bit of a limp. They had no need to panic - Anderson returned after overcoming a bout of cramp to see off Haddin, who had done so much to take the Test right down to the wire.
His knock of 71 showed just why the Australian selectors had drafted him in from the cold for the Ashes. There was some solid defence, plenty of attacking intent (they say fortune favours the brave, and he was certainly lucky when dropped by Steven Finn in the deep) and a willingness to fight fire with fire.
Haddin battled hard for the cause right through to the last, but in the end both he - and his team - came up a fraction short. It will now be hard for them to recover in time for the start of the second Test, at Lord's on Thursday.
Cook sailing
England captain Alastair Cook was a busy man at first slip in an extended morning session, taking three catches and putting down another, all off the bowling of Anderson.
His efforts to get rid of left-handed duo Ashton Agar and Mitchell Starc were straightforward enough, but he was stretched to the limit to cling on when Peter Siddle had a full-blooded drive at a pitched-up delivery.
Having dropped the same batsman in Anderson's previous over when diving to his left, he clung on superbly when taking off the other way, initially grasping the ball in his right hand at full stretch before using the left to secure it in his possession as he fell to the ground.
The wicket left the visitors nine down and still well adrift of their target. Had Finn held on to his own diving attempt in the deep off Graeme Swann, the final margin of victory wouldn't have been quite so close.
Fitting finale
It seemed only right that after all the issues surrounding the third umpire in the match, it was down to Marius Erasmus to press the button to end the Test.
While Jonathan Trott perished because of the lack of availability of 'Hot Spot' on day two, Haddin was dismissed because of it. England didn't look particularly certain there was an inside edge on his attempt to drive Anderson, but a little white mark - along with the audio being listened to on two different occasions - convinced Mr Erasmus that there was a nick after all.
'Snickometer' confirmed bat had made contact with ball, though that technology is not available to the officials during the game. At least it meant after the earlier controversies the right outcome had eventually been found. Such a tremendous contest didn't deserve to be settled by an error.
It cannot be lost on Australia that the DRS system scuppered their hopes of glory at the finish; they were successful with just two of their nine requests in Nottingham, and crucially couldn't even call for the help of the third umpire after an obvious edge of Stuart Broad's bat during England's second innings.
Captain Michael Clarke admitted in the post-match press conference that it is something he needed to work on, saying: "I'm obviously not happy with my use, as we haven't got many right. It's consistent for both teams."
So what next?
It all felt remarkably like Edgbaston '05 - a Sunday finish, Australia needing 100 with two wickets in hand, England dropping a catch to win the match (Simon Jones was the culprit in Birmingham eight years ago, albeit his effort was just as tough as Finn's) and then pulling a victory out of the fire just as it appeared the game was lost.
Never has lunch been so crucial. With Anderson off with cramp and Haddin and Pattinson making fairly serene progress, the extra half-hour taken to try and bring about a finish did not help the hosts. They returned after the break with their talisman back and with the crowd suddenly raising the volume levels.
Now the sides have to recover quickly and get ready for episode II. The sun seems set to continue to shine (as hard as that is to believe during an English 'summer') but the surface at Lord's should offer more pace and bounce, at least for the first couple of days.
Both management teams will have to consider whether to freshen things up - Ed Cowan looked short of form and confidence at such a crucial position in the Australian order, so does David Warner cancel his flight to Africa and instead come back into the XI? If only Ricky Ponting would delay his retirement for a couple of months...
As for England, the fact that Finn bowled just 10 overs in the fourth and final innings (and only two on the last day) suggests he's struggling for rhythm and also that captain Cook has lost a little faith. Lord's is his home ground, but the dry nature of the surfaces there may suit Tim Bresnan.