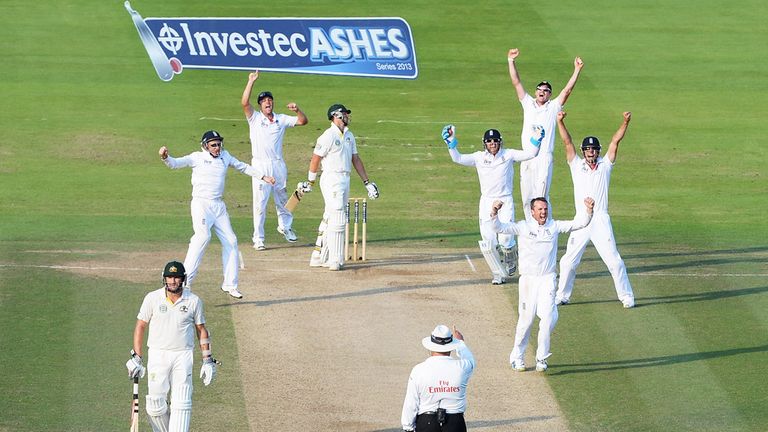 England started the morning hoping to see precocious opener Joe Root rack up a double-century, but once he fell short attention quickly switched to bowling Australia out for a second time and taking a stranglehold on the best-of-five series.
A victory target of 583 was never in the equation, and despite encouraging knocks from Usman Khawaja and Michael Clarke, Australia's top-order frailty again resurfaced as England marched relentlessly towards a 2-0 series lead.
There was some more tail-end defiance from the tourists, but Graeme Swann eventually got the job done to seal a 347-run win and allow home fans the opportunity to entertain the prospect of a possible series whitewash.
We pick out some highlights of the highlights from day four.
Selfless act
Joe Root resumed on Saturday morning 178 not out and looking to press on to a maiden Test double-century. But Australia looked to delay the game by starving the young opener of strike and their plans worked as he faced only four balls in the opening 18 minutes of play. It may only have been delaying the inevitable but, not content to just amble to the landmark, Root showed his selfless side as he attempted to speed up proceedings by chasing runs in a risky manner. Ultimately his audacious ramp shot cost him his wicket, but we'll give him our shot of the day gong as not only did it show admirable impudence and confidence, but it got the game moving at a time when England could have got stuck in something of a rut.
In the nick of time
England produced another polished bowling display to rip through the Australian batting line-up for a second time. There were certainly fewer loose shots from the tourists this time around, but they still could not cope with the swing and spin options of England's outstanding attack. James Anderson's perfect inswinger to trap Shane Watson was certainly a contender for ball of the day, but given the fact it wrapped up victory with the prospect of a rather anti-climactic day five looming, we'll hand the honour to Graeme Swann for his peach to trap James Pattinson leg before with just three balls of play remaining.
Catching consolation
With England dominating every category as well as the series, we'll offer the Australians an olive branch by awarding catch of the day honours to Steven Smith! The fact Joe Root was looking to flick his attempted ramp shot over his left shoulder down towards fine leg could easily have caught Australia's third man off guard. But he was on his mettle and charged in off the rope to pouch a tricky chance with consummate ease, ending the England opener's hopes of reaching 200.
Collision course
Graeme Swann was involved in the thick of the action for England, his four-wicket haul ensuring they eventually wrapped up an emphatic win just before the close. But, arguably, his most entertaining contribution was completely unintentional, coming when he was taken out by a charging Usman Khawaja. Having put his head down and set off for a quick single, the Australian number three did not see Swann in his path and clattered into the England spinner. The contact sent Swann sprawling... although there was more than a touch of the Paul Alcock's as he tumbled to the deck in instalments!
On the defensive
This time on the end of thumping 347-run defeat, Australia have now lost their last four Ashes Tests against England. The series is already looking like it's a lost cause and things look distinctly bleak for the Baggy Greens at present. Indeed, Sky Sports pundit and former England skipper Nasser Hussain believes they look so bleak that the tourists should ponder a change of strategy for the third Test. Nasser thinks Australia are in such disarray that they should simply play to avoid defeat next time out in a bid to stop the rot... have you ever heard of anything so un-Australian!