Ashes Paper Talk: A look at what the media make of the second day at Old Trafford
We look at what the English and Australian press made of the second day of the third Ashes Test at Old Trafford.
Last Updated: 03/08/13 9:00am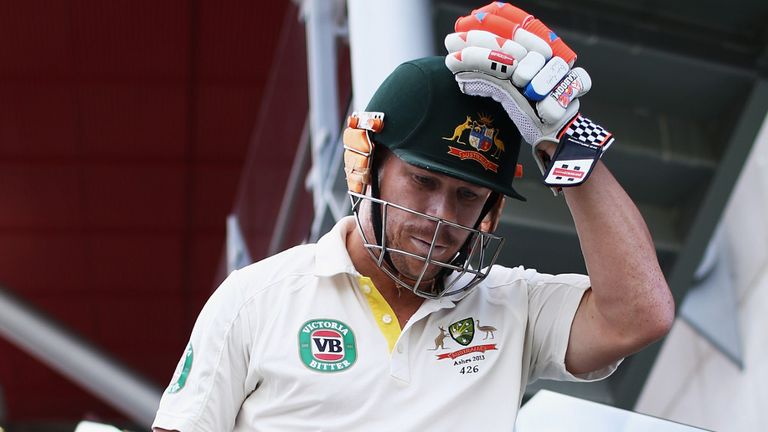 Having posted an imposing first innings total of 527-7 dec, thanks largely to a brilliant 187 from skipper Michael Clarke, the tourists then claimed a couple of England scalps to get themselves into a position of real strength.
Peter Siddle's late burst saw him remove both Joe Root and nightwatchman Tim Bresnan to leave England on 52-2 at stumps, offering Australia real hope of fighting their way back into the series.
However, there has been condemnation from all sides for David Warner on his return to the Test arena after his decision to review what appeared a clear-cut edge behind.
Here's what the papers made of the second day's play.
Malcolm Conn - Herald Sun
Having set the Third Test up after a big Michael Clarke century, Australia must now force the pace to keep alive any hope of regaining the Ashes. Clarke's declaration at 7-527 early in the last session of the second day at Old Trafford is a good start, with the captain contributing 187, his highest overseas score. And introducing off-spinner Nathan Lyon to bowl just the seventh over was a master stroke, tying up Alastair Cook and Joe Root on a turning pitch. It was as if England had began playing for a draw from the outset, scoring at fewer than two an over. It did them no good, with Peter Siddle claiming two late wickets.
David Warner's ignominious return to Test cricket has contrasted with another imposing innings from Michael Clarke. His first crime was punching England wunderkind Joe Root in a Birmingham bar during the Champions Trophy in June, although you would have though a sell out crowd in Lancashire would have cheered someone clocking a Yorkshire man. Warner's second crime was far more immediate. A thick edge from the bowling of Graeme Swann hit wicket-keeper Matt Prior on the leg and flew to Jonathan Trott at slip. However the left-hander seemed to convince himself he had only hit his pad with his bat, which also happened, but the edge was so pronounced it was impossible to miss. Clarke did not look happy when Warner wasted a review and the crowd roared with laughter when the replay came up on the big screen. Many stood to wave Warner off as he departed.
Derek Pringle - Daily Telegraph
Alastair Cook moved into sixth place in England's pantheon of run-makers in Test cricket, but on a day when only one of five centurions was a batsman, his team will need him to leap another place if they are to avoid the follow-on target of 328. Cook needs to add 87 to his overnight score of 36 to move ahead of Colin Cowdrey with 7,642 career runs, but he and his batsmen have made heavy work so far against Australia's bowlers, ending the second day on 52 for two after Peter Siddle struck twice in the final session of play. It promises to be hard graft, but Cook and Jonathan Trott have never shirked from that, although Cook is suffering from a sore back that required him to take several pills during the final session.
Malcolm Knox - Sydney Morning Herald
Warner edged a good ball from Graeme Swann into the wicketkeeper's thigh before it lobbed to first slip. Later in the day, Alastair Cook edged a good ball from Nathan Lyon into the wicketkeeper's thigh before it lobbed centimetres short of first slip. The membrane-thin difference between success and failure lay outside the batsmen's hands. Warner's eagerness to succeed addled his mind to the extent where he was able to convince himself, and momentarily his captain, that his bat had hit his pad only and not the ball. The result was embarrassing, but Warner was far from the first contestant in the Manchester episode of Red Faces.
Chris Barrett - Melbourne Age
Michael Clarke said he knew he would be ridiculed when he claimed Australia could still win the Ashes. Sneering smiles haven't been completely removed from faces yet, but the bellyaching laughter is on hold for the time being. Clarke's highest score on foreign soil and first century at No.4, capped off by Peter Siddle's double blow late in the day, enhanced Australia's grip on the third Test, which enters its third day on Saturday with the tourists holding a lead of 475 runs.
Mike Selvey - The Guardian
Fortunes can change rapidly in a Test series. Match to match, session to session. Humiliated at Lord's to the point of ridicule, the Australians have regrouped to such an extent that it is they rather than England who have taken control of the third Test, with a batting performance - founded on Michael Clarke's magnificent 187 - every bit as good as it has been bad previously and late incursions into the England innings.
Paul Hayward - The Telegraph
Some cartoon rogues go along with a panto script. Hate-figure status offers them something to kick against. Attention seekers are especially inclined to provoke the mob. Others just stumble into ridicule. Warner, who threw away an Australian review despite clearly edging a Graeme Swann delivery to slip via wicketkeeper Matt Prior, is one of those who consider the sensible course of action for a moment or two and then do the opposite. English cricket crowds have now set him up as a target for lampoonery. They booed him to the crease and jeered him back to the pavilion on a day when Australia declared on 527 for seven. Taking their cue from the vast football ground just up the road they sang "Who are you?" as he began his 16-minute stay at the crease and "cheerio" as he plodded back after 10 balls.
Wayne Smith - The Australian
Suddenly England is rediscovering how jittery Ashes cricket can be after Australia turned the screws on the second day of the Old Trafford Test. At no stage in the series so far has England, currently 2-0 ahead after a narrow win at Trent Bridge and a landslide at Lord's, been placed under sustained pressure from Michael Clarke's side but they were today and they didn't handle it with any aplomb at all. At stumps, chasing Australia's first innings total of 7-527 declared, England had lurched to 2-52 and although nightwatchman Tim Bresnan was wrongly given out caught behind off Peter Siddle to a ball he didn't hit, all the luck in the final session went the way of the home team, with Alastair Cook fortunate to still be there on 36.
Martin Samuel - Daily Mail
An unexpected benefit of the Decision Review System is that it is also sport's perfect idiot detector. Egomaniacs, insufferable clowns, those possessed by a selfish gene: the DRS can spot them a mile off. Anyone who is not a team player, anyone elevating self-interest above the needs of the group, it will find out. And on Friday its all-seeing eye alighted on Australia batsman David Warner. Depicted in harsh relief beside his captain Michael Clarke, the DRS cut through the bluster and hype surrounding Warner's return to show Australia's supposed saviour in his true light.
Ian Botham - The Mirror
Another good day for Australia. They are allowed to play well and I thought they were excellent, with Michael Clarke leading the way once more. They were positive and batted well all the way down, and I don't think our bowlers did much wrong at all on a very good pitch for batting. The Aussies got on a roll and cashed in, but I expect to see our batsmen cashing in as well. There is a massive day's work ahead but they should get in on this wicket and do really well. There is no reason why not. England's batting line-up is clearly stronger than Australia's. Where they have Clarke who is exceptional, we have Kevin Pietersen, Jonathan Trott, Alastair Cook and Ian Bell, who are all exceptional. It is time for the England top order to front up and join Bell and Joe Root in scoring big hundreds and putting this series to bed.
Nasser Hussain - Daily Mail
This is still an absolute belter of an Old Trafford pitch, even though England lost two wickets late on, but that does not take anything away from an outstanding performance by Australia. The way Michael Clarke negated the spin of Graeme Swann, using his quick feet to move fully forward and back, was a model of how it should be done. When you consider the frame of mind the Australia captain must have been in, this was a tremendous effort. Clarke's brain must have been partially scrambled after all that has gone on both on and off the field on this tour, so to hit a big century for Australia was a seriously good display.