Ashes paper Talk: What the press made of day two at the Oval
We take a look at what the press at home and abroad made of the second day at the Oval.
Last Updated: 23/08/13 10:58am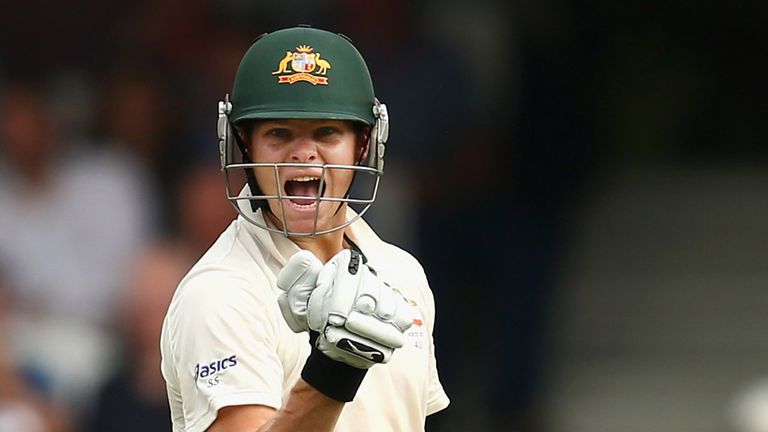 Smith smashed a six to reach three figures before making an unbeaten 138 as Australia declared on 492-9 and sent England in for a tricky spell at the end of a rain-disrupted day.
Still, it was another positive one for Australia, despite the Ashes already being lost, as they look to end the series with a win and a high note to take into the return series at home this winter.
Here's what the press made of day two...
Wayne Smith - The Australian
A magnificent debut Test century by Steve Smith allowed Australia to dictate terms on the second day as it did on Day One when Shane Watson plundered 176. But while the supporting cast all had their moments on centre stage, it was 24-year-old Smith who stole the show, earning a standing ovation from the capacity crowd as he walked off unconquered at the end of the greatest innings of his career. Twice before in his 12-Test career Smith has been brought undone by his own aggression within sight of his maiden century but not today.
Richard Hinds - Herald Sun
There it was on the second day of the fifth Test at The Oval, live in the flesh. England's snarling assassin Broad reduced to bowling long hops to Smith with a ring field better designed to stop invading streakers than take wickets. This act of damage limitation, and outright time wasting, might be explained - if not forgiven - by the game situation and the wet ball. But, in its message of abject surrender, it must have heartened the Australians greatly.
The carnivorous English press, whose fangs were sharpened gnawing on the bones of underachieving teams, were quick to highlight these selection blunders. So, bizarrely, the team about to celebrate an Ashes threepeat was being criticised and second-guessed. Meanwhile, Australia heaved and hoiked its way into a strong position.
The Australian batsmen should now leave England with improved confidence and a slightly more settled line-up. Not bad when, just two days ago, about the best they could hope to take home was a pair of Union Jack boxer shorts and the hotel shampoo.
Malcolm Knox - Sydney Morning Herald
For all that Australia have sent an inexperienced team to England and are casting themselves as the rising force, the 'finds' of the Ashes series have been a 35-year-old batsman, a 33-year-old bowler and a rejuvenated 35-year-old wicketkeeper. The future has never looked older. But Steven Smith's quiet rise, culminating in his maiden Test century at the Oval, has offered some assurances about the longer term.
At 24, Smith is already a master of reinvention. On his first appearance in big cricket, he so resembled Shane Warne as to give rise to improbable predictions in a more dreamy era. He evolved into the kind of utility cricketer, big-hitting and sharp-fielding, who might carve a handy career in Twenty20. He was brought into the last Ashes series at a desperate moment to inject energy into a flagging team but, seemingly with more natural talent than he knew what to do with, came across as a sparkler when the side needed smouldering coals.
Malcolm Conn - Telegraph
Steve Smith, welcome to an exclusive club. His maiden Test century against England at The Oval yesterday makes Smith the only Australian aged under 30 to score a hundred during Australia's past two tours across nine Tests. Amongst those cheering when the 24-year-old brought up three figures with an audacious six down the ground must surely have been Australia's selectors. Now Smith, like Watson, needs to make another big hundred when it really matters, at the start of the return series in Australia.
Paul Hayward - Daily Telegraph
In team selection, and motivation, England have fallen short of the pre-Test rhetoric about leaving marks in history. This is an impenetrable, sometimes remote England side, who are either blind to the dangers of surrendering the initiative so close to a winter series or perhaps so confident of their superiority that they have written this match off as an irrelevance, if only subconsciously. Either way it is not what was promised, or expected by the crowd, who have learned that the Oval is not always an Ashes crucible. Summer's bird has flown. 'No mercy' was the theme of the build-up. No let-up. Revenge would be taken for all those years of Aussie sadism, when the battering would not cease until the plane was heaving clear of Sydney. England made all the right noises about making history but then chose to open the gate to Australia instead.
Kavin Garside - The Independent
The obvious failure of England's selection thrust Jonathan Trott into the piece. Thus an already bloated five-man attack acquired a sixth component. England's lesser South African is often the captain's idea of the bowling joker, not in the humorous sense à la Seventies sporting panto It's A Knockout but the random variety; trundle in off a short run, wobble it about a bit and hope the batsmen drops off. Steve Smith showed what he thought of the ploy by hoisting Trott for a six to reach his first Test century and Australia's fourth of the series.
Oliver Holt - The Mirror
England have been the dominant side in this series and their thoughts should be turning to the tour Down Under with nothing but confidence. But in the public mind, at least, doubts are creeping in. When the urn is presented to Alastair Cook on Sunday, there will be concern amid the triumph.
Simon Kerrigan did not bowl. Not a single ball. On the second day of his England debut, he was left to hang. There is no point criticising England skipper Alastair Cook too harshly for that. He was in an invidious position. Kerrigan was paralysed by nerves on Wednesday and smacked all over The Oval by Shane Watson. England struggled again on day two as Australia played with more and more freedom.