Ashes selection committee: Sky Sports cricket writers pick squads for winter tour
Skysports.com cricket writers Rob Lancaster, Graeme Mair and Joe Drabble take on the roles of selectors as they choose their England Ashes squads for 2013/14...
Last Updated: 30/09/13 11:30am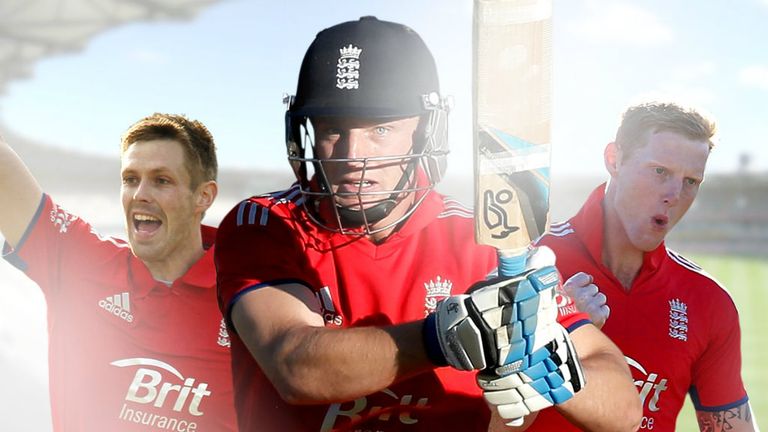 While some familiar names will be formalities to be included in the touring party, there will be a number of fringe players sweating on the announcement.
Here at skysports.com towers, we have had our very own selection meeting, and three of our cricket writers have picked their 16-man Ashes squads for this winter.
Agree with the picks? Disagree? Send in your views via the comments box below and join the debate on twitter.
Joe Drabble (@SkySportsDrabs)
Cook (capt), Root, Trott, Pietersen, Bell, Taylor, Prior (wkt), Broad, Swann, Anderson, Tremlett, Compton, Kieswetter (wkt), Stokes, Finn, Rankin.
One major factor in my squad selection is the assumption that Australia will prepare fast, bouncy pitches - the total opposite to what England created to aid Graeme Swann in England this summer.
This could still play nicely into England's hands and with Stuart Broad, Chris Tremlett, Steven Finn and Boyd Rankin all in my 16, I'd be confident of matching Australia bouncer for bouncer.
Captain Alastair Cook and Yorkshire's Joe Root would remain my first choice opening partnership and I wouldn't be surprised to see Root thrive on pitches that should suit his backfoot style.
Jonathan Trott remains my lynchpin at No 3, with stroke-makers Kevin Pietersen and Ian Bell settled nicely in the middle order.
The No 6 spot appears England's main area of concern and with that in mind, I have hedged my bets! Jonathan Bairstow is currently the man in possession but I have dropped the axe on the Yorkshireman, with Craig Kieswetter named as my second-choice gloveman.
The jury remains out on Bairstow's ability against genuine pace and after scoring just one half-century against Australia this summer, I can see no reason why he will fare any better Down Under. Kieswetter is an out-and-out No 6 who can thrive against pace and I would be confident of him doing a job with bat and gloves should Matt Prior come a cropper.
James Taylor would be my first-choice number six for the opening Test at Brisbane after another impressive first-class and List A season for Nottinghamshire, where he averaged just under 50 and played a key role in the Outlaws' route to a Lord's final.
Broad, Graeme Swann, James Anderson and Tremlett complete my ideal Gabba starting XI with Boyd Rankin, Steven Finn and Ben Stokes providing back-up bowling options.
No second spinner? Yep, that's right. I see no reason for taking another and would rather have a pace option, but Monty Panesar would by close-by with the Performance Squad should Swann suffer an injury.
Nick Compton has continued to score runs for Somerset since being dropped before this summer's Ashes and makes the plane as a third opener. Stokes edges out Tim Bresnan for the all-rounder berth after impressing in the ODIs.
Graeme Mair
Cook (capt), Root, Trott, Pietersen, Bell, Compton, Prior (wkt), Buttler (wkt), Stokes, Broad, Anderson, Bresnan, Finn, Tremlett, Swann, Panesar.
England's form in Test cricket over the past couple of years means the bulk of the touring party picks itself, the only question marks concern who provides cover in each area and the overall balance of the squad.
Despite being dumped ahead of the last Ashes series, Somerset's Nick Compton should travel as the spare batsman.
He has been the best performer in Division One of the County Championship for some time, can bat anywhere in the top six and was only dropped because Joe Root made an irresistible case for promotion up the order.
Durham all-rounder Ben Stokes is worth taking a chance on as an investment for the future.
Stokes can bat in the middle order, bowl quick and would be the best fielder in the squad. He was sent home from the England Lions' tour last winter for disciplinary reasons - along with his room-mate Matt Coles - so there are doubts about his maturity.
But England have moved on from that by picking him in the one-dayers against Australia at the tail-end of this summer where he improved as the series progressed.
Another player to have shown what he can do in ODIs is Jos Buttler. You can make the case for Steven Davies, Craig Kieswetter or Jonny Bairstow as the back-up wicketkeeper.
All have strengths and weaknesses - there is little difference in the quality of their glovework - and Buttler looks like the best batsman of the lot and would provide a fifth option for the troublesome No 6 role from within the squad (along with Compton, Root, Stokes and Prior).
In addition to England's first-choice attack (Broad, Anderson, Bresnan and Swann), there is room for three more bowlers, two seamers and a spinner.
Steven Finn, Chris Tremlett and Monty Panesar would be my choices. Finn offers pace and experience of the conditions, while the one decision that gave me a sleepless night was picking Tremlett ahead of Boyd Rankin.
Tremlett starred in Australia last time and, despite his injury problems since, his eight-wicket haul for Surrey against Durham last month is enough for him to edge out Rankin, who looked the part during the recent one-dayers.
Panesar has had his problems on and off the field this summer but every effort should be made to made to get him fit - physically and mentally - for what would be his third Ashes tour given the only viable alternative is James Tredwell.
Rankin, Graham Onions and Bairstow are the only players who could consider themselves unlucky to miss out but all three would be on hand as part of the Performance squad in case of injuries.
Rob Lancaster (@SkySportsLanny)
Cook (capt), Root, Trott, Pietersen, Bell, Stokes, Carberry, Prior (wkt), Bairstow (wkt), Broad, Swann, Anderson, Bresnan, Panesar, Finn, Tremlett.
You would think that picking England's 16 to head off Down Under to try and retain the urn would be relatively easy. After all, bar the number six position and one spot for a seamer, the rest of the starting line-up for Brisbane (and beyond) looks set.
The two questions Geoff Miller and his band of merry men will have to answer over the first-choice XI are: 1-Who bats at six? 2-Who is the third seamer alongside Anderson and Broad?
Tim Bresnan seems the obvious choice, fitness permitting, to answer the second of those conundrums, but while he's in my squad he's not necessarily who I'd select at the Gabba.
Steve Finn is in my party for his potential, though consistency needs to come along fairly soon if he is to make the most of his obvious talents. Where Anderson was once a 'daisy' bowler (some days he does, some days he doesn't), now that seems to be nickname perfect to summarise Finn.
To add pace and bounce I'd go with Chris Tremlett, who gets the nod for his Ashes experiences in Australia last time around. Boyd Rankin is the other option to fill that role and while he looks a Test cricketer of the future, there are still some rough edges that need to be smoothed out.
Jos Buttler could soon become Matt Prior's heir apparent, but throwing him in for a Test debut should England's first-choice wicketkeeper suddenly go down seems too risky. While Jonny Bairstow hasn't donned the gloves in the longest form of the game so far, such a task wouldn't faze him.
Bairstow gives an option to bat six, too. England used Chris Woakes there in final Ashes Test of the summer, making it a five-man bowling attack for captain Cook. However, Ben Stokes is the better option for such a role. He showed he has a yard of pace in the NatWest Series and would also offer a left-hand option in the middle order. Perhaps it's the fair skin and light-coloured hair, perhaps it's that he's got some Kiwi in him, but there's also something to like about Stokes' fighting spirit.
The other batting berth would, therefore, be best served by a back-up opener. Michael Carberry didn't suggest in the recent one-dayers that he is a long-term 50-over option for England. He seemed a little limited in his shot-making. In Tests, however, he doesn't need to play a 360-degree game. His technique looks solid if unspectacular and he'd be a fine understudy to Cook and Root.
As for the spare spinner, it seems to be the spot nobody has wanted to take up. Poor Monty has had off-field issues during the summer (do nightclubs in Australia have balconies?) while poor, poor Simon Kerrigan got a terrible case of stage fright at the Oval.
That seemed to be paving the way for James Tredwell, the one-day understudy who had seemingly left in front of Swann in the pecking order, to make a late charge from the departure lounge. Sadly, though, Australia cruelly dealt with Tredwell in such a fashion in the NatWest Series that it's seen him miss my final boarding call.
Monty, you're back in. Now behave yourself, there's a good lad.