Ashes 1986/87: Botham and Gower recall England's unwavering team unity
Sir Ian Botham and David Gower recall England's team unity as they retained the urn in Australia.
Last Updated: 28/10/13 2:36pm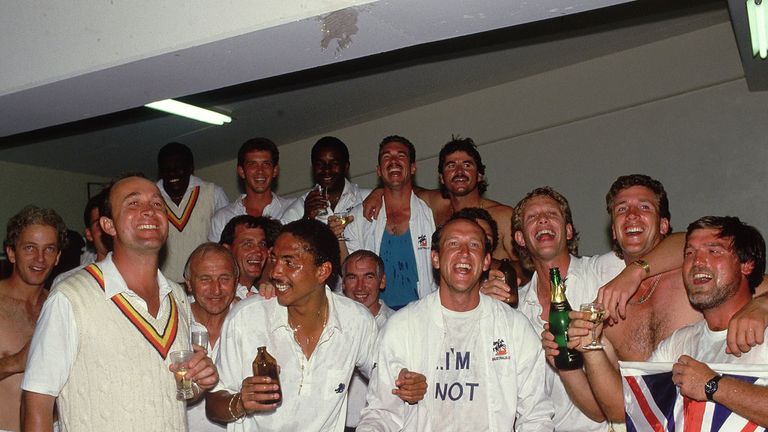 Previously no England side had lifted the urn Down Under since Mike Gatting's class of 1986/87.
Two of the Panel - David Gower and Sir Ian Botham - were part of the triumphant tour party and were only too happy to turne the clock back to those heady days in the eighties when England confounded their critics...
skysports.com: After losing Test series to India and New Zealand in the summer of 1986, did the squad's form concern you as you stepped on the plane to Australia?
David: The trick of any team, but also any individual because it works both ways, is that you start every series with a clean slate no matter what has gone before. It's understandable to be a little bit more anxious if you've had a poor summer, as some of us had that year, but the only thing you can do is say 'right, I've got rid of the bad one, let's get going'. As it happens, our early form was not good which was much more relevant than what had happened that summer.
Beefy: We were written off before the start of the Tests - what more of a gee-up do you want than to read that you can't bat, bowl or field? If that doesn't get you going than nothing will. That was on the eve of defending the Ashes! We weren't trying to regain them - we had them after winning 3-1 in 1985! So the journalists who wrote us off had to eat a lot of humble pie later.
skysports.com: Did the memory of winning at Brisbane under Mike Brearley in 1978 help to ease any tension going into the opening Test at the Gabba?
David: Personally, any anxiety I felt on the first morning was purely borne from the fact that I had hardly scored a run for the previous month! Even though I tried to fire myself up for the start of the Test, I was nervous. Mike Gatting, who had replaced me as captain in the summer, moved himself up to three in the order, which was good; I had no qualms about slipping down to five because I was not at the peak of my game and knew it would be tough walking out at 1-1 on the first day of the Ashes with a tour average of seven behind me.
It sounds like a moment of weakness but the rest is history, as they say. I had a slice of luck early on when I was dropped at slip but felt much better by the time I'd got to around 30; I was mighty annoyed to get out when I did because you know damn well that when you are in and have a fifty to your name that things have changed and it's time to make a big one.
Beefy: We knew that we'd be in big trouble if we had gone 1-0 down in Brisbane, particularly after everything that had happened during the summer. Brisbane is an Australian stronghold - they don't play there because they like the weather, they play there because more often than not they get off to a flyer on that pitch - so we had to be ready.
skysports.com: You put on 118 together for the fifth wicket as England piled on the runs and you went on to rack up 138, Beefy. How significant a marker was England's first innings total of 436?
Beefy: That hundred is probably one of the most important innings I've ever played because it helped to get us off on the right foot. It was also one of the most enjoyable, too; our families came with us on the tour and that meant I was nice and relaxed. We came out of the blocks fired up and ready to go and performed as a team. I remember taking 22 off one Merv Hughes over but David and I were able to play because the top-order had given us a platform to build on.
David: Beefy always had great admiration and friendship with Viv Richards. Now Viv never wore a helmet and Beefy at that stage liked to think of himself as a bit of a white Viv so he didn't wear one either. At that stage he was fearless; it was only when he had his cheekbones cracked later in his career that he changed his mind a bit on all that. That innings was pure bravado; he loved every moment. The Gabba was a smaller ground than it is now, so anything near the middle of the bat or a top edge was enough to send the ball for six; it was a fantastic innings to watch from the other end.
skysports.com: Chris Broad was unbeaten at the crease as England won by seven wickets and he picked up where he left off in Perth, putting on 223 for the first wicket with Bill Athey. Did you feel fully in control even this early in the series?
David: By the time Perth came around we were much happier with our overall performance; there had been almost a sea-change in fortunes after that first day in Brisbane, where we discovered the application and spirit that would stand us in good stead for the rest of the tour.
Beefy: No one individual wins you an Ashes series - but a team of individual performances at different times when all combined makes you a very successful unit. That was the secret of that 1986/87 side. Everybody came to the party at some stage. Chris led the way at the top of the order, without a doubt. I wasn't totally convinced about him at the start of the tour - he went in at Perth without a Test ton behind him - but after three centuries in a row it's fair to say I was converted! Chris loves to prove people wrong and it was an incredible effort from him.
David: The importance of a good opening partnership should never be undervalued. If you get a good start - and this is why Chris became man of the series - you can change the face of any team. By the time Jack Richards and I came together at 339-5 it was a lot easier than batting with the scoreboard showing 45-5. So the platform was there but you still have to play well to get the runs. Jack actually outscored me that time, which was a great moment for him, because I wasn't going slowly! It was the type of time when it's nice to pile on the pressure.
We didn't win that game but in truth nothing really happened for us on the final day - there were some big cracks that we didn't hit - and all credit to Australia; a batting line-up that included the likes of Geoff Marsh, David Boon, Dean Jones and especially, Allan Border, was never going to roll over without a fight.
skysports.com: Gatting scored his first and only Test hundred of the tour in Adelaide to help preserve England's 1-0 lead going into the fourth Test. How strong a galvanising force was his captaincy?
David: Gatt and Mickey Stewart, in the newly-designed role of England coach, both tried to stamp their authority on the squad but fortunately it didn't quite work out like that! In essence there were two groups of players on that tour - the likes of Botham, Allan Lamb and myself who represented the senior, old-style players - and then players like Broad, Athey and some of the bowlers who were new to Ashes cricket.
Beefy: There wasn't any divide, though. In fact this was one of the few tours that I've been on when 16 guys have all pulled for each other. There was no animosity but there was banter, humour and team spirit in spades. It was a real hoot.
David: Gatt and Mickey started off trying to have a one-size-fits-all regime but over time there was an acknowledgement that different people do different things in different ways. Once Mickey recognised that, things flowed a lot better. Yes, you need a bit of discipline but they got the balance pretty right between the times they needed to be firm and the times they needed to understand how people work and give them a bit of slack. From that point of view, it worked.
skysports.com: The attack seemed particularly well-balanced with the experienced heads of Phil Edmonds and John Emburey complementing the seam of Graham Dilley, Phillip DeFreitas and yourself, Beefy.
Beefy: Daffy and I just sort of gelled. I liked his attitude and I liked his humour so he spent a lot of time with me on that tour; I enjoyed watching him mature quickly and become a force. It was clear that he had the right approach - he was aggressive but it was good aggression because it was controlled aggression, not tantrum aggression.
Graham was also a force; he put people on the back foot and there was a fair chance that he would have ended up as leading wicket-taker had he not missed the fourth Test due to injury. Even then, as it turned out, only John Emburey picked up more wickets. He predominantly swung it away from the right-handers with the new ball but he could also reverse it a little bit as the ball got worn - that made him a very good bowler and if it wasn't for the knee problems he suffered during his career I'm sure he would have gone on to register an even better Test record. You can never legislate for injuries so in many ways we were lucky to get the best out of him around that period.
skysports.com: Of course, you had a ready-made match-winner in Gladstone Small on stand-by when Dilley was ruled out of the fourth Test!
Beefy: It wasn't tough for Gladstone to come into the side because there were 16 people in the squad all pulling for each other. If you are carrying the drinks you are as important as the guy who is opening the batting - that was the philosophy. Gladstone walked into that team as if he'd been playing every single game, took seven wickets, picked up the man-of-the-match award and that's how it is meant to be.
David: The strength of a touring squad is not just down to its best players; what happened when Gladstone came in for Graham proved that. Gladstone was ever-enthusiastic and a good bloke to have around, so although he'd been on the sidelines he came in and bowled sharply; he was deceptively quick, without quite being Malcolm Marshall.
This is an area where Gatt and Mickey deserve credit because it can be tough keeping players who aren't playing in the big games involved on a tour; it's not easy to be on the sidelines and then come in and perform to your best. Gladstone was helped by a bit of juice in the wicket and it was a classic example of getting your chance and taking it.
skysports.com: Your victory, by an innings and 14 runs, could not have been more emphatic. The mood in the camp must have been euphoric given what you'd achieved?
David: To win an Ashes home or away is immensely satisfying; to be 2-0 up with one to play after winning in Melbourne - a place that can be ever so intimidating if you are on the wrong end of things simply because of the vastness of the ground - was particularly special. We didn't have the dream finish in Sydney but we still walked away with the urn and many, many unforgettable memories of a very, very successful tour that featured Elton John as our chief cheerleader!
Beefy: Having Elton around was just one of the reasons that this was my favourite tour as an England cricketer. I'll never forget celebrating back at our hotel after winning the Ashes in Melbourne with Elton DJ-ing! Beating the Aussies was the best possible way to put the lid on the events of 1986, which had been a turbulent year, and although I was shattered by the end of it, every bit of banter, camaraderie and success made the sweat and strain worth it.
David: The tour wasn't just about the Ashes, although they are of course paramount and always will be. We also won the B&H Challenge and the World Series Cup; everything went right from the moment Martin Johnson wrote that we couldn't bat, couldn't bowl and couldn't field, so we are indebted to him for galvanising us into action!
Stay up or catch up - watch England's defence of the Ashes in Australia this winter ONLY on Sky Sports.