What the Australian press are saying about The Ashes
Round-up of Ashes gossip and features from the back pages of Tuesday's Australian papers.
Last Updated: 03/12/13 10:35pm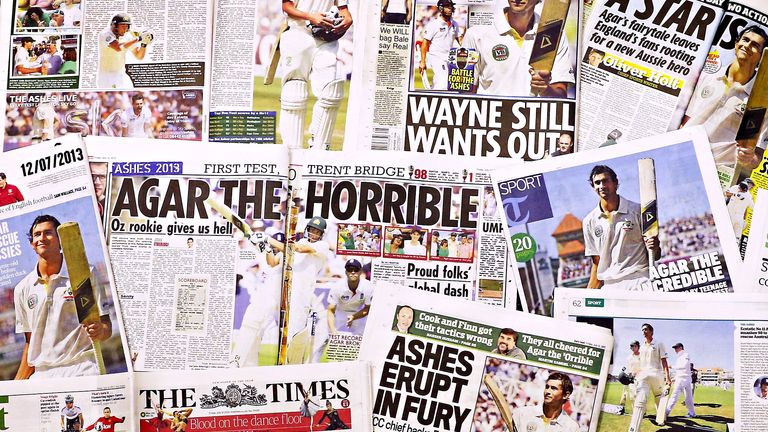 COUNTDOWN TO SECOND TEST: 2 days
SYDNEY MORNING HERALD
The paper splashed with Kevin Pietersen, Stuart Broad and Jonny Bairstow were pictured on a night out in an Adelaide Telegraph.
"The Poms can't handle a sledge but they sure can handle a drink," the tabloid said. "The late-night drinking session is hardly ideal preparation just two days out from the vital second Test at Adelaide Oval."
Elsewhere, Australia's cricketers are considering putting their money where their mouth is and dipping into their own pay to fund solutions to the game's problems in this country. The players' union is pushing ahead with a state-of-the-game report that tackles its concerns about the sport's health all the way down to grassroots level.
As much as Australia's fast bowlers would love an early crack at Ian Bell, they suspect Joe Root will be bumped up to the No. 3 spot vacated by Jonathan Trott. ''I want to get him in there early,'' declared Australia's Ryan Harris of Bell.
HERALD SUN
The secret to Australia's first Test success has been revealed. It was the steak dinner bowling coach Craig McDermott knocked up for the team's pacemen before the Gabba's opener. McDermott and wife Ann Maree prepared the salads as the boys bonded over some sizzling beef.
Chief cricket writer Malcolm Conn is upbeat about Aussie's Ashes hopes and says: "England's batsmen clearly don't like the ball getting above the knee roll, so Adelaide is where they need to make a stand. History would suggest they're no hope in Perth, so another bad performance in Adelaide would go a long way to seeing the urn change hands."
The Sun's John Etheridge hits back and adds: "History suggests England don't mind a fight after losing the first game in a series. It was only last year England found themselves 1-0 down in India after a nine wicket loss in Ahmedabad. But they won in Mumbai and Kolkata and held on for a draw in Nagpur to win the series. Adelaide does seem a good place for a counter-attack after Brisbane. The wicket should take spin and reverse swing. England hold the upper hand in both those facets of the game."
THE AUSTRALIAN
Despite rumours Ryan Harris would be rested for Adelaide, the Australian paceman intends to bowl in the second Test until he drops.
England coach Graham Gooch caused a bit of a stir by admitting the team needed to show "better will" in Adelaide. It reports: "He chose his words with infinite care - to the comical point of suggesting England's batsmen had been "inconvenienced" by Mitchell Johnson's searing pace."
Although players have been impressed with the new-look Adelaide Oval, there has been embarrassment at the location of red seats behind the bowlers' arm.
ADELAIDE NOW
Australia were given a minor scare over the fitness of Michael Clarke, with the skipper tweaking his ankle at training on Monday. He was restricted to slips catching drills on the oval but batted for an hour in the nets and was described by team-mate Steve Smith as "fine" to play in the second Test, beginning on Thursday. "He looked pretty good in the nets. He was smacking them."
THE WEST AUSTRALIAN
Australia are considering dropping one-Test batsman George Bailey for one-Test wonder James Faulkner for Adelaide.
Bailey is under pressure amid speculation one Launceston product could be replaced by another on a flat pitch where an extra all-rounder would be valuable.
When asked about the prospect, the easy-going Bailey said: "No idea. If they did I'm sure it would just be a conditions thing and if they did, that would be fine."
Watch the second Ashes Test from Adelaide, starting on Wednesday, 11pm on Sky Sports 2 HD