Ashes Paper Talk
Round-up of Ashes gossip and features from the back pages of Thursday's Australian papers.
Last Updated: 05/12/13 9:39pm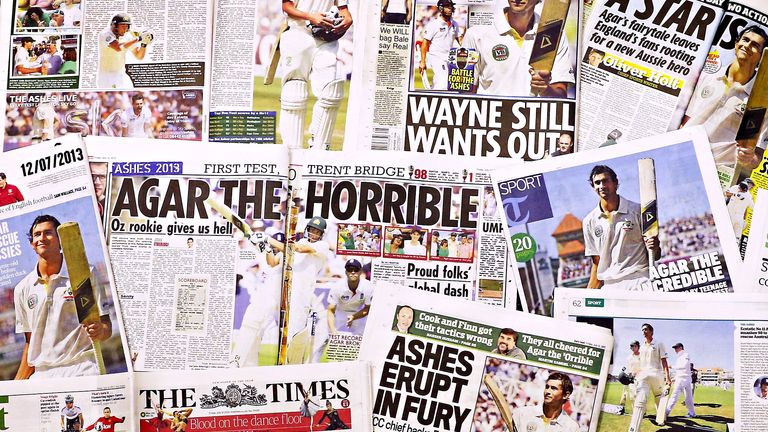 We check out what the latest gossip is in the Australian papers on the Ashes with the second Test under way in Adelaide.
ADELAIDE ADVERTISER
Ben Dorries pulls no punches as he reports: "The whinging Poms appear guilty of blatant hypocrisy after making veiled threats to boycott future Gabba Tests over the behaviour of Brisbane fans."
BRISBANE TIMES
Greg Baum gets ready for a turnaround in the series and writes: "It is a common conceit that the first Test of an Ashes series sets the direction and tone. In fact, several recent series have finished far from where they began. The most dramatic instance was in the epic series of 2005."
Malcolm Knox also analyses how England may turn this around.
He reports: "The Ashes balance of power was reversed in Brisbane. How much was, for want of a better word, real - due to Australia's rising confidence and skill, and England's decline?
"How much was due to the one-off conditions of the Gabba's fast, bouncy wicket and bullring atmosphere? Adelaide will minimise the second of those variables. Because wickets won't fall easily, captaincy will come to the fore."
What next in Adelaide? The paper states that England "copped it from the crowd to the committee room in Brisbane, and the fall-out from the explosive first Ashes Test continues even as the next chapter of the series begins".
HERALD SUN
The ECB has reportedly asked Cricket Australia to consider wiping the Gabba as a venue for future Ashes series.
Australia's cricketers may have a bachelors' degree in chirping, but England's media hold the doctorate.
Australia is preparing for the worst - placing Doug Bollinger and Nathan Coulter-Nile on standby for the Perth Test.
THE AUSTRALIAN
Michael Clarke has a game face on for this series. One win is not enough, Australia is far from the team it wants to be, he says.
The threat to Brisbane's standing as a future Ashes Test venue has lifted but not, it seems, England's siege mentality.
Rubber-necks craned among the hard-hats and fluoro vests in Adelaide Oval's just-in-time southern stand on Wednesday.
DAILY TELEGRAPH
So much has changed since Nathan Lyon was mowing lawns at Adelaide Oval in the 2010-11 Ashes - except being hunted by Kevin Pietersen.
For all the joy of that wonderful victory at the Gabba quick look at the stats brings a far more sobering reality, Michael Clarke writes.
Watch the second Ashes Test from Adelaide, Wednesday-Sunday, 11pm on Sky Sports 2 HD