Australia's press goes to town after Ashes series success is confirmed
The reaction from Australia's press is somewhat predictable in the wake of their Perth victory.
Last Updated: 17/12/13 5:40pm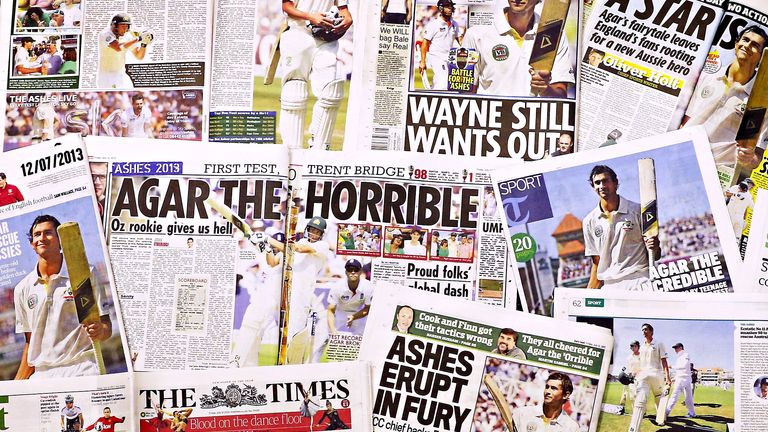 SYDNEY MORNING HERALD
CHRIS BARRETT sums things up nicely with his opening line as 'More than four years of subjugation at the hands of England comes to a crushing and jubilant end.'
AUSTRALIA can no longer be the punchline to people's jokes now, and it's all down to the leadership of coach Darren Lehmann.
MALCOLM CONN wonders if hopes of a new Golden Generation for Australian cricket might be a little too optimistic. He writes: "For a lot of this Australian team, nothing will match it because there is so little time left." But there is still plenty to be celebrated in the short-term after such a turn-around in fortunes.
A MIRACLE has risen from the Ashes according to Greg Baum. 'England stood on its record; Australia stood on England's toes,' he wrote. He goes on to highlight England's inadequacies in the field, which have come back to haunt them in some style. 'Australia caught everything, even flies, England swatted at them, irritably.'
BRISBANE COURIER MAIL
CELEBRATIONS galore in Queensland, where the Courier Mail gives Australia a new nickname. "We have had the Dominators and the Invincibles and now please raise a glass in honour of ... The Improbables."
DAVID WARNER and MITCHELL JOHNSON earn 9/10 in the latest Ashes Report Card. Only Chris Rogers (4), Shane Watson and Nathan Lyon (both 5) have failed to impress. England's squad figures; 5, 3, 1, 3, 4, 4, 7 (Ben Stokes), 2, 7.5 (Stuart Broad), 3, 3, 3, 2, 2. Probably says all you need to know.
DARREN LEHMANN'S successful coaching mantra revealed - A post-day tongue lashing and pre-day joke.
THE MELBOURNE AGE
DARREN LEHMANN'S instructions were "win, win, win". They were followed to the letter
ENGLAND were completely unprepared for a Mitchell Johnson who provided them with few chances to score from loose deliveries. Where once he wasn't trusted he is now a key to Australia's future.
ADELAIDE ADVERTISER
COULD Darren Lehmann become Australia's most important coach since Bob Simpson kick-started a golden era for the country's cricket 20 years ago?
THE WEST AUSTRALIAN
MICHAEL CLARKE leapt to the defence of under-fire England captain Alastair Cook, saying he doesn't deserve the criticism being flung his way in the wake of England's Ashes series defeat.
"To play 100 Test matches, and have the record he has, I think he deserves a lot of recognition. I believe Alastair Cook is a wonderful player and a very good captain - and I certainly don't believe he deserves the criticism I've read in the last few days. Nor do the England team," he said.
AUSTRALIA'S win in Perth brings back a lot of memories of 25 years ago, when a team deemed 'the worst to leave our shores' dominated in England. For Mitchell Johnson, read Terry Alderman. And don't forget the legendary Merv Hughes, Geoff Lawson and spinner Trevor Hohns in their back-up role in 1989. Little was different, including the all-important results.
SURPRISE, SURPRISE as there are no changes to the Australia squad for the Boxing Day Test at the Melbourne Cricket Ground.